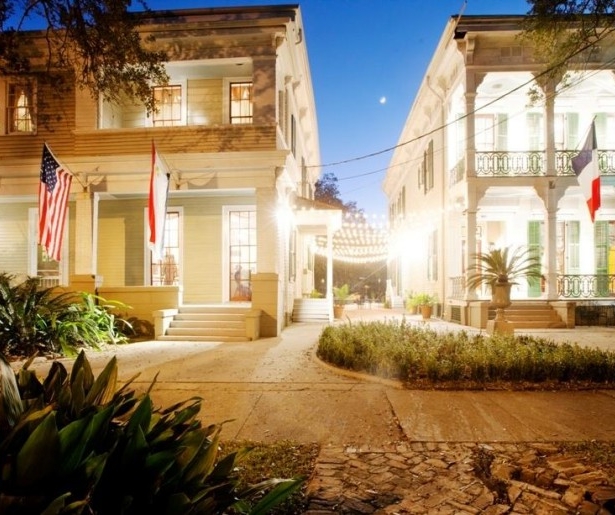 New Orleans' French heritage is so ubiquitous it is occasionally taken for granted. Everyone is aware of it, but many people don't stop to visit the sites that help give New Orleans its unique French flavor. As Bastille Day draws close, here are some sights and tastes of France that you can experience here in the Crescent City.
Bastille Day Fete
City Park
New Orleanians have a habit of honoring their French heritage by celebrating Bastille Day and French independence with a variety of events. The venerable French Quarter restaurant Arnaud's has a Bastille Day Dinner on July 14th at 7 pm featuring wine, French food, and communal dining. A specialty cocktail, the Parisian Spritz, will be offered by the restaurant's French 75 bar.
The official Bastille Day Fete has been voted the third best Bastille Day celebration in the world by Reuters. The party kicks off from 4 pm to 10 pm on July 15 and features local musicians, French and English tours of the New Orleans Museum of Art, a French cooking demonstration, mini French language lessons, and fun activities for children.
"Bastille Day Fete is bigger than ever this year," said Consul General of France Gregor Trumel. "The French National Day is celebrated all over the world, and it means something special in Louisiana. We are very proud to organize this great event at NOMA, as a special French gift to the people of New Orleans!"
The event strives to create the atmosphere and ambience of a French town. Inside NOMA, the Lost Bayou Ramblers will play a 3-hour set. It's $5 admission to NOMA (free for NOMA members), but the outdoor events are free.
As part of the fete, on Friday July 15 from 5-5:30 pm, dog owners and enthusiasts can watch or participate in the Bastille Day Dog Contest, a pageantry of pups dressed in their best French attire. The event will be held in front of the New Orleans Museum of Art, and a portion of proceeds will benefit the Louisiana SPCA.
While Bastille Day is the official holiday for celebrating Francophone heritage around the world, in a sense, New Orleans celebrates its French roots on a daily basis via its architecture and culture. Here are some examples.
The Old Ursuline Convent
1112 Chartres St
The oldest building in the Mississippi Valley, the Old Ursuline Convent represents one of the few authentic, intact examples of architecture from the city's French colonial period . It was designed in 1745, completed eight years later. And has served as a convent, a school, and a meeting place for the Louisiana Legislature.
The National Parks Service describes it as "the finest surviving example of French Colonial public architecture in the country." The convent is open for tours Monday through Friday from 10am-4pm and Saturday from 9am-3pm.
Bayou St. John
Without Bayou St. John, the city of New Orleans might not exist. It was a crucial trading route linking the Mississippi River to Lake Pontchartrain. New Orleans founder Jean Baptiste Bienville LeMoyne immediately realized the waterway's strategic significance in transport and battle.
You may not want to transport goods or wage wars, but you can travel the waterway the city's French founders used via kayak-Iti-Yat, which offers two hour kayak tours of Bayou St. John.
Tours are $40 per person and are available by reservation only. Minimum of 2 kayakers per tour.
Antoine's
713 St. Louis St
Established in 1840, Antoine's is the oldest family-run restaurant in the United States. It didn't move to its current location until 1868, but Antoine's has been a hit with locals and tourists seeking French-Creole cuisine ever since. Escargots a la Bordelaise, Oysters Rockefeller, and Pomme de Terre Souffles are some of the most popular dishes at this venerable eatery.
Antoine's is open for lunch Monday-Saturday from 11:30am-2pm and dinner from 5:30-9pm. The Jazz Brunch is Sunday from 11am-2pm. Make reservations at 504-581-4422.
Degas House
2306 Esplanade Ave
Edgar Degas, one of the most iconic artists of the French Impressionist movement, spent a year in New Orleans from 1872 to 1873 – twelve months that had a profound impact on his painting. You can see where he stayed at the restored Degas House, home of the artists' maternal relatives. Degas created 18 paintings and 4 drawings here, the only known home or studio of Degas open to the public in the world.
The guided Edgar Degas House Creole Impressionist Tour ($29) runs seven days a week, at 10:30am and 1:45 pm. Reservations are required – call 504-821-5009. A screening of the documentary Degas in New Orleans: a Creole Sojourn is included in the tour of the home and surrounding neighborhood.
Self-guided tours are $15 per person and available Monday through Saturday from 10am-4:30pm. If you'd like to spend the night, the Degas House also functions as a bed and breakfast.
The French Library
3811 Magazine St
If you'd like a taste of French-language books, visit The French Library, which opened this year on Magazine St. There's a special slant towards children's books, and the establishment looks to be a useful partner to the city's immersion/bilingual schools like Ecole Bilingue and Lycee Francais.
French Treats
If you want French dessert foods, La Riviere Confiserie (3719 Magazine St) imports gifts and sweet from France. Joanna Sese of Lycée Francaise says it's the "only place I can think of where you can purchase pate de fruit."
Dat Iceroll (3336 Magazine St) offers French ice cream. For Gallic pastries, from petit fours to croissants, visit La Boulangerie (4600 Magazine St) or Le Croissant d'Or (617 Ursulines Ave). And for an excellent baguette, pain perdu or croque monsieur, stop by Mister Gregory's in the Quarter (896 N Rampart).
Monde Creole Walking Tour
For a walking tour of some of the city's historic French sites (French Quarter courtyards and homes, St. Louis Cemetery No. 1, etc), try Monde Creole Walking Tours). Not only will you get a thorough grounding in the city's French history, tours are also offered in both English and French. Tours leave daily at 10:30am and cost $25 for adults.
Pitot House
1440 Moss St
The only Creole colonial country house open to the public in New Orleans, Pitot House was painstakingly restored in the 1960s. There are lovely gardens, views of Bayou St. John, and Louisiana antiques dating back to the early 1800s. Tours are open Wednesday-Saturday from 10am-3pm. $10 admission.
Image: the Degas House via Facebook.