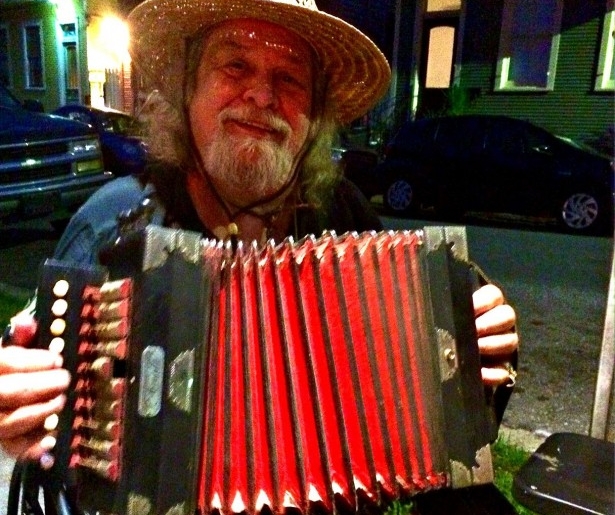 SHARE
"Let me tell you a funny story."
It's Monday night at BJ's, where Butch Trivette is holding court outside in his wheelchair on the occasion of his 68th birthday. Inside, regulars scarf creamy red beans and rice while the spirited guitarist Diako kicks off this week's edition of Scully's Summertime Open Mic.
Later, after "two big fat bikers get me through that door," Trivette will sit in on the keyboards with other players and take center stage with his guitar as the night's grand finale. But now he wants to tell me about the old squeezebox on his table, which is festooned with a festive ribbon.
"Six years ago, I was so broke that I sold this accordion to a friend so I could buy some winter clothes," says Trivette, a disabled war vet, who's been a "citizen of this town since the 1970s" and watched his whole life wash away when Katrina flooded the Lower Ninth Ward.
"And tonight it's my birthday present," he adds, with a grin. Picking the instrument up with obvious affection, he starts squeezing out a lively reel. "It was my daddy's accordion, so I'm real glad to get it back."
That kind of serendipitous happening is par for the course at this weekly gathering of musicians, where old friends and complete strangers try out new material and sit in with one another in ever-shifting combinations.
"I wanted to make music my central focus during the two months I'm off," says Open Mic host Ryan Scully, who's a teacher by trade when he's not rocking the house with Rough 7 and Morning 40 Federation. "I also wanted to create a community of musicians, and it's worked out pretty well."
Indeed it has.
Tonight's lineup, created on the fly, includes beloved local singer-songwriter Alexandra Scott, whose short-but-sweet set includes a cover of "I Can't Help It If I'm Still In Love With You." Scott's plaintive rendition inspires Scully's Rough 7 cohort Ratty Scurvics to sit down at the piano and play his own cabaret-style variation on the heartbreak theme.
Sneaky Pete has the crowd in stitches with a comic riff on his longtime stint playing at Checkpoint Charlie's: "Get your mom out of Checkpoint's, she doesn't hold her liquor well." That boozy fable echoes his predecessor on the stage, who woozily declares "I wanna be the town drunk so everyone will know my name." (Ironically, I don't recall it.)
Scully himself steps up to the mic with a new batch of originals he's been developing outside of his work with Morning 40 and Rough 7. Launched as a solo project, it quickly evolved into yet another working band: Tantrum, born right here at BJ's.
"I started playing, and Sneaky Pete started backing me up, and then Ratty started backing me up," recalls Scully. Before long, a trombonist and drummer had joined the krewe, creating a raucous rave-up that sounds like honky-tonk on steroids.
Tonight, amid the din, Ratty mimes dozing off at the keyboards during an unlikely ode to the joys of napping. Another Monday, you might catch Tantrum performing Scully's scathing indictment of a certain prominent politician, "Make America Great (hate) Again," currently in rotation on YouTube.
Tantrum cuts its set short tonight to make room for the man of the hour: Butch Trivette, who's ushered on stage with the ceremonial lighting of candles as we all raise our voices in a rousing chorus of "Happy Birthday."
Earlier this evening, when I told Trivette that Scully had been singing his praises – "only a few people on earth can sing like that" – he quickly demurred, with a hearty laugh: "I doubt if I'm gonna live up to your expectations. I'm just here cause I want everyone to have fun today."
Trivette was dead wrong about letting me down. His rich, weathered baritone held us all spellbound from the get-go, when he opened with his own wheelchair-bound variation on the Kris Kristofferson classic: "Help me make it through the yard."
But he was on the money about the fun; everyone at BJ's had a ball, whether they got on stage or just sat at the bar, cheering the players on.
Want to get in on the action? Come on down!
"It's open to everybody," says Scully. "That guy who played first tonight, Diako? He's great. And I never even met him before."
Scully's Summertime Open Mic happens every Monday night throughout the summer through August 8 at BJ's, 4301 Burgundy St., from 8-10:30pm. Get there early to sign up for one of the 15-minute performance slots.
Pictured: Butch Trivette, by Cree McCree.