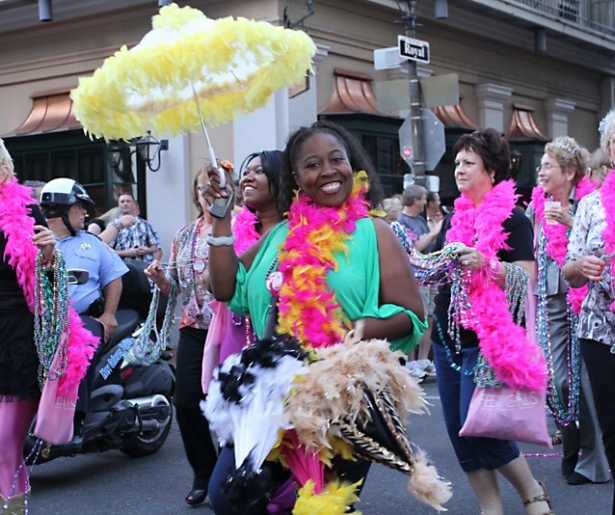 New Orleans could be called a city of festivals; nary a week goes by without some sort of celebration. But while there are designated parties for "tomatoes, jazz, gumbo," says Sandra Dartus, liaison for Festigals, back in 2011 there was not a designated event for one half of New Orleans' (and the world's) population: women.
Diane Lyons, a destination management executive, sought to fill that void via a "girlfriend getaway weekend that would showcase New Orleans," as well as connect and celebrate women, says Dartus. FestiGals was born.
Now in its fifth year, the festival praises women from all walks of life, all while providing women a safe and welcoming environment to let loose and have fun with their friends. It's part girls' weekend, part "business trip," and part giving opportunity, with events for every type of woman.
The weekend starts out with check-in on Thursday. Friday is the New Orleans Women's Conference, a premiere female-centric conference with talks from several notable local and nationally-successful business women, sponsored by female-friendly businesses and causes.
Bodacious Bras for a Cause
One of the issues closest to the FestiGals runners' hearts is breast cancer research. With as many as 1 in 8 women being affected by invasive breast cancer at some point in their lives, it's an issue that all women can rally behind.
In order to support breast cancer research and treatment, FestiGals hosts the Bodacious Bras for a Cause contest and brunch. Bras are decorated as extravagantly and "bodacious-ly" as possible.
Bras were selected because of their symbolic association with women, and the choice to make them "bodacious" was meant to be reflective of New Orleans glitz and glam. "People anywhere can 'bling a bra'…put it on the FestiGals website and tell everyone they know to pledge their support," says Dartus.
The "winning" bras are auctioned off at the Bodacious Bras for a Cause Brunch, the proceeds of which are then donated to the Cancer Association of Greater New Orleans and non-profit Breastoration. The real winners, of course, are the women who benefit from the FestiGals donations.
FestiTalks
In addition to Stiletto Strolls through the French Quarter and a vodou ceremony with Haitian priestess Sallie Ann Glassman, FestiGals attendees are given entry to FestiTalks, a brand new addition to the conference. During FestiTalks, women from different industries with different roles in their communities give quick talks on subjects that interest them.
These women "get an opportunity to share little nuggets of wisdom they have learned along the way," says Dartus. And the brief format "will surely be a hit with attendees" along with the other events in the Conference.
FestiTalks, and the Conference, offer many opportunities for professional development, making FestiGals a mixture of business and fun. And keynote speaker Carla Harris, from global financial services leader Morgan Stanley, is scheduled to give a rousing speech on stepping stones to success.
Note that FestiGals attendees are strongly encouraged to stay the entire weekend and enjoy the best of what the New Orleans nightlife and food scene has to offer.
The Grand Diva
All of these events are headed up by the FestiGals Grand Diva, a woman chosen for her unique contribution to the New Orleans community and women at large. Past Grand Divas have included local personality Margarita Bergen and Grammy-winner Irma Thomas; this year's Grand Diva is TV and radio legend Angela Hill.
And, if you're wondering what to pack for the extravaganza, take it from Dartus: "A Bodacious hat for the BBFC Brunch, and boas, wigs and things that [GLOW] for this year's Stiletto Stroll that's themed 'shining light on domestic violence' to benefit the New Orleans Family Justice Center."
FestiGals will be taking place at the JW Marriott (614 Canal St) and several surrounding locations in New Orleans July 28-30th. Tickets are available online for both the entire FestiGals weekend and the New Orleans Women's Conference until midnight July 20th.
Tickets will also be available for purchase at the JW Marriott during FestiGals weekend.
Image courtesy of FestiGals.