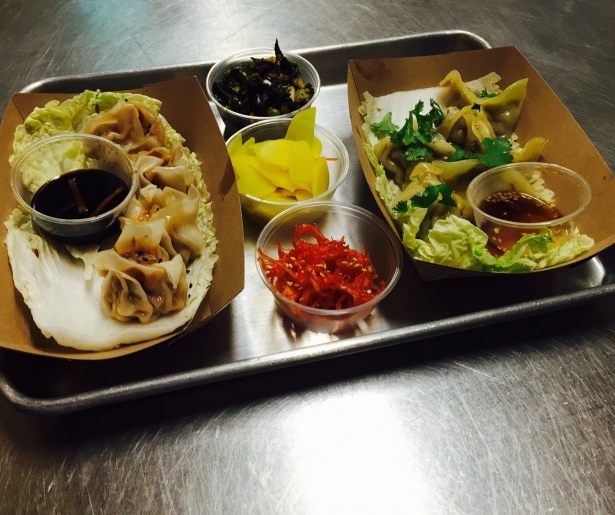 Even as some blossoming pop up restaurants transition to brick and mortar, and other less-successful ideas settle into the dust, another wave of surprise flavors erupts from local culinary minds. These chefs, using shared kitchen spaces or vacant bar kitchens, bring their pop up concepts to fruition while keeping the overhead manageable for their start-up food ventures.
The PDR NOLA
Husband and wife team Rita and William Barial recently decamped from the St. Roch Market to return to their pop up roots. The duo will make regular appearances on Friday nights from 6pm-2am at Bar Tonique serving their signature cold fried chicken sandwich, which comes with bacon, sharp cheddar, and pickles with a garlic/thyme aioli – along with a slew of other fusion dishes for your late-night hunger.
The Lost Line
Every Sunday, this brunch pop up takes over the dining room and kitchen at 1000 Figs. Chefs Colin and Mary offer a rotating array of seasonal, affordable brunch dishes; the menu generally consists of 4-5 dishes. Past themes include "bahn mi," "corn cakes" and "Easter ham."
Stickball "A Meatball Pop-Up"
This meatball-centric pop up and catering company serves a variety of meatballs along with traditional Italian fare. Find them at Pal's Lounge with a variety of treats. Past menus offered meatballs and mashed potatoes, crawfish boil balls, and feta, mozzarella risotto balls.
House of Dumpling
Traditional-style steamed dumplings find a home among dumpling-shaped creations in this kitchen. Ths Siu Mai is a traditional Chinese pork and shrimp dumpling; other options include the vegetarian purple yam with 5-spice or the Sichuan chili and fish dumpling. Keep an eye out for these treats on Sundays at Barrel Proof.
Alma
Chef Melissa Araujo creates farm-to-table pop up dinners with a focus on Honduran cuisine that has a personal, family narrative. The next dinner is yet to be posted, but be sure to reserve in advance online. $75 ticket price includes a 4-course meal and a complimentary cocktail. An example menu featured a 4-tomato salad, sea bass ceviche, arroz con pollo (chicken rice), camarones al ajo (garlic shrimp), and finishes with arroz con leche (rice pudding). The selection changes based on the season.
Fatto Bene
This new Italian concept pops up at Bao & Noodle (2700 Chartres) in the Marigny. Once a month on Sundays, the team serves up hand made pastas, seasonal produce, and signature desserts. Dinner is BYOB. Past dishes include braised chicken cannelloni, porcini and ricotta ravioli with spinach and grana padano, and creamy berry and pistachio tart.
Lahpet
This lunch pop up offers Burmese salads, homemade curries, coffee and teas – if you've never had Burmese food, it's a mix of Southeast Asian, Chinese and Indian flavors, but has a character all its own. Hot dishes include house curried fish plate or house curried tofu plate served with jasmine rice and vegetables. The pickled tea leaf salad is a caffeinated salad with pickled Burmese tea leaves, mixed fried nuts, greens, tomato and lemon. Many dishes are vegan and gluten free. Look for them on Fridays at Hollygrove Market.
Milkfish
Since vacating their brick and mortar on Carrollton, this team has launched a pop up aimed at bringing Filipino food to New Orleans. Find Chef Cristina Quackenbush making her Southeast Asian soul food on Wednesdays at Live Oak Cafe (8240 Oak St) from 5–10pm, and Sundays at The Broad Theater (noon; 636 N Broad St) until the food runs out.
Tuco Taco Tuesday
Ameripolitan music lover and cook Jimi Palacios hosts Spaghetti Western with Tuco Taco on Tuesdays at the Hi Ho Lounge. The nightly menu consists of pork, bean, or pork and bean tacos – each one rings up at wallet-friendly $5 apiece – or a plato rendition of his signature flavors served with a tortilla on the side for $8. Customers can also choose from a quesadilla or a selection of chip and dip varieties that include either spicy salsa or nacho-style with butter beans and cheese.
The Old Portage
Chefs Amarys & Jordon Herndon pay homage to the port of New Orleans with their evolving small plate selection, which pops up Tuesdays at NOLA Brewing from 11:30am-10pm and Thursdays at French Truck Coffee (1200 Magazine St) from 8-11pm, plus bi-monthly at the Black Penny from 6pm-2am on Fridays and Saturdays. The fare varies, but dishes like coffee cured lemonfish, sweetbreads and waffles and shrimp toast are recent features.
Dirty Dishes This wallet-friendly breakfast and brunch pop up has a permanent stall in St. Roch Market (2381 St Claude) but also pops up regularly around town at places like 323 (323 Verret St). Look for traditional eggs and pancake dishes along with proprietary twists on old classics like Dirty Mac – smoked Gouda mac and cheese with crawfish and Tasso.
323
This pop-up specific venue in Algiers Point hosts many of the ventures listed in this article and even more that are up and coming. This new renovation has a family dining atmosphere and hosts a full range of culinary flavors.
Image: House of Dumpling, via Facebook.