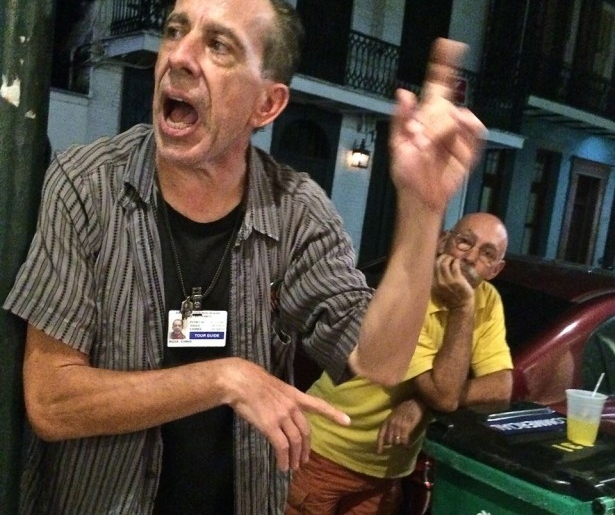 SHARE
"This is not a ghost tour, this is not a vampire tour," Chris Rose tells the high-spirited group of tourists and locals gathered outside Muriel's, where we're about to embark on his New Orleans Magical Musical Mystery History Tour. "Everything I tell you, every anecdote I relate, is true."
And that's no lie.
Over the course of the next two-plus hours, as we wend our way past several stations of the cross from Jackson Square to Congo Square, Rose takes us on a wild ride through you-can't-make-this-stuff-up local lore, dropping to his knees (twice) to amplify his passion for "the power of music, the driving force of our lives."
Some revelations are mildly amusing footnotes (our beloved state song, "You Are My Sunshine," was written by a guy from Georgia). Others are bizarre shaggy-dog epics (Eric Burden's search for the real "House of the Rising Sun" ends in a convent). All are wildly entertaining, delivered with the showmanship of Ernie K-Doe, "crown prince of weirdness in this city" and Rose's musical lodestar.
"Smoking, drinking, vulgarity and heckling" are not just permitted but encouraged on a tour punctuated by spontaneous outbursts of song. Tonight, it gets off to a rousing start when Rose goads us into a group singalong of "Mother-in-Law," K-Doe's biggest hit.
Our fearless leader, who sports a K-Doe button, has an official tour guide license hanging around his neck. But Rose is no ordinary guide, and most of the locals he attracts are longtime fans, as are many of the visitors.
A former Times-Picayune columnist and Pulitzer-winning reporter, who reigned as King of Krewe du Vieux the same year his Katrina memoir, 1 Dead in Attic, became a New York Times bestseller, Rose has immersed himself more deeply in his adopted hometown than any writer since his spiritual forebearer, Lafcadio Hearn. He's as conversant with New Orleans characters and French Quarter denizens as John Kennedy Toole's Ignatius Reilly. And he knows his stuff.
Rose's primary thesis expands K-Doe's famous decree – "I'm not sure but I think all music came from New Orleans" – to include the entire state of Louisiana, looping country music into the equation via Shreveport's Louisiana Hayride and drawing a direct line to hip-hop from Congo Square. But what makes his tour so damn much fun is the corollary Rose adds.
"Ernie's thesis about all music coming from New Orleans has a caveat," Rose tells us. "The music is driven by irony. And it's not just a twist of fate. It's in our DNA."
Take St. Louis Cathedral, where the tour commences. Because an old city law prohibits music being played within 90 feet of the cathedral, all the street musicians are shunted off to the side.
"But the occult is here!" Rose says gleefully, pointing to the fortune tellers and tarot card readers encamped directly outside the entrance to the sacred space. "The dark forces abound!"
Irony abounds around the corner, at 720 St. Louis St. Now Cafe Soule, the former brothel was acquired by notorious gangster Bugsy Siegel in the 1950s, when he came to New Orleans on the lam from taxmen.
"Bugsy made the miscalculation that many syndicated mob bosses made before and after," Rose recounts. "He bought a white, diamond-encrusted piano to set it up as a nightclub to launder the money he never made. Here's what he learned: You know what? You cannot compete with the state legislature in Louisiana."
Right on cue, we all crack up at what reliably serves as "the biggest laugh line on this tour." But that's not the end of the story, not by a longshot.
Bill Clinton's erstwhile paramour Gennifer Flowers draped herself over Bugsy's diamond piano for a few years in the early 2000s, when a rich lover helped her realize her dream of becoming a nightclub chanteuse. Later, in the brutal aftermath of Katrina, 720 St. Louis became an oasis of sorts for Rose, who liberated steaks from the town's only natural gas-powered freezer across the street at Antoine's, and grilled them up for grateful National Guard troops.
Rose weaves in personal anecdotes like that throughout the tour. But our stop at 828 St. Louis is his piece de resistance.
In the early 90s, when Rose was an entertainment reporter for the Times-Picayune, he got a call from a friend who was hosting Eric Burden when he came to town to play House of Blues. Burden enlisted Rose to document his decades-long obsession with discovering the real "House of the Rising Sun," the song that made him a global megastar when he sang it with The Animals but failed to fatten his bank account after a bandmate ripped him off.
Rose spares no details recounting this labyrinthine saga, which culminates with Eric Burden on his knees singing to 30 nuns in a brothel-turned-convent. For the dramatic finale, he does his own mic drop to the sidewalk while our entire group belts out the song's iconic words: "There is a House in New Orleans/they call the Rising Sun."
Sound like fun? It is, especially with a go-cup in hand. The tour has several pit stops where you can refuel and take a load off during the French Quarter ramble, and Rose plans the daytime jaunts with strategic breaks in shady spots.
Even if you know a lot about Louisiana music, as many in our group did, you're sure to learn something surprising from a man who's made it his mission to spread the good word:
"From these streets, some of the world's greatest music has arisen."
The Chris Rose New Orleans Magical Musical Mystery History Tour can be booked by emailing chrisrose504@gmail.com. For upcoming tour dates and info on additional tours currently in development, follow Chris on Facebook and Twitter @ChrisRose504. The tour costs $25.
Photo by Cree McCree.