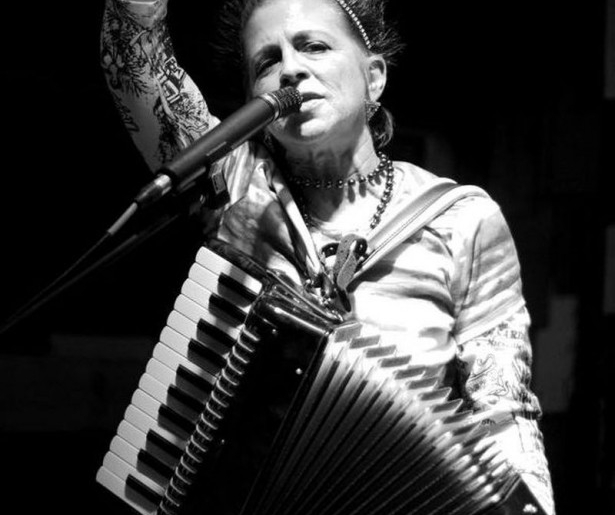 It takes a lot for one single person, alone, to command a stage. But with her trademark spiky hair, dynamic dance moves (sometimes in silhouette, performed behind a screen), and an assortment of party-rockin' beats programmed into her keyboard, Valerie Sassyfras is nothing if not commanding.
Sassyfras's new-wave swamp-pop swerves all over the Louisiana map, from dance rave-ups to plaintive electro-ballads. "I don't really stick with one sound, I try to move around," says Sassyfras, who does just that, figuratively and literally, on stage.
"I don't want to box myself in anymore…especially since I am just one woman on stage, I feel like I have to switch it up anyway to keep people interested." Harmonizing along to her own previously recorded vocal tracks, Sassyfras also switches up instruments: from keyboard to accordion to washboard to mandolin to foot tambourine.
A native of the Louisiana Avenue Parkway part of town, Sassyfras took a long, hard musical road to becoming a beloved, offbeat New Orleans icon, perhaps best known for her daytime gigs at Morning Call in City Park.
As a young, classically trained pianist, Valerie met and married musician Johnny Donald who, over the course of 30 years, led them both on many musical adventures in a band called Sassyfras. In the 80s, the couple began intensely studying Cajun music after being offered a gig at Mulate's. Valerie purchased her first accordion during that time and taught herself to play.
Johnny and Valerie learned songs by legends like Amede Ardoin and Zachary Richard, and eventually, the couple left New Orleans for Nashville. Up in Tennessee they ran a bar and changed their act's musical focus from Cajun to country. But in a tragic turn of events, after moving to Hastings, FL and opening a music equipment store and recording studio, Donald was hit by a car while riding his bicycle in 2004. In the face of hardship, the couple thought it best to move the crippled Donald back near New Orleans.
At home, with her husband's blessing, Valerie went about sowing the seeds of her solo career, first playing instrumental music at a Piccadilly cafeteria. It wasn't until Donald passed away in 2011 that Sassyfras started playing nightclubs as a solo performer.
Alone, Sassyfras built upon what she had learned while programming her DX7 synthesizer in the 80s, which she used to create an electronic backing band for original hip-hoppy ditties like "Youth Is Wasted on the Young," and the party anthem "Girls Night Out."
"It's taken a while to learn how to program all that because I am not a technical person," says Sassyfras. "I would love to have a band, if I thought I could pay them. Until then, I am happy to be on my own and not deal with anybody."
The songs aren't all about having a good time; in the ballad, "On the Outside" Sassyfras bemoans the loss of her husband. "And I do still play some of the songs we wrote together," she says, "some zydeco tunes like 'Zydeco Fix' and 'No Roses.'"
But she stresses that, more than anything, Sassyfras shows are about having fun – and she puts a lot of work into making sure you get to your happy place. "I do all the choreography myself," she says. "When I was a kid, my mother sent me to dance lessons, both ballet and tap. Nowadays I am glad I did that!"
"The real joy I get is from being on stage," she adds. "That's when I am happiest. When I am not on stage I am working on trying to get back onstage!"
Sassyfras's infectious joy has won her high-profile fans such as Sasha Masakowski, who told Crescent City Jewish News that Valerie has, "The ability to command any stage as if it was her living room. The warmth of her spirit and purity of her heart are intoxicating," says Masakowski. "I think what myself and other musicians are drawn to is her confidence and originality, combined with her remarkable perseverance."
These days you can catch Sassyfras all over town, from Melba's in St. Roch, to the Allways Lounge and Hi Ho on St. Claude, to Homedale Inn in Lakeview, and of course, every Monday, Wednesday and Friday outside of Morning Call at City Park from 10am to 2pm.
Image via Valerie Sassyfras.