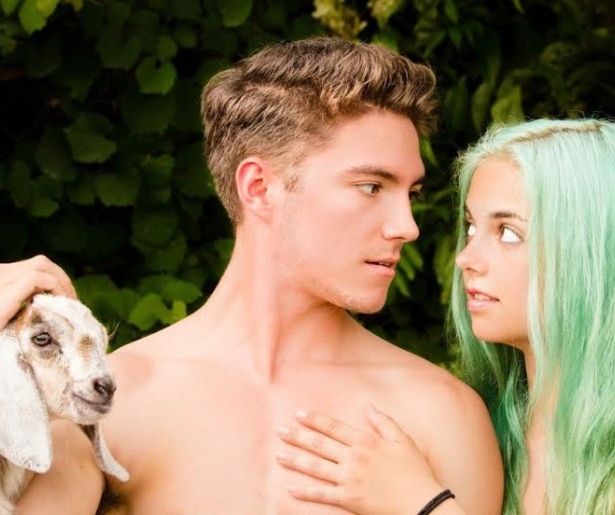 SHARE
A rose is a rose is a rose. But a Sicilian rose is the thorniest of them all. Blood red with passion, it pricks the heart and brings tears of laughter to the eye, invoking the entire pantheon of saints while spitting in the face of death.
Under the direction of Augustin J Corerro, the Tennessee Williams Theatre Company production of The Rose Tattoo brings Williams' raucous dark comedy to life in glorious technicolor and turns the volume up to 11, taking full advantage of the bells and whistles at the Samuel Dubois Cook Theatre at Dillard University, which is partnering on the production (July 22-August 7).
"Imagine what we can do with real theater technology, instead of paper clips and duct tape," says Correro, whose last two TWTC shows were staged in a bar and a church respectively.
When I arrive for rehearsal at the theater, riggers are testing a fly system that raises and lowers scenery. Meanwhile, in a back room, a crew member is meticulously hand painting individual petals for giant roses. They will festoon the stage before tragedy strikes the Sicilian seamstress Serafina, turning her into a widow as shutters come crashing down to cloister her in her grief.
As impressive as the stage set is, it's mere backdrop for the delirious interplay among a vivid cast of characters that includes a clairvoyant herbalist, a strega (witch), neighborhood gossip, brazen hussies, the requisite Tennessee Williams sailor, a goat (played by a human) and assorted other denizens of a tight-knit Gulf Coast Sicilian community near New Orleans.
At the center of it all is Serafina delle Rose, played with feverish intensity by Lillian J. Small. As the play opens, she's lounging with a glass of wine eagerly anticipating the return of her truck driver husband, Rosario, while boisterous kids careen around her, neighboring moms call them home to dinner, and a soothsayer drops by to predict imminent doom.
It's a boffo opening for a play that veers wildly from slapstick to calamity on a dime, as seen through the eyes of a playwright who was intimately acquainted with both. Written in 1950, when the local Sicilian community was not yet fully assimilated, Williams drew on his first-hand knowledge of an immigrant culture that dovetailed with existing New Orleans traditions.
"Williams crafted a hilarious, joyous celebration of life set against a backdrop of death, which is something I think a New Orleans audience really understands," says Correro. "A place that celebrates funerals with parades and dresses up death in macabre decadence is the perfect place to stage a comedy centered around a funeral urn."
It's also an intensely personal project for Correro who, together with co-artistic director Nick Shackleford, is launching TWTC's second season with The Rose Tattoo after a stellar first year.
"My great-grandfather came over from Sicily and settled in the Mississippi Delta," says Correro, whose name is an Ellis Island-anglicization of the original Italian. "His birth name was Rosario Guerreira, and he ultimately drove a truck for a fruit distributor, just like Serafina's husband Rosario. It was a very distinct community at the time the play was written. Sicilian immigrants were jeered at as being dirty and taking people's jobs, same kind of rhetoric as today."
To underscore the parallels with today's heated political atmosphere as regards immigration, Correro set the production in present time, instead of staging it as a period piece.
"The Strega has a whole monologue about Sicilian people which is uncannily like the arguments people make against immigrants today," he notes. "Though Sicilians were legally classified as white in the 1920s, things didn't change overnight, especially in the deep south."
Correro also shook things up by making the decision to seat the audience directly on the airplane hanger-sized stage.
"We can fit at least 75 people," says the director, who's not skimping on the set to accommodate the audience. "There's a crackle that comes from interplay that informs the whole experience."
Audience members will have a front row seat as rowdy characters try to snap Serafina out of her self-imposed exile inside her own home, where she dresses in Rosario's underwear and converses with ashes enshrined in an urn that flouts Catholic edicts against cremation.
"Serafina tries to wallow in tragedy, but the world won't let her be a Debby Downer," says Correro. There's graduation dresses to finish sewing, a budding teenage daughter to rein in, and catty whispers that she's not the only woman branded with Rosario's rose tattoo.
As in many of Williams' plays, the female characters take center stage. "Men are in a lot of ways the set dressing for the hero's journey of Serafina," say Correro. And at every stage of that journey, "things that seem significant can quickly turn ridiculous."
It's a winning formula for a rollicking evening of entertainment that delves deeply into the heart of the universal human condition within a specific, highly colorful community.
"The play is a lot like a hysterical bacchanalian confession," says Correro, who, as director, clearly enjoys playing the priest behind the confessional curtain. "You should leave the theater feeling the kind of human forgiveness that makes you laugh."
'The Rose Tattoo' runs July 22-August 7 on Friday, Saturday and Sunday nights at 8pm at the Samuel Dubois Cook Performing Arts Center, Dillard University, 2601 Gentilly Blvd (enter at St. Anthony Ave). Tickets, available here, are $25 for general admission or $20 for students/seniors/ military.
Image via the Tennessee Williams Theatre Company.