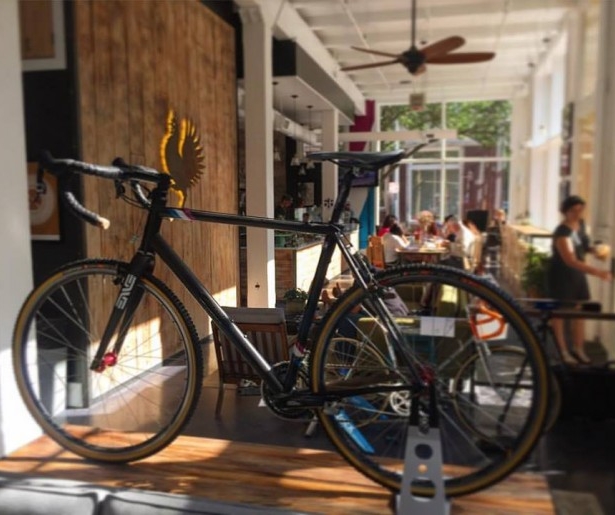 SHARE
A native of Texas who moved here in 2006 after living in New York City, Wes McWhorter, CEO and creative director of Rouler on Baronne Street, is a cycling enthusiast, designer, brand developer, creative director, entrepreneur, occasional mechanic, father, husband and coffee drinker.
While not everyone can funnel all their favorite personal and professional interests into one business venture, McWhorter decided to give it a solid try after finding success as a brand developer and interactive designer, and so far the creative venture has been well-received at its location in the Central Business District.
Rouler is part coffee shop, part bistro, part happy hour hot spot and part apparel shop. It also offers cycling consultation and bike-fitting services (Hot tip: Everything there is 34% off for women for the rest of July, in solidarity with the wage gap).
The airy, light-filled space features spacious wooden tables and a blend of contemporary and vintage furnishings. An aesthetic highlight is the full-wall mural behind the coffee bar, a replica of an antique photograph of a cycling club from the late 1800s. Notes McWhorter, "[The space] kind of like a big art project – it celebrates traditional and contemporary cycling culture. It's analogue and high-tech at the same time. We've crafted the experience around the brand's story."
Always a collaborator, McWhorter designed the location with a set designer and architect (and fellow bike-rider) Andrew Murdoch; the two hit it off and became friends while Murdoch was in New Orleans from L.A. working on the set of Scream Queens.
McWhorter started Rouler the brand as a side project in 2012 while working full-time as an interactive designer for a number of local advertising and creative agencies. A cyclist enthusiast for more than 30 years, McWhorter says "[Rouler] started as a mobile mechanic service and apparel brand company."
"Primarily it was online, and we had a mobile mechanic. Over the course of the past few years, we focused on developing a community and audience and understanding the opportunities in the market place. We started a bike race series that continues to this day in the fall, and that helped us to grow a fanbase."
This past year, he says, "My wife and I were like, 'This needs to be the do-or-die year for this company. I had a great job at Peter Mayer Advertising, but I never felt like I'd developed Rouler to a full extent. So I started to focus on developing a business plan and getting private investment. It had been very much a part-time gig; I'd work on bikes at night and on weekends and that sort of thing. Then [general manager Zack Thomas] and I were like, 'OK we have to quit our jobs."
Rouler finally opened on Friday, May 13. Whatever stigma that date holds hasn't seemed to have rubbed off on the business. Now their fan base – which is ever-expanding as cycling continues to catch on in the Crescent City as a viable, alternative method of transportation as well as a fun form of exercise – has a physical place to hang out in between rides.
The venue also welcomes non-cyclists: its convenient location draws in a number of professionals on their way to and from the office. The bistro fare at Rouler is mainly on the healthy side, says McWhorter, to cater to the nutritional needs of cyclists. They offer baked goods from Gracious Bakery, coffee from French Truck, lox from Elysian Seafood and beer from Urban South Brewery, among other locally made products.
"Most people come in here for the cafe," says McWhorter. "That's where a majority of the revenue is coming from. Most of the clientele are stopping in for coffee or for lunch. We're working on our happy hour menu, as well."
He says the staff is also working on their service capacity to accommodate the swelling number of bikers in the area.
"We've had a whole lot of different scenarios. People come in with flat tires on their delivery bikes. We get recreational riders. Pedi-cab drivers come in for their iced coffee or to refill their water bottles. We also do some limited roadside assistance. If someone has a flat and they're close by and we have the bandwidth, we can run out there do service on the spot."
The visionary team behind Rouler will not stop just here – they plan to keep rolling with new opportunities and hope to expand in the future.
"We look forward to being a brand that grows to a national level while shining a positive light on the cycling culture of New Orleans," says McWhorter.
Want to visit? Rouler is at 601 Baronne St.
Image courtesy of Rouler via Facebook.