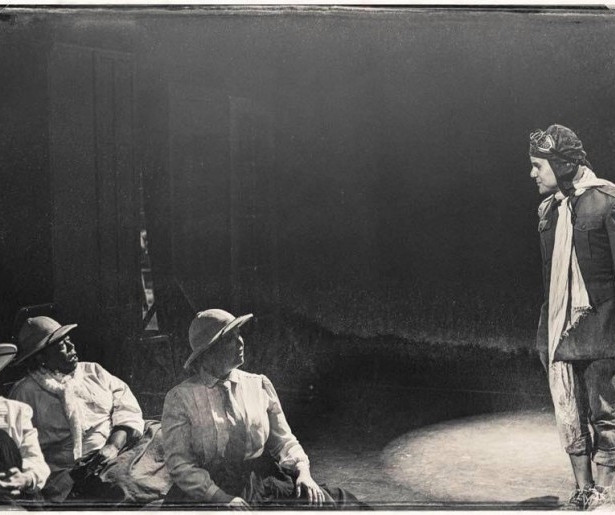 SHARE
Editor's note Due to technical issues at the Theatre at St Claude, the performance of 'On The Verge' has been postponed until a later date in October.
"Ladies, shall we bushwhack?"
And they're off!
Three intrepid "sister sojourners," based on actual Victorian lady explorers, don their trusty pith helmets, arm themselves with umbrellas and machetes, and hack their way through Terra Incognita. Said terra grows ever more incognita as they time-travel into a future littered with strange mechanical artifacts and populated by "natives" who morph from a cannibal to a yeti to a wise-cracking nightclub owner circa 1955.
Welcome to the delightfully surreal world of On the Verge or The Geography of Learning, a linguistic safari into the unknown written by Eric Overmyer and directed by In Good Company's Rebecca Frank, which opens November 3 at the New Orleans Art Center.
Yes, that Eric Overmyer. Best known locally as the co-creator of Treme, Overmyer emerged as one of freshest, fiercest voices on network and cable TV while writing for Homicide: Life on the Streets and The Wire, both set on the killing streets of Baltimore.
But before he started scripting TV series, Overmyer was a well-established playwright, and the 1985 premiere of On the Verge went on to become one of the most-produced and best-loved plays on the regional and college circuit.
"I've always loved the play, which I first did right after September 11 in New York," says Frank, who played head sojourner Mary in that production. "And it's been a dream of mine to revisit it. It's beautifully written, and some of the speeches are based on actual journal entries and letters [written by lady explorers]."
Victorian-era female bushwhackers are a far cry from the gritty inner city denizens of The Wire. But the dense, pithy language that made The Wire so compelling also drives On the Verge, albeit in a far more playful manner that recalls the limber linguistics of Tom Stoppard.
For Frank, a deep love of language is obvious in everything Overmeyer writes – particularly this play, which she characterizes as driven by discovery, joy and adventure.
All three characters are seasoned sojourners who have previously traveled solo, and watching them parry one another as they adjust to becoming a team is part of the fun. A recent rehearsal had me laughing out loud at the rapid-fire wordplay and sharply executed physical comedy.
Mary (Sherri Marina), the most seasoned trekker, wouldn't dream of wearing pants in the wild, where her voluminous petticoats once cushioned her from being impaled on a jungle trap's punji sticks. Nor would Fanny (Cammie West), the only married woman in the trio, who keeps her umbrella handy for "whacking the recalcitrant croc" while on assignment for lurid tabloids.
But young proto-feminist Alex (Sarah Carlton) balks at Mary's decree that "the wearing of trousers by women leads inexorably to riding astride a horse."
"Riding astride is far more comfortable and sensible than side-saddle," sniffs Alex, who travels with her new-fangled Kodak and once witnessed Tibetan monks transmuting into birds. "Trousers, ladies, are the future!"
That future is upon them sooner than they could imagine. Beginning with the discovery of an "I Like Ike" campaign button, which they struggle to decipher, a series of inexplicable objects from an egg beater to a tub of Cool Whip serve as trail markers to their ultimate destination: Nicky's Peligrosa Paradise Bar and Grill, circa 1955.
Along the way, they encounter a series of seven "natives," including a cannibal named Alphonse (after the last man he ingested), a snowball-hurling yeti and a finger-snapping troll who spouts beat poetry. All are played by the same actor who embodies Fanny's Terre Haute husband Grover (Evan Spigelman), whose chameleon-style transformations provide plenty of grist for our heroines' field-notes mill.
If that sounds like a hoot, it is. So are the verbal gymnastics, delivered with the precision of a fast-talking '40s screwball comedy. But Frank and her troupe don't just play it for laughs.
"It's important to find the humanity and dark satire," says Frank, who jumped into On the Verge fresh from the success of The House of Bernarda Alba, another female-centric play.
"What does it mean for westerners to go into other people's countries as explorers and 'discover' them? Like this funny word 'native.' What is a native? Everyone is a native of somewhere. We're natives too, are we not?"
'On the Verge' runs Thursday, Friday and Saturday night at 8pm from November 3-19 at the New Orleans Art Center, 3330 St. Claude Avenue. Tickets, available here, are $20.
Image courtesy of In Good Company.