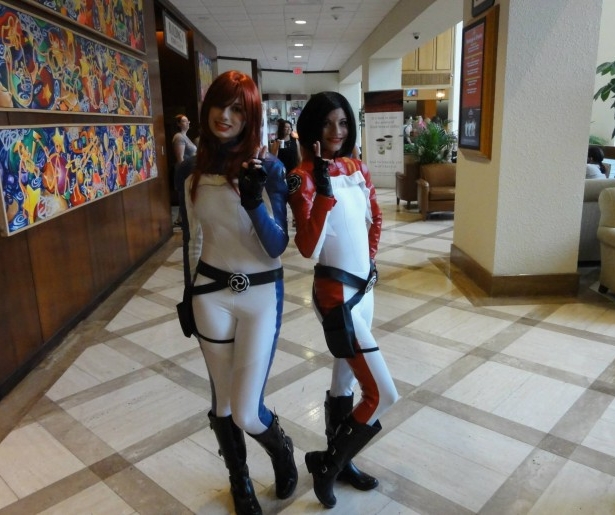 Anime and comic book nerds will tell you that during the late 90s and early 2000s, the comics market in America seemed to be dying. During this drought, in 2005, the MechaCon anime convention first launched in Lafayette, Louisiana — on the weekend of hurricane Katrina.
"It hit the last day," says Travis Farrar, Director of Operations for MechaCon, which celebrates its tenth year this weekend at the New Orleans Riverside Hilton. "We still had about 800 or 900 attendees. But then our sixth convention we moved to New Orleans, and that really increased attendance and foot traffic. Plus there was just this huge resurgence, especially in American comics, with all the new Marvel movies — so last year MechaCon attendance was around to eight-to-nine thousand."
MechaCon exists for those interested in working in the anime industry, as much as it does for fans of anime.
"We host animators, writers, directors who direct the voice acting for animation overdubs," says Farrar. "Like, we have Greg Weisman who created Gargoyles and works with Disney, he has come several times."
MechaCon focuses mostly on Japanese pop culture in all its many iterations. "We did a Power Rangers reunion a few years ago with the original cast," recalls Ferrar. "Our musical guests are usually some way related to Japanese pop bands, or bands that do covers from anime. There are presentations about Japanese board games where you learn how to play, and people discuss that aspect of the culture."
Farrar says the cosplay event is MechaCon's pride and joy — which makes sense, in New Orleans. "Cosplay celebrities are essentially very famous costumers," explains Farrar. "If you're not on the convention circuit you probably haven't heard of them, but their costumes are mostly all tied into anime cartoons."
Other presenters and guests this year include celebrated voice actor Khary Payton, "Khary voices Cyborg on Teen Titans, Aquabat on Young Justice, and Grimlock on Transformers," says Farrar.
"Then we have Wendy Powell, who played Envy in Fullmetal Alchemist, an extremely popular anime a few years back, and she did Gunslinger Girls. We'll again have Paul Schrier and Jason Narvy who played Bulk and Skull in the original Power Ranger series."
New to MechaCon these last few years, and instantly popular, have been the special after-hours rooms. "We don't do main event stuff past midnight, but since 2013 we've made the electronic gaming room 24 hours," Farrar says.
"The tabletop games room — which is Dungeons and Dragons, Pokemon cards, Magic: the Gathering, and that sort of thing — that's open 24 hours. And the video rooms all run 24 hours with 80-percent Japanese content, a lot of wild animation. All those rooms are pretty full at like 4 o'clock in the morning."
This year's special guests also include Amelie Belcher, a comics illustrator displaced from New Orleans to Austin by Katrina.
"Comic books will break your heart in that it's hard to make a living," says Belcher, "but I have been doing it for 12 years now."
Most of those years Belcher has presented at MechaCon.
"Every year I set up my booth and I sell prints of my original artwork, copies of my own comic books — Loud Snow, which I illustrated but did not write — and my baby that I am really proud of, Bounty Haunters, about bounty hunting ghosts."
Belcher has seen many benefits from annually attending MechaCon. "On the guest level you get to interact with other artists, voiceover people, marketing people. I met the writer of Loud Snow at a convention years ago. A convention is the right place to go if you're a writer who can't find an artist.
"More importantly, MechaCon also has me running panels where I'm teaching comics to every age range of kid under the sun," Belcher continues. "I teach them basic drawing anatomy, then how to set a comic book page — like, how to break them down, how to make them flow, how to get from one motion to another — and then we give them the nuts and bolts of setting up a website for their work."
Though perhaps biased as a hometown girl, Belcher says MechaCon is very different from similar comics and anime conferences in other cities. "It definitely has a different vibe, and feels a lot more close knit," she says. "That's definitely because it's New Orleans…Though weeks ago I did see 90-year-old man at a convention in Tulsa walking around in a costume…"
"But that's the thing," Belcher adds, "There are so many kinds of people at MechaCon. It is not just for people who enjoy Japanese anime. Whether you like Star Trek, Lord of the Rings, even South Park, there's going to be someone at MechaCon who is just like you."
MechaCon takes place July 29 to 31 at New Orleans Riverside Hilton. Friday tickets cost $18 ($10 for children 9 and under), $25 on Saturday ($15 for children 9 and under), $12 on Sunday ($7 for children 9 and under), or $45 for a 3-day pass ($25 for children 9 and under). Special group rates and other information can be found at mechacon.com, which provided the above image via Facebook.