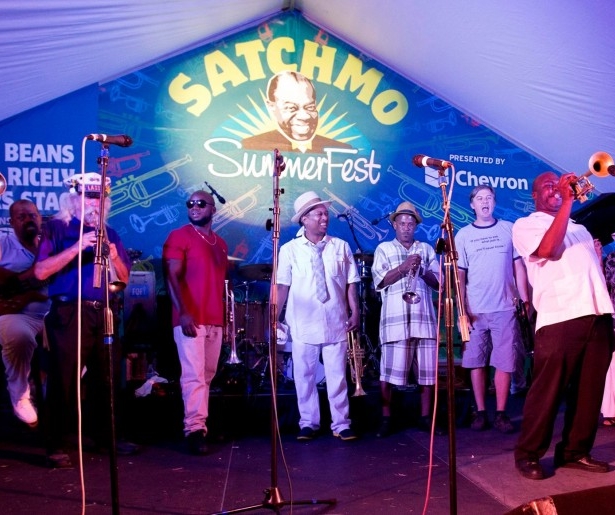 SHARE
"If you have to ask what jazz is, you'll never know" – Louis Armstrong
New Orleans native and jazz legend Louis "Satchmo" Armstrong once famously said, "Never play anything the same way twice." Well, this year, organizers of the annual Satchmo Summerfest have taken that advice to heart, moving the Louis Armstrong themed festival from The Old U.S. Mint to the more spacious, crowd-accommodating Jackson Square. The festival takes place from Friday, August 5th to Sunday, August 7th, and features live music, films, lectures, and swing dancing.
The relocation is designed to help the festival grow and expand. Crowds swelled to nearly 57,000 people in recent years, and the narrow lawns at Decatur and Esplanade were routinely overloaded. Festival organizers hope that with two stages at opposite ends of Jackson Square, ticket-buyers can properly enjoy a variety of jazz performances, from artists both local and internationally renowned.
Highlights for this year's festival include performances from the Dirty Dozen Brass Band, Kermit Ruffins, Treme Brass Band, and many more. In the nearby Louisiana State Museum's Arsenal building (600 St. Peter St.), the festival will offer swing dance lessons on Saturday and Sunday afternoon, as well as a dedicated kid's areas, called "Pop's Playhouse."
Satchmo Summerfest begins with an opening reception the night of Thursday, August 4th, at Le Petit Theatre (616 St. Peter St.) at 6:30pm. The event includes Tom McDermott's performance of "Satchmo from the 1920's to the 1960's," followed by a second line and kickoff party at the historic Omni Royal Orleans Hotel.
Throughout the weekend, Le Petit Theatre will also host the annual Satchmo Symposium, a series of lectures and discussions from jazz scholars, aficionados, and historians.
One notable symposium event this year is From Satchmo's Knee to a Grammy: A Conversation with Catherine Russell, in which the Grammy award-winning singer and bandleader will discuss her musical heritage and wide-ranging career with interviewer Fred Kasten. This is Catherine Russell's first appearance at Satchmo Summerfest, and she'll also be performing Saturday afternoon.

Here are a few other festival highlights:
Friday, August 5th
Kermit Ruffins – 5:30pm to 6:45pm on the Red Beans & Ricely Yours Stage: Local hero and acclaimed jazz star Kermit Ruffins always puts on one of the best sets of Summerfest.
Saturday, August 6th
Catherine Russell – 1:45pm to 2:45pm on the Red Beans & Ricely Yours Stage: The prolific solo artist and bandleader makes her debut at Satchmo Summerfest. She famously met Louis Armstrong when she was very young, and has toured the world as a backup singer with top artists such as David Bowie, Jackson Browne, and Cyndi Lauper.
Sunday, August 7th
Victor Goines – 2:30pm to 3:30pm on the Red Beans & Ricely Yours Stage: The reed master and member of Wynton Marsalis' Jazz at Lincoln Center Orchestra makes his festival debut.
Satchmo Summerfest costs $5 and takes place at Jackson Square, from August 5th to August 7th, noon to 9pm each day. For more information, click here. Above image via Facebook.