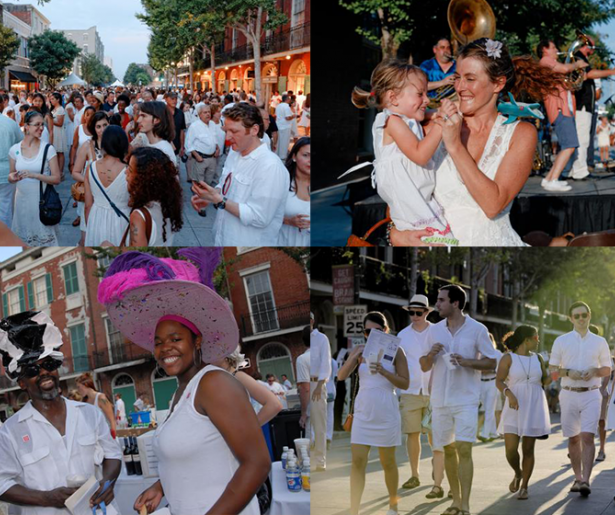 This August 6 marks the 22nd anniversary of Whitney White Linen Night, a street festival/block party that brings around 40,000 people to the Warehouse District for art, food, drinks, and music.
The storied arts affair started with two Julia Street gallery owners, who invented the event to lure locals to downtown galleries in August – a time when fewer tourists visit the city and intense heat drives some New Orleanians to cooler climates. The first White Linen night, held in 1994, was an immediate success, and the party has since grown steadily.
The evening raises money for the Contemporary Arts Center and brings art aficionados (and people watchers) together to celebrate New Orleans' arts community.
The 300 to 700 blocks of Julia Street will be closed, with booths set up for food and drink as people dressed in white and pastel colored clothing shuffle between some 20 galleries. To be fair, white clothing isn't required, but most people will be wearing it.
Organizers attribute the sartorial tradition to pre-air conditioning days, when light-colored clothing just made sense. Wyndy Morehead, one of White Linen's founders, also imagined the event as a night of linen and martinis a la Casablanca.
Because attendance wasn't expected to be high at the first White Linen, organizers envisioned a low key event. Then there was a drag fashion show the following year, as galleries saw an opportunity to use White Linen Night as a springboard for their own ideas.
In that way the event is unpredictable, despite the veneer of respectability associated with wine, linen, and pastels. Someone will be wearing red, someone will have a few too many, and people will most likely be performing in the street, somewhere.
There will be satellite events and pop ups that are always worth checking out. The Ogden and the CAC will also have openings and serve drinks – a nice spot to grab a cocktail before heading into the crowds on Julia Street.
On that note, street parking in the CBD or Warehouse District will be nearly impossible after 5:30pm, and with all the cocktails and wine on offer, a taxi or streetcar might be a better idea anyway. There will be around 25 food vendors, including food trucks and street vendors as well as nearby restaurants like Josephine Estelle at the Ace Hotel, Kingfish, St Lawrence and the American Sector.
I recommend making a late dinner reservation at one of the aforementioned spots or finding the street vendor with the shortest line.
Exhibits to check out:
Arthur Roger Gallery, 432-434 Julia Street
New Wave – Kyle Bravo, Jenny LeBlanc
Photographs, Paintings and Drawings – George Dureau
Vic and Nat'ly comic strip artwork – Bunny Matthews
If you go anywhere, go here. The Bunny Matthews show, Before and After, will feature works from before and after his cancerous brain tumor was removed.
Boyd Satellite, 440 Julia Street
Sputnik 3 – featuring Errol Barron, Blake Boyd, Carlos Betancourt, David Eddington, Pinkney Herbert, Peter Hoffman, Deborah Pelias, Pat Phillips, Andres Serrano.
Contemporary Arts Center, 900 Camp Street
"A Building with a View": Experiments in Anarchitecture
This group exhibition of regional artists marks the beginning of the CAC's 40th Anniversary Season.
May Gallery & Residency, 750 Carondelet Street
CELL – Heather Hansen and Diogo De Lima
The opening features two live kinetic drawing and dance performances on paper as well as a VR installation of prior kinetic drawings and dance performances.
Ogden Museum of Southern Art, 925 Camp Street
Louisiana Contemporary
Presented by The Helis Foundation, this annual juried exhibition is organized by the Ogden Museum of Southern Art and promotes contemporary art practices in the state of Louisiana. Always a good mix of pieces from local artists.
Steve Martin Fine Art, 624 Julia Street
Dream Team Olyesya and Houzenga
A collaborative exhibit of pop art paintings and photography from Olesya Ianovich and Brent Houzenga. These are vibrant and colorful works, and this opening will be fun.
Did I mention it's always hot? Make sure to sip more than just cocktails and stay hydrated. And be prepared to face crowds – White Linen has become a major social event. That said, the evening brings important exposure for artists and galleries that make our city special. And don't forget the after party at the CAC, where local favorite DJ Matty will spin funk and soul from 9:30-11pm with more food and drinks available at a cash bar.
A complete list of participating galleries and events can be found here.
White Linen Night is August 2. The Julia Street block party runs from 5:30-9:00 between the 300-700 blocks of Julia Street and throughout the Arts District of New Orleans, and admission is free. Food and beverage tickets can be purchased at a rate of 10 for $12. Admission to the CAC after party is $10. Images provided via CACNO – check their website for White Linen updates.