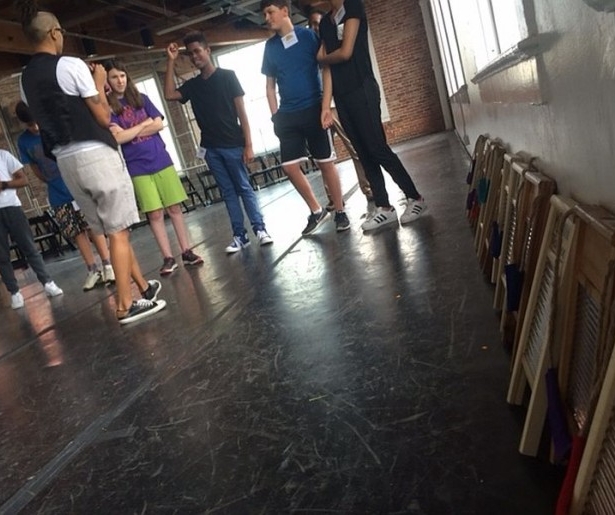 The sound of accordions pumping zydeco music waft down to the Contemporary Arts Center's gallery from the classrooms upstairs. It's the first day of summer camp in New Orleans.
Per normal, this first day of camp is hectic. Still, Mariana Sheppard, the CAC's director of camps, took a brief moment out her busy day to give a tour, as her campers enjoyed the fourth of their five daily classes in music, dance, culinary arts, visual art and theater.
"Each year, we have always explored a different theme: history, or adventure," said Sheppard, now in her fourth year at this job. "This year we wanted to hone our theme in on the campers themselves, and really think about them as individuals, as young artists, as young people living in today's society. We didn't want those usual generalized themes this year, but rather something more specific to the campers. So this summer the theme is self-esteem building."
One defining element of CAC summer camps: they always possess a literary bent. "We usually put together a list of best-selling children's books, books that are from things we can work into the classroom," says Sheppard.
"For the self-esteem building theme we are reading books that explore bravery, self confidence, uniqueness, the differences and similarities we all share, and how to be confident in those things that make us different from each other," she adds.
Each week of camp features a new book, plus a whole new set of teachers. Among this year's literary choices were Drum Dream Girl.
"It's about a young girl who learns to play the drums but feels like the drums are sort of a boys' instrument to play. Then her father encourages her to start playing more and she discovers this whole world," says Sheppard. "We're also reading Cornelius the Crocodile; we pick books that celebrate individuality, and the types of hidden talents that we implore our campers to explore."
At the end of each of the four weeks of the CAC's long-running camp, the campers perform a culminating event in the CAC's professional theater space. "This week will end with animation they did with the theater teacher," said Sheppard. "Then we'll have their visual art on the gallery walls, plus their culinary delights for everyone to taste and take home."
Sheppard says the camp's one-week production schedules are indeed tight. "It's pretty intense," she laughed. "It's not an easy undertaking, but we have such a great staff."
Many of the CAC's counselors – mostly college students or folks with an arts background – have been returning to the job for years. Sheppard says the kids are always a diverse group who come from as far away as St Charles Parish.
"We also have a teen program, and a teen internship program that happens simultaneous with camp," says Sheppard. "The internship is a great pipeline for finding us new teachers."
On the day we visit, upstairs in the CAC, washboards line the wall for a Creole music lesson (pictured above) by Desiree Champagne, a member of Cedric Watson and the Bijou Creole. Next door, Chef Mike Marina commands a room full of kids in his white chef's hat.
"For the younger kids this year, we are focusing on healthy foods that are going to be appearing in their lunches," Marina says. "Of course we're talking with them about nutrition, healthy snacks, and fresh sugars versus artificial sugars. Then the older kids are learning about Cuban cuisine and the importance of flavor profiles and putting their own spin on stuff."
This particular Friday, Marina's students will feed everyone at camp. "The younger kids' final projects will be very personal, they're making own lunchboxes, with their own trailmix," he says. "The older kids are doing a Cubano competition, with various marinades."
The latest CAC summer camp just wrapped in late July, but the program is becoming an institution, and parents should consider applying for next year's iteration. Now in their second decade, the CAC's camps cost $220 per week, with discounts for members, as well as student scholarships – the price of basic daycare, for an elaborate arts program that gives kids a chance to work and perform in an amazing setting.
"Our hope," said Sheppard, "is that the camp runs as long as CAC is in operation."