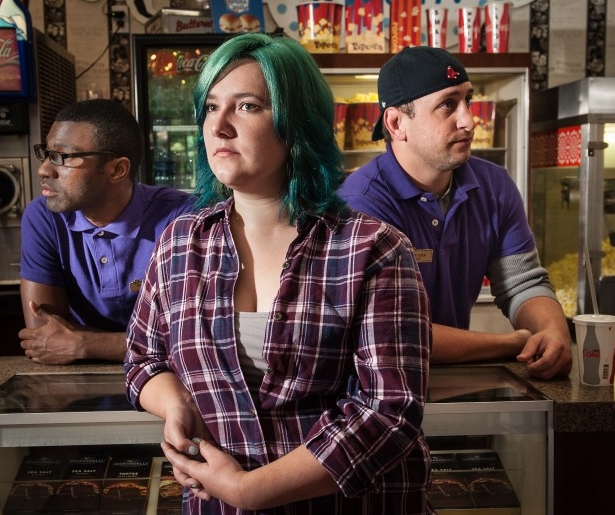 SHARE
Spilled, sticky soda. Chewing gum stuck to the bottom of seats. And popcorn, lots of popcorn.
There are so many stale kernels littering the aisles of The Flick that the two-act play needs a popcorn wrangler. His job is to keep 'em coming so the custodians at a seedy second-run movie house can continue to sweep them up. Day after day after day.
"Anyone who's ever worked a service job will understand this piece," says director Stephen M. Eckert, whose Promethean Theatre Company production of Anne Baker's Pulitzer Prize-winning drama opens August 11 at Rivertown Theaters for the Performing Arts.
"And anyone who's ever questioned where they are in life," he adds. "It's easy to roll your eyes at Millennial characters searching for purpose, but it's very relatable."
Think No Exit meets Clerks in a Seinfeldian show about nothing that's also about, well, everything. It's also pretty darn funny, especially for movie buffs, as I discovered at a recent rehearsal.
Avery (Khiry Armstead), a 20-year-old cinephile, has taken this dead-end job because it's one of the last remaining theaters that shows actual celluloid film. And his encyclopedic knowledge of the movies drives much of the dialogue.
To take their minds off the tedium of sweeping, Avery's older coworker Sam (Stephen Foley) feeds him pairs of movie stars to connect in a six-degrees-of-separation game that becomes a running joke. It's not much of a challenge for Avery, a guy with an eidetic memory Sam suspects may be a savant.
Jack Nicholson & Dakota Fanning? "Too easy!" Pauly Shore & Ian Holm? "Make it harder!" Michael J. Fox & Britney Spears? "Ooh, this one's a doozy," gloats Sam, while Avery calculates. But damn if he doesn't do it, linking Britney in Crossroads to Kim Cattrall in Mannequin (Sam's first sexual fantasy) and following the celluloid bread crumbs all the way to Christopher Lloyd in Buckeroo Banzai. Which leads to (drum roll, please): Michael J. Fox in Back to the Future.
The action, such that is it, revolves around 30something Sam pining for 20something green-haired projectionist Rose while actively resenting the fact that she vaulted past him in being promoted from popcorn sweeper to reel changer. Pouring salt on those wounds? Rose's flirtation with Avery.
But it's not exactly a torrid love triangle. Repetitive stress syndrome is the animating factor that keeps Avery and Sam sweeping up the next batch of popcorn left behind by the last audience – which we never see, save for the Dreaming Man, who nods out in the theater.
And he's not the only dreamer. In one painfully funny scene, Avery sits in the darkened theater on break describing what he dreamt last night to his therapist on the phone. In the dream, he's dead and stuck in purgatory, where a heavenly gatekeeper runs an ISBN scanner over every film he's ever seen to determine if he's worthy of entering heaven.
All of Truffaut's canon? No beep. The entire Criterion collection? Nada. Fanny and Alexander? Dead silence. Andrei Rublev? Nary a beep for Tarkovsky's masterpiece. Avery's really sweating it now, there's just a couple more shelves. He's almost given up hope when suddenly: Beep!!
And what rings the heavenly bell? Honeymoon in Vegas.
"What?" gasps Avery, who was obsessed with this "terrible movie with Nicholas Cage and Sarah Jessica Parker from like 1989" at the age of 4, when he watched it repeatedly at his cousin's house. "My entire life can be represented by Honeymoon in Vegas!?"
It's a terrifying thought. Or is it?
"Wait! It doesn't matter – I'm going to heaven!" Avery says as the scales fall from his eyes in the dream. "I must have done something right. And the feeling of knowing I made all the right choices is the best feeling I ever had."
That's a fairly early scene, but it's at the heart of a play that's surprisingly full of heart. Which is why Eckert has loved The Flick since the first time he read it and subsequently saw it in New York. He describes what transpires in Baker's paean to hyperrealism:
"Life is in many ways tedious. And pointless. And a trap. And it's full of people, which can be the worst thing about it. But also the best thing about it. It's really up to you, what you decide to do."
And sometimes Honeymoon in Vegas is all you need to realize the choice is yours.
'The Flick' runs August 11-28 at 7:30pm Thursday-Saturday and 2pm Sunday at Rivertown Theaters for the Performing Arts, 325 Minor St., Kenner, LA. Tickets, available here, are $25 general admission and $20 for students and seniors (65+). Above photo by John Barrois, featuring Khiry Armstead, Susan Lanigan and Stephen Foley, courtesy of Promethean Theatre Company.