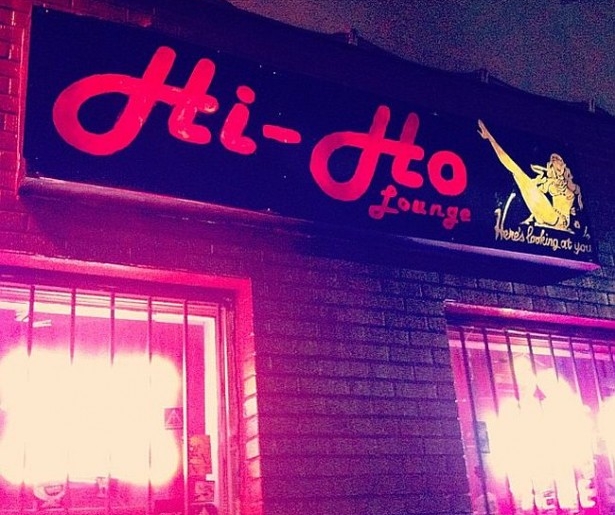 SHARE
"Six days on the road and I'm gonna make it home tonight."
Fingers are flying on a small army of guitars as a lusty sea of male voices swells into the chorus of the classic country truckdrivin' song. Soon they'll be joined by a banjo, a lapsteel, a Bolivian charango and the full-throated harmonies of singer-songwriter Victoria Coy, who adds a much-welcome female voice when she enters the magic circle at the Bluegrass Picking Party.
OK, so it isn't strictly bluegrass. But it's definitely a picking party, and one heckuva good way to pass a good time.
Every Monday night, from 8 to 10 at the Hi-Ho Lounge, local and visiting musicians haul out all manner of stringed instruments and run through a repertoire that's heavy on country classics by the likes of Hank and Merle, and laced with just enough fancy Flatt & Scruggs-style fingerwork to justify its name.
"Calling this thing bluegrass is a bit of a stretch," says Pat Flory of Sweet Olive String band, who's been the party's head picker since March 2007. "I've played pure bluegrass to the bone, but we don't have enough people [in New Orleans] to do that. Life's too short to insist on some formula that certain people played 75 years ago. So we just play what everybody wants to play."
Tonight, that ranges from Hank Williams' "Long Gone Lonesome Blues" (complete with yodeling) to hootenanny singalongs like "I Saw the Light" and "New River Train" to "Tonight the Bottle Let Me Down," the honky-tonk weeper that provides a boffo finale for this evening's party.
There are also some nice surprises.
Roberto Carillo, who lives a few blocks away, has been bringing his 10-string charango to the circle for several years to add some south-of-the-border spice. But he's only recently started to sing, and tonight he leads the other players through a lovely, lilting version of "Guantanamera."
Not long afterward, things get a little raucous when Victoria Coy busts out the trad cautionary tale "Tell It to Me" and everyone joins the chorus: "cocaine's gonna kill my honey dead."
Though the main action is in the circle of players clustered in front of the stage, there's plenty of toe-tapping and clapping from fans, who are sometimes moved to dance. And the door's always open for strangers to pull their own stringed instruments out.
"People show up who have never done it before, and we like them to do that," says Coy, a picking party regular who's been coming for eight years. "We've had some amazing people sit in, like Ed Helms from The Hangover movies. He's really big in the bluegrass world and has his own band [Bluegrass Situation]."
There's plenty of give and take around the circle, but very little downtime. As soon as one song ends, someone else launches into another tune, and they're off and running again.
"We know each other's songs, and we've been doing them a long time," says Flory. "Traditional music has a lot of songs different people know, so there's a lot of crossover. But every now and then, we'll do original songs. Victoria's one of the great singers, and she's got good songs."
Coy will soon be stepping out on her own with her new musical partner, Matt Slusher, who recently moved here from Austin and joined the picking party a few weeks back. But whatever else is going on in her career, she'll continue to circle back to home base at the Hi-Ho.
"People come from all over town to this circle." says Coy, who enjoys the continual input of fresh blood. "We definitely encourage people to come by and bring their stringed instruments. We're very welcoming to newcomers."
Image via the Hi Ho Lounge. The Bluegrass Picking Party happens every Monday night from 8-10pm at Hi-Ho Lounge, 2239 St. Claude Avenue. Keep your eye out for updates on their big 10th anniversary party, scheduled for March 2017.