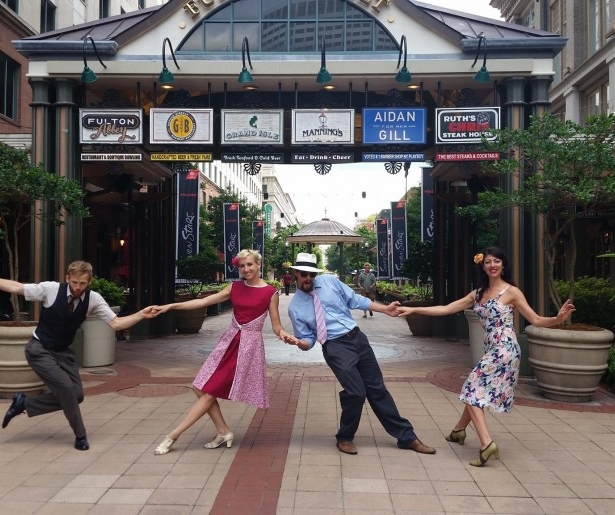 Jazz and swing were once the peanut butter and jelly of music-dance genres. From roughly the 1920s to the 40s, scads of dancers lindy hopped and jitter bugged all over New Orleans (and the rest of the country) to jazz ensembles, but in the modern era, live jazz has often shifted into a performance aimed at seated audiences.
When Chance Bushman, founder of the NOLA Jitterbugs, arrived in the city in 2007, "traditional jazz music thrived but there were only a few swing dancers," he says. "That's something I set out to change."
Bushman started dancing with a core group of performers at venues along Frenchman and in the Quarter, as well as on Royal Street along with partner Amy Johnson, singer Meschiya Lake, and the Loose Marbles, a group of traditional jazz musicians.
"From 2007 to 2009 we ended up performing all over the country and the world, and my partner and I also started hosting classes and teaching dance," Bushman says. "That eventually grew into a studio."
The Jitterbugs started off in The Healing Center at The Movement Room Dance Studio, later moving next door in 2013 to the Rhythmic Arts Center.
"We still do annex classes around town, and I have a group of people who perform and rehearse regularly. We teach classes and perform to keep traditional forms of swing alive, which also keeps traditional jazz alive, because it makes the music a living, breathing, thing as it was intended to be," says Bushman.
The Jitterbugs perform at festivals, events, and venues all over the city, sponsoring French Quarter Fest and Satchmo Fest, as well as the Lindy Hop Showdown (AKA the New Orleans Swing Dance Festival), and the Fleur de Lindy, a weekend of lindy dance parties with live music. They've also appeared on screen, dancing in the film Elsa and Fred with Shirley MacLaine and Christopher Plummer in 2014.
"About eighteen of us were on set for Elsa and Fred," says Bobby Bonsey, who has been dancing with the jitterbugs for the past four years. "We were doing background dancing and at the end of a take Shirley MacLaine comes up and tells Chance and I she wants us to dance for her. So, we do a little improvisation and she looks mildly impressed, with her arms folded, and says, 'now I'm happy'. I felt relieved, gratified, and a little bulletproof," he says.
"Later she asked me to show her how to moonwalk; Michael Jackson is one of my favorite dancers. I showed her the step once and she took off backwards like she'd known it all along."
Performances showcase the talents of the Jitterbugs' more advanced dancers, but Bushman emphasizes that his primary goal is bringing new dancers into the fold.
"I want there to be dancers everywhere jazz is playing," he says. Using a "pay what you can" approach, Bushman tries to remove any barriers people might have to trying dance for the first time. You don't need a partner, you don't need shoes, and you don't need money.
"We have classes in blues dancing, tap, swing, and lindy hop every week, and we also offer two free opportunities to dance – at the St. Claude social on Thursdays at 7:30pm at the Rhythmic Arts Center and at the Allways Lounge on Sundays at 8pm," says Bushman. "These are the times you can put what you learn in class into practice."
With each new dancer learning the steps that accompany jazz, Bushman sees some reversal in a contemporary disconnect between traditional music and dance. "The further away from dance the music gets the less historically like itself it is. The way people dance to the music influence the way it's played," Bushman says.
A lot of people in New Orleans are still dancing, they just aren't often dancing to traditional music. If you go to a second line, or go see Big Freedia, you're going to see dancing, a lot of which has its roots in New Orleans and has spread across the country.
"We've always been one big, pulsating, dance town. We were always importing the latest dance craze, or inventing our own steps. I want to make sure we continue to do that with swing dance," Bushman says.
"I've dedicated my life to building a swing dance community in New Orleans, but for people with casual interest, dancing is fun, keeps you active, and keeps the mind young. There's no reason not to try it," he says.
The NOLA Jitterbugs host free weekly swing dance lessons on Thursdays at 7:30pm at the Rhythmic Arts Center and Sundays at 8:00pm at the Allways Lounge, both located on St Claude Ave.
Pay what you can classes:
Blues Dance Mondays 7:30pm
Tap Wednesdays 6:00pm
Intro to Swing Wednesdays 7:15pm
Advanced Lindy Thursdays 7:30pm
Community Swing Dance Friday 8:00pm
All of the above classes held at the Rhythmic Arts Center, 2458 St. Claude.
Image courtesy of the NOLA Jitterbugs via Facebook.