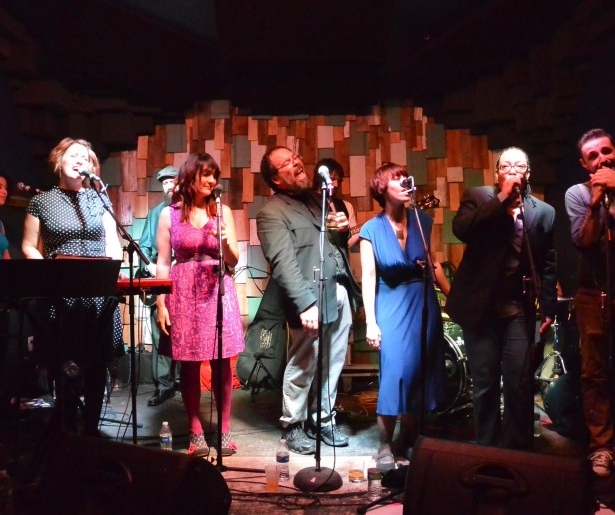 Even a talented three-piece band can have trouble making ends meet in the world's music capital, overflowing as it is with talent.
With that in mind, Lucas Davenport, leader of the Asylum Chorus, the city's self described premier Americana vocal ensemble, is not afraid to occasionally ask himself, "What idiot would start an eight person vocal ensemble?"
"We managed to keep the core four singers together this whole time from sheer luck of personality," explains Davenport, former keyboardist for Bingo! and Triple Delight, and a veteran of New Orleans' happy-hour circuit. "We've since picked up four additional singers and we have been very fortunate in their personalities as well as their capabilities."
Davenport started the vocal project in 2011 under the banner of St. Ceclia's Asylum Chorus (St. Cecelia being the patroness of musicians), performing a largely secular, acapella set list, sprinkled here and there with New Orleans gospel standards.
"You forget as a musician playing an instrument how fun and intimate it is to just harmonize with other people," says Davenport, who also plays keys for the co-ed chorus.
"It's very collaborative," attests Asylum Chorus member Melanie Gardner, also of the New Orleans Opera Chorus, who moved here from Hattiesburg, MS, three years ago. Davenport invited Gardner to join his chorus after hearing her jazz quintet perform at Yuki on Frenchmen Street.
"A lot of other bands have one leader and everybody else is a hired hand. But all eight of us are very invested in the project and feel a sense of ownership over it. It just feels especially collaborative," she adds.
Davenport found that eight singers was the perfect number to give the group the flexibility he desired. "It means that if we don't have all the singers on hand we can still cover all the parts," he says, "And of course it gives us opportunities to do pretty elaborate arrangements where half the singers become part of the instrumental backing."

With a lineup of singers solidified, Davenport and company quickly evolved into writing original songs more aimed at Frenchmen Street and other dance oriented scenes. These new tracks bring the chorus' rotating hired band to the fore.
"We now turn out a much higher energy show to get people dancing and moving," says Davenport. "I think before we were really focused on the delicacy and intimacy of our vocal arrangements. We've since figured out a way to keep all of that while also adding elements and tempos that get people into the groove."
He also shortened the name of the band.
"It was just a mouthful. Plus, we wanted to change the direction of the band, and part of that was not presenting ourselves with such a religious persona," Davenport admits. "We still sing the spirituals, we just didn't want our presentation to focus on that, since the band has gone from primarily focusing on roots covers to trying to create our own style of music."
The Asylum Chorus' newest EP, which features three song written by Davenport, is downright heavy, with thumping drums and rich, enveloped bass textures. Rockers from Clint Meadgen of Bingo!, to Afghan Whigs guitarist David Rosser chip in to give the EP a more modern flair.
This August the group will record its new album at Esplanade Studios, with a proper band of studio musicians playing songs written by all eight chorus members. The Asylum Chorus performs at Preservation Hall each Easter morning, but can be seen before then twice a month at Maison on Frenchmen Street, once a month at Buffa's, and intermittently at club 30/90.
"It is wonderful to finally have a project that I can sell to people without caveat," says Davenport, who has put in his time in New Orleans' music scene. "I know that the Asylum Chorus is original and has artistic merit – of that I can be proud."
Image via Facebook.