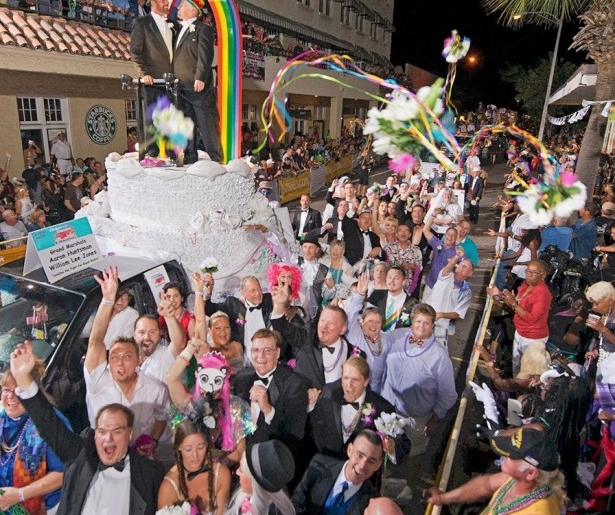 On Labor Day weekend, people across the USA fire up their grills and ice down their beverages to mark the unofficial end of summer. No doubt, there will be cookouts in New Orleans, but the Crescent City offers something a little more avant-garde to round out the season thanks to the flourishing celebration of gay culture and music that is Southern Decadence.
This year's theme, Decadence Takes the World, is expected to draw over 150 thousand people to the 1200 block of Royal Street and the surrounding area from Aug 31-Sep 5.
Since its creation in 1972, what started out as an impromptu neighborhood pub crawl the Sunday before Labor Day has expanded into a multi-day festival featuring ornately costumed Grand Marshals, two parades, fundraisers and parties that celebrate the LGBT community (and humanity in general). The party is open to people of all genders and sexuality, who come together to raise funds for charity and have a glittery good time.
For the 2016 event, all funds raised after expenses will benefit both the New Orleans Advocates for GLBT Elders (NOAGE) and Animal Rescue New Orleans (ARNO). This year marks the first year that a non-LGBT charity will be a recipient of funds.
Parade Organizer, Captain and former Grand Marshal Steven Mora says that this is an important milestone for breaking down sexuality barriers and prejudices because, "if we are all going to be one community, we should start acting like it."
There is still one fundraising event left before the "whole gay weekend" kicks off. The Southern Decadence Charity Fundraiser Disco Party & Show honors the Grand Marshals with top drag artists performing disco hits; it takes place at 9pm on Monday, August 22 at The Corner Pocket (940 St. Louis), with a $10 door donation cover.
This year, Decadence is rolling so strong it features an official song: a remixed version of Ariana Grande's "Break Free" by DJ JRB. This year's theme board includes swabs of amethyst, ruby, sapphire and pearl, the official colors for 2016.
The flagship event, the 42nd Annual Official Southern Decadence Walking Parade, takes place on Sunday, September 4; the procession wil be lead by Grand Marshals Tony Leggio, Felicia Philips, Jeffrey Palmquist and Derek-Penton Robicheaux, who each recently introduced their lieutenants and entourage. Palmquist dubbed his the "Quistadors," and Phillips anointed hers the "Little Bits."
Captain Steven Mora shares a few details about this year's walking parade.
"Every year we have former Grand Marshals who want to march but there is no assigned place for them. This year, we've created a new group called the 'Has-Beens' to entice people, especially those that live in different places, to come be in the parade," says Mora. "People are really going crazy with it."
The Krewe of Has-Beens is in an early stage of development, but for future parades, Mora imagines old costumes reappearing, perhaps appearing as though they've been dragged through Bourbon Street a few times. "I think it's important because there is so much history in one place," says Mora.
The 2016 walking parade adds belly dancers to the mix. Returning this year are the celestial bodies in motion, dance troupe The Star-Steppin' Cosmonaughties and both the Satin Baby Dolls and the Black Storyville Babydolls.
Sunday's parade has a new route that begins at the official home of Southern Decadence, the Golden Lantern (1239 Royal Street) at 2pm sharp and travels up Royal Street before turning right on St. Louis toward Rampart to end at Bourbon and Dumaine Streets. All are welcome to join the walking parade behind the grand marshals free of charge; you can view the full parade route here.
Southern Decadence's continued growth has not gone unnoticed by Mora, who says that they are expecting to generate a $200 million impact this year. While he is thrilled about the success of the event, some alterations need to be made to ensure success in the future. The usually tight-lipped parade organizer did spill a few details about the future of Southern Decadence.
"In order to make it work, from a size and organizational standpoint," says Mora, "we are going to begin a registration process with an official lineup and nominal participation fee starting next year." This will help pay for costumes, police and other parading costs.
"If we get a fundraiser just for the parade," he adds, "it could pay for permits, cops, pooper scoopers and parade costumes and storage." Costumes for the Grand Marshals ring up to about $1500 – no small number – and that, along with all of the other pomp and circumstance, are integral parts of what makes Decadence the event that is expected and loved today.
Some Decadence highlights include:
Wednesday, August 31
3pm – til late
The Corner Pocket 940 St Louis
The world famous Wet Jockey Shorts Contest. Plus, the Corner Pocket Boys will be dancing daily from 3pm until late from Sep 1 through Labor Day.
9pm-midnight
Cafe Lafitte in Exile 901 Bourbon
Kafe Karaoke in the upstairs Balcony Bar.
Thursday, September 1
4:30-6:30pm
The Country Club 634 Louisa
Hosts the Southern Decadence Pool Party with $15 admission to pool area.
9pm
Rawhide 2010 740 Burgundy
The infamous Southern Decadence Blackout Party, including the crowning of the 10th King of Decadence.
Friday, September 2
10am & 4pm
Gay New Orleans Walking Tour
By appointment at Crescent City Tour Booking Agency (reservations 504-568-0717)
7:30pm Knights of Decadence Float Parade
Line-up on Elysian Fields next to Washington Square Park, heading to Decatur St., right on Decatur to Canal, right on Canal to Bourbon, right on Bourbon and ending at Ursuline. Full parade route can be found here.
Saturday, September 3
7-10pm Bourbon Street Extravaganza
Free concert at Bourbon & St. Ann Streets featuring Well Strung, Zoe Badwi, Jeanie Tracy & Rowetta, with 13x DJ of the Year Tim Pflueger (of Oz) & VJ Brendan (of Bourbon Pub), with best views from Oz New Orleans & Bourbon Pub & Parade.
Sunday, September 4
10am-2pm
The Phoenix 941 Elysian Fields
Hosts Renegade Bears of Louisiana Bear Breakfast, with contests & prizes.
2pm (sharp)
42nd Annual Official Southern Decadence Parade
Led by Grand Marshals Tony Leggio, Jeffrey Palmquist, Felicia Phillips & Derek Penton-Robicheaux, celebrates Southern Decadence No. 45.
Monday, September 5
5pm
Double Play 439 Dauphine St
Closes out Decadence with the Last Picnic of the Summer.
Image courtesy of Southern Decadence.