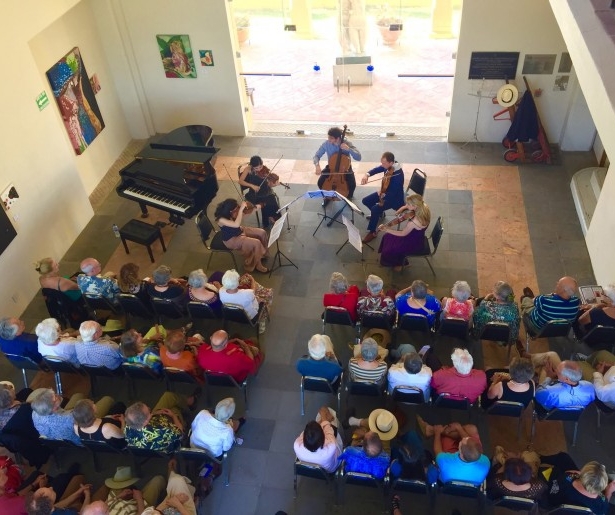 It's not so easy to drag a full orchestra around, even to the places it may be most needed. Luckily, 2016 is the inaugural year of the Crescent City Chamber Music Festival, featuring the Manhattan Chamber Players performing at 14 unique venues throughout New Orleans.
The MCP's artistic Director Luke Fleming, born in New Orleans and educated at LSU, brings with him a posse of New York's brightest young orchestra stars. Having studied in London before acquiring three degrees from Julliard, Fleming now returns to add to the culture of his home city.
"New Orleans has been sort of light on chamber music," he claims.
Fleming, the son of Rayne United Methodist Church's senior pastor Carol Crawford, began his music journey in church. As such, he starts the CCCMF with a week of outreach and musical missionary work by his miniaturized orchestra. "This week we'll be playing in 16 different nursing homes, hospitals, schools, and missions," explains Fleming. "This morning we played for autistic kids, then later today we did a nursing home, Open Table, then Apex Youth Center. We're doing at least four concerts per day for three days."
Fleming's core ensemble (string, wind, and piano) debuted last year at New York's (le) poisson rouge before going on to perform in Canada and Mexico. The MCP has been featured on NPR's Performance Today, and as the ensemble-in-residence at the Northern Lights Music Festival in Mexico.
Sometimes the group plays original music. "But all the music we're playing this week in New Orleans was written by the standard repertoire of chamber music," says Fleming, "Composers from the classical romantic early 20th century: Beethoven, Schubert, Mendelssohn."
This movable feast approach, says Fleming, also helps meet the festival's goal of bringing classical music in a chamber format to new audiences.
Once the daily missionary work is done, Fleming's MCP will perform a series of later free concerts, open to the public in interesting intimate environments like Urban South Brewery (August 18, 6pm) which opened four months ago on Tchoupitoulas.
"I know Luke through church," says Urban South owner Jacob Landry. "He wanted some nontraditional venues in which to expose new people to chamber music. In my mind his little group has got a lot of versatility while remaining intimate and accessible, and so I think this particular venue will really highlight that: in a small warehouse, brewery, they'll play in the center of a bunch of picnic tables. Very intimate."
The classical pieces played at the brewery will each be paired with a homebrewed beer. "We have Beethoven's string quintet in E major paired with the beer Charming Wit: a velvet style wheat beer, light, effervescent with a little spiciness and a hint of lemony citrus," says Landry. "Then we have our Holy Roller IPA paired with a Brahms string quartet, because the IPA is more aggressive, hoppy, and bitter, but still has some citrus and tropical notes."
Fleming attests, "I've played all over the world and this has become very popular, the idea of pairing certain sensibilities in a piece of music with a certain taste of a beer. At these events we generally do not play full works, it's more casual, just a movement of this, and a movement of that. It's more for people who are typically intimidated by classical music."
The next night, the MCP performs a full recital of programs at Tulane University's Dixon Hall (August 19, 7:30) with the theme of "restoration and renewal." "That theme should resonate well with New Orleans," hopes Fleming. "And all of the pieces we will be playing all come from periods when their composers were going through turmoil, and all used music to deal with that. All of the pieces are tied to music's healing power." Fleming adds, "This will also be the most classic typical recital one can expect of the week, where we'll perform full works, two hours with an intermission, in a concert hall."
The series closes with a concert at Rayne Memorial United Methodist Church on August 21 (3pm). "This will be a mixture of the two, the best of both worlds," promises Fleming, "several movements from larger pieces in an hour-long showcase performance of works that famous composers wrote early in their lives."
Growing up in the Crescent City, music was always part of life for Fleming. He's now especially proud to be able to add something fresh to its music-scape, and the event has already renewed and funded for next year. "It has always been a dream of mine," he says, "to return and start a music festival in New Orleans."
Each concert is free, with pre-concert historical talks before the Aug 19th and Aug 20th shows. For more information, head here.
Image via Facebook.