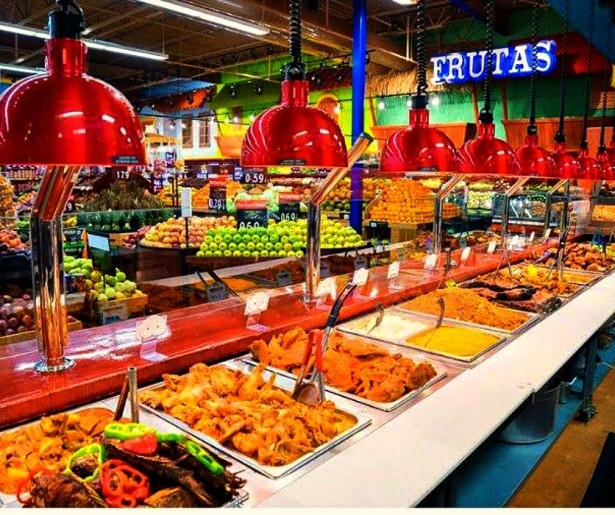 Especially in the years since Katrina, New Orleans has become a hub of immigration and, by extension, exciting cuisine from across the globe. To meet the demand of international arrivals, many global grocery stores and markets have bloomed and flourished. Below are five of New Orleans's best international markets for those who want to travel without ever leaving the greater metropolitan area.
Hong Kong Market
925 Behrman Hwy #3, Gretna, LA 70056 (504) 394-7075 Open 7:30 to 9pm seven days a week
The pride of the West Bank, the iconic Hong Kong Market has been expanded by 11,000 square feet and seemingly just as many new products on its shelves. An American section has been added (hot dogs, sour cream, canned ravioli), new Indian and Caribbean items populate the shelves, and the Hispanic section has almost doubled in size.
Of particular interest to New Orleanians is Hong Kong Market's new wine and spirits section. "We get Winn Dixie and Rouse's employees shopping here daily, about how this would cost them $100 bucks, but it cost them $30 here," says one store manager.
Eastern European Foods (formerly Gourmet Delights)
3320 Williams Blvd., Kenner, 466-1982. Open Monday through Friday, 10am – 6pm and Saturday 12 noon- 6pm. Closed Sunday
This small but well-stocked grocery focuses on foodstuffs from Eastern Europe – hence its recent name change. "We do no Italian, no French," explains store manager Salvador Abud. "We bring imported products from Russia, Poland, Bulgaria, Croatia – all of Eastern Europe."
There are no prepared foods, and of the products are canned goods. That doesn't mean there isn't some delicious stuff here, including Russian butter, high quality cheeses, smoked fish, salmon, sausages, caviar and Hungarian salami.
International Foods
3940 Barron St., Metairie, 888-8832. Open 9am to 8pm daily
Store manager Hemant Shah first helped open International Foods 40 years ago in Metairie. There, shoppers can find food from a wide variety of cultures, from south Asian noodles and frozen seafood to British items like marmalade and special candies. A 40-door freezer offers frozen Indian foods like samosas. "We have everything, we just don't do meat," says Shah.
International Foods carries different spices at cheaper prices than Whole Foods, as well as herbal medicines and essential oils you won't find anywhere else. "We are maybe the only place where you can buy turmeric powder," says Shah. "Every day at least one customer asks for it; for cooking, yes, but also because it helps the flow of blood."
Kased Brothers Halal
3804 Williams Blvd., Kenner, 468-1950. Call for hours
This Middle Eastern grocery specializes in the halal method of slaughtering animals, many of which they raise themselves at their own facility in Baton Rouge.
"We get our goats from auction houses locally, and some from Texas," says owner Nabil Kased, whose brother runs the halal slaughterhouse. "Twice a week we slaughter 80 to 100 lambs, goats, veal, and some beef."
Kased also sells products from the Middle East, Europe, Asian and India. "We have vegetables from all those places, and our meat department is like the old days, when you could buy whole carcasses of beef lamb." The store also sells hormone free and anti-biotic free chicken that are fed an all vegetarian diet.
Ideal Food Market
250 S. Broad St., 822-8861. Open 7am to 10pm daily; laidealmarket.com
Just after Hurricane Katrina, the Ideal convenience store seized upon the opportunity to serve New Orleans new burgeoning Latino population, and converted into Ideal Food Market, a Hispanic super-store. Note that there are multiple locations in the greater New Orleans area.
Alongside corn husk tamales in bulk, fresh peppers both fresh and dried, and various onions and other vegetables essential to Hispanic cuisine, a butcher counter sells everything from flank steaks to marinated fajita meat to whole pigs. A prepared foods section offers fare like tacos, burritos, rice and beans.
Ideal Market manager Jorge Morales attests that the renovations have made the store, "Better than before."
Image of Ideal Market, via Facebook.