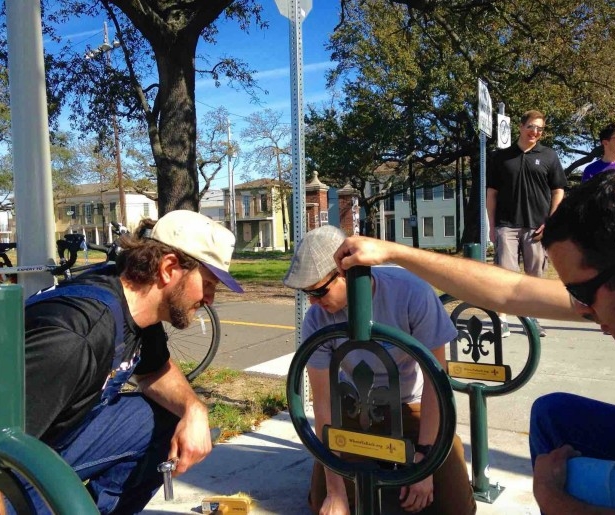 Pull out your purple glow sticks because the Young Leadership Council (YLC) and Higher Power NOLA have partnered up for a Wine Ride on Saturday, August 26 creating the perfect opportunity to outfit your body and your bike in the YLC's signature color: purple.
The ride departs from Higher Power's Mid City location at 514 City Park Avenue, taking Esplanade Ave to St Claude and the St. Roch Market (2381 St Claude) and coming back by way of the newly constructed Lafitte Greenway. Tickets are $10 each and include 3-4 drinks throughout the night.
YLC is best known for Wednesdays at the Square, their massive fundraising effort that brings food vendors, artists, musicians and fans to Lafayette Square each spring to enjoy free outdoor music for a 12-week concert series.
Many people don't realize the YLC churns out projects throughout the year dreamed up by members who identify a need in the city and work together to find a solution.
"We are basically a think tank," explains Vice President of Membership McKensie Kirchner. "And if an idea has legs, we take it from conception through becoming a YLC Project that has leaders and a budget. We then use the YLC's capacity to engage members to serve toward these projects for ongoing success."
YLC challenges young professionals to "leave your mark" and promote civic engagement to build leadership skills through service to improve the quality of life in New Orleans.
Service, networking and professional development opportunities can all be found on the YLC Calendar, but the easiest way to get connected is to attend their JumpStart event the second Tuesday of each month from 6-7:30pm at the YLC Building at 1840 Euterpe St in Central City. This regular event is a great way to meet board members, interact with other volunteers and bring a new face into the group while snacking on light bites, beer and wine.
"One of my goals as VP of Membership is to create more benefits of memberships," says Kirchner. "The way I've done that is through collaborating with local businesses to offer discounts for members and through hosting memberships through the year like the upcoming wine ride."
YLC membership is open to all individuals, but to be a voting member you must be between the ages of 21 to 41. There are also deals for out-of-towners who want to contribute to YLC's mission, sustaining membership options (for those over the age of 42) and corporate memberships.
You don't have to be a member of YLC to participate in Friday's Wine Ride, however, membership does have its benefits. For Wednesdays at the Square, members receive a Drink Line Fast Pass, get entered into a weekly VIP Pass Raffle and a monthly Grand Prize Raffle with prizes like Jazz Fest tickets and fitness memberships.
Currently, there are local partner discounts at City Surf New Orleans, Higher Power and Hour Blast Downtown. Members also have unique access to career development opportunities like the Financial Peace University, YLC Toastmasters, Leadership Development Series and the YLC Grant Writing Corps.
Bike safety and accessibility has been a focus of YLC for some time. You may have seen the Where Ya' Rack? bike parking in locations around the city that are designed to provide safe places for people to lock bikes off of private property and bring more cyclists to local businesses. Kirchner notes that any interested business can go through YLC to sponsor a bike rack or a bike corral at their establishment.
"We are hoping people really get behind decorating their bikes and rocking the color purple for the wine ride," says Kirchner.
Because YLC aims to allow members and their friends to experience the awesome parts of New Orleans that many normally wouldn't have the ability to be connected to, Kirchner sees this wine ride as an excellent opportunity to showcase the city's bike lanes and newly completed Lafitte Greenway.
"We are starting in Mid City and taking Esplanade, giving new bikers a chance to experience the bike lane, and then heading back via the Lafitte Greenway," says Kirchner. She also notes that for people that usually drive, using the bike lane will help them become more aware drivers.
If you don't have a bike and can't borrow from a friend, YLC partnered with local bike company, RideTHISbike.com, who are offering 30 percent off rentals to anyone partaking in the wine ride. They are also allowing free next-day returns so that you can keep the wine flowing.
RideThisbike.com is only a mile away from the starting point, at 231 Dauphine Street, and are open until 5pm every day except Tuesday.
Representatives from Bike Easy will also be on hand to talk bike safety. Riders are encouraged to bring helmets and bike locks. RSVP to the Facebook Event to stay up-to-date on event details and purchase tickets, or bring $10 cash in hand the day of.
Image: Where Ya' Rack bike racks on the Lafitte Greenway, via Bike Easy's Facebook.