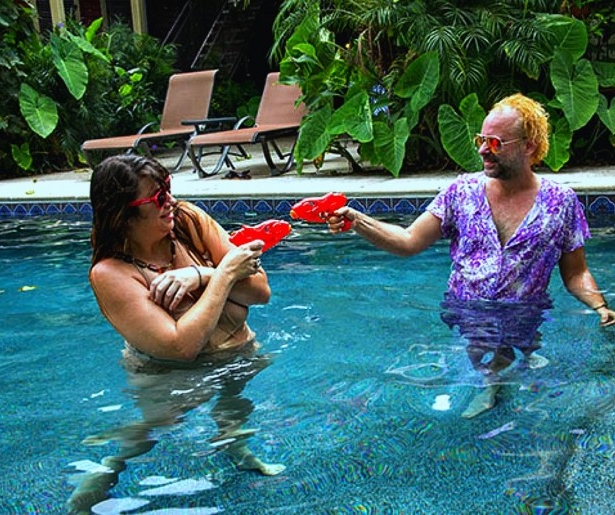 SHARE
"I like to take movie ideas and do something bizarre with them," says Danielle Small, whose first theatrical mashup followed the ongoing adventures of Ghostbusters' Stay Puft Marshmallow Man. Like any New Orleanian, Small also likes to beat the summer heat. So when she decided to stage an outdoor show during the dog days of August, "it was all about what kind of play we could do in a pool."
Eureka! Waterworld! In Small's adaptation, the 1995 Kevin Costner mega-flop movie of the same name becomes a shoestring production that's everything the $200 million film was not: vastly entertaining.
"I couldn't remember much about the movie, except that it was really long," says Small, who did due diligence by watching an extended DVD version of the bloated three-hour epic. "But there are some spectacular scenes. So I thought, wouldn't it be funny if we did an abbreviated Cliff Notes version of it?"
More fun than a barrel of sea monkeys, Waterworld, The Musical takes place in a lush Bywater pool, where the audience will be seated in and around the water.
Opening on August 27 and running through September 10, the Microwave Babies production is the perfect antidote to Katrina anniversary blues, and offers everything from synchronized swimming to a sea monster (played by director Michael Martin).
"Definitely come prepared to be wet," advises Small, who's bobbing around in the pool as we chat, wearing a gold lame one-piece and holding a mimosa aloft. Splashing happily beside her, in a fetching floral dress, is musical director Ratty Scurvics, who's joined Small for this suitably wet preview of a very immersive play.
"To be honest, I didn't see the original movie," admits Scurvics, who wrote the score in a musical aquarium he built in his cottage. "But I did watch a version of it on YouTube in Portuguese, just to understand the story sequence."
In the eco-dystopian movie, the polar ice caps have melted, submerging most of the world and leaving our hero – mutated mariner Kevin Costner – adrift on a doomed vessel.
"They're running out of oil, which they call the black stuff," explains Small. "Because they live on the Exxon Valdez, that's their home." For those not old enough to remember, that's the infamous oil tanker that spewed oceans of crude into pristine Alaskan waters in 1989.
Enter the bad guys, a band of marauding pirates known as The Smokers. Led by Dennis Hopper, they take over the Valdez on their own quest for the black stuff. In order to find the oil, they need to capture Nola, daughter of Kevin Costner's girlfriend, who has a map to a body of dry land on her body. Epic battles between good and evil ensue, which – in the case of the theatrical adaptation – all play out in the pool.
"There's gonna be gunfights! With water guns and Super Soakers!" enthuses Scurvics, taking aim at Small with a plastic pool pistol. "Because this is such a ridiculous project, the solo numbers I composed for the actors are ridiculously over the top."
In one of the play's many twists, the actors don't play the characters in the movie. They play the actors who played the Waterworld characters.
"The main thing I loved in this movie was Dennis Hopper," says Small. "And there's this swagger about Kevin Costner the person that I also kind of love. So I thought, wouldn't it be funny if we did the play with Dennis Hopper and Kevin Costner playing themselves?"
Stoo Odom tackles the deranged Hopper and Mac Taylor channels Costner in a 16-member cast that includes Small, Scurvics, Stumps the Clown and Reverend Spooky LeStrange, who also choreographed the synchronized swimming.
In true "let's put on a show, kids!" style, the production draws heavily on the talents of the local arts community, and its shoestring budget was cobbled together from a GoFundMe page.
"It's a very collaborative effort," says Small, and the group spirit behind it extends to the audience. The adjoining tiki bar opens at 6pm, when play-goers are invited to splash around at their own pool party prior to the 7:30 show.
Once the play commences, "there won't be a dry seat in the house," promises Scurvics. "We want people to leave wet and drunk and informed about social justice."
'Waterworld: the Musical' runs nightly August 27-31, and on September 6, 8, 9 and 10, at Maison McCarty, 3820 Burgundy St. Tiki bar opens at 6pm, when guests are invited to join a pool party prior to the 7:30 show. Tickets, available here, are $20, with special service-industry discounts on Monday and Tuesday nights. Click here to donate to the GoFundMe page; rewards include pre-sale tickets with a shout out in the program. 'Waterworld: The Musical' was planned long before the devastating Louisiana Flood of 2016. A portion of ticket sales from Saturday's show will be donated to flood victims and there will be a box for donated items. Above photo by Christine Rush.