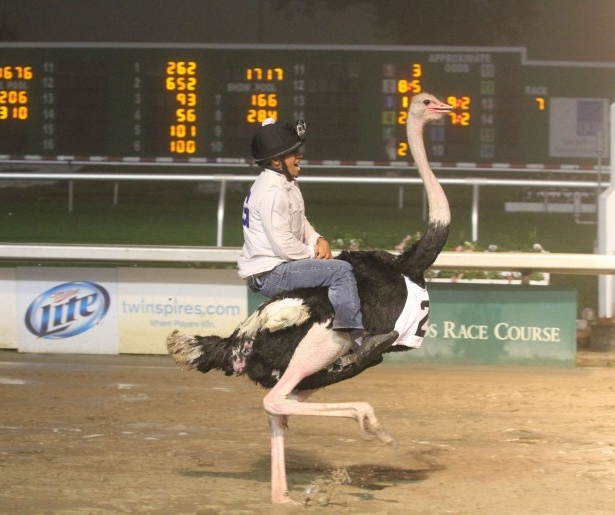 Summer in New Orleans can be the opposite of exciting. But down at the Fair Grounds Race Course & Slots in Gentilly, summer is at least exotic; to boost business (and press) during the summer doldrums, the Fair Grounds annually hosts exotic animal races, with ostriches, zebras, and even T-Rexes lining up at the starting gate.
New Orleans's version of exotic animal races – an event popular all over the country – has evolved since it's raucous beginnings back at the Fairgrounds in 2012. In the event's experimental first phase, celebrity jockeys included (extremely brave) New Orleans characters: weatherman Hank Allen, radio DJ Nikki Landry, local commentator Mike Theis, and Fleur De Tease burlesque dancer Trixie Minx.
"I competed in the camel races," says Minx. "It was an unpaid position; I just wanted the opportunity to ride the camel on the track. Because that is crazy."
Yes. Yes it is.
"We were told we would get a little training, and be introduced to the animals before the race so they could get comfortable with us. But we waited around for a long time, the races started, a couple hours go by and nothing." Training was not forthcoming that day for Trixie and crew who, before climbing atop their camels, were asked to sign waivers promising they wouldn't sue if they incurred injury.
Exotic animal racing draws a different crowd in potentially greater numbers than the track's regular horse racing. Instead of the track's hardened regulars looking for a lucky break, the Fair Ground's exotic animal races almost always draw over 10,000 moms, dads, kids and, of course, hipsters. They are not necessarily there to win. They are there for kitsch. They're there for a show.
Knowing this, the always professional Trixie Minx tried to focus on the bright side of her predicament. "My camel was named Humpry Bogart," she recalls. "So I felt like he was very glamorous."
But soon, her worry set in. "It had been drizzling and the track was muddy," Minx remembers. "Trying to run in mud is the same for animals as it is for humans; you need stable space to run on. I was getting pretty worried."
Twice as big as horses, the camels barely fit in the stalls. Finally, the gun went off and Humpry and Minx exploded onto the track. "The gates went up and I…I felt like I was riding a dolphin, the way he was losing his footing in the mud," laughs Minx, even though what she describes is not, in fact, funny, but rather, scary as hell.
"I immediately gave up on the idea of winning and was just focused on surviving. I went to the most peaceful place in my head that I didn't even know existed. Everything went in slow motion and the only thing I remember was being told 'Hold on as tight as you can.' I remember using all my dance training in strength and flexibility to hug that camel. I was becoming one with the camel in a weird way."
By race's end, only two riders managed to remain on their camel. One continued on to the ER. Trixie came in second place.
"I was really glad I did it," Trixie says.
This year the exotic animal races return on August 27th as part of the track's Ninth Annual Quarter Horse Races series, presented by REDD's Apple Ale, Tito's Handmade Vodka and the Louisiana Quarter Horse Breeders Association (LQHBA)
Since Trixie's harrowing camel ride, the track has made sure only professional jockeys mount the animals, which this year include zebras and ostriches. But no camels.
On August 20th, the track's Quarter Horse series also featured T-Rex racing, which entailed grown adults in large Tyrannosaurus costumes with small eyeholes, careening the lengths of the racetrack far less gracefully than the extinct dinosaurs they were mimicing. That event was followed by a Bucktown All-Stars concert, of course. New Orleans!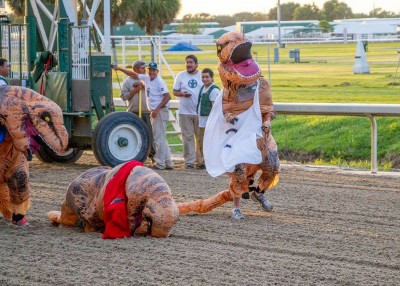 The Exotic Animal Races featuring zebras and ostriches returns Aug 27. Admission is $5, 13 and older. Kids 12 and under are free. Clubhouse Admission is $15 for adults and $5 for Teens, ages 13 to 18. General Admission tickets are currently available for sale at fgno.com/tickets.
All images via Facebook and the Fair Grounds Race Course and Slots.