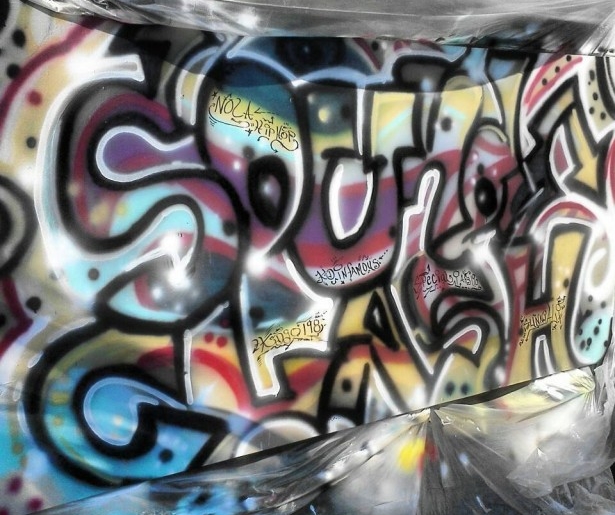 The standard concert format can get tedious: you, standing on the floor, staring up at the vaunted Artist Upon the Stage. But for local hip-hop fans, there's an alternative to that model: New Orleans' Soundclash concert series, which celebrates its eighth anniversary in October.
Rappers Chuck "Lyrikill" Jones and Tajiri "Truth Universal" Ujasiri began the Soundclash series as a three-round battle wherein music producers, rather than rappers, signed up to compete, open-mic style, against each other. The crowd, plus a cast of local and national hip-hop celebrities, judged each producer's instrumental tracks on a 30 point scale in categories like originality, crowd appeal, and technique.
"You stand up there on display, you get five minutes, a one minute snippet of five of your songs," says Gavin "G-Mac" George, who moved to New Orleans from Atlanta a couple years back. G-Mac has since won Soundclash several times. "The crowd plays a roll in the judgment," G-Mac attests. "If they don't like the track, it will probably be dead silence – maybe at the end they'll give the at-least-you-tried applause. Though overall, it's more of a camaraderie."
Each Soundclash event also features several rappers, a bunch of DJs, and maybe even a singer or two.
Three years ago – five years into Soundclash's now eight-year stretch – Soundclash founder Lyrikill shocked the hip-hop community by moving to Houston to pursue business opportunities. Enter area promoter and Soundclash fan El Williams.
"At the time I was promoting and booking the acts for Soundclash, while Lyrikill was the host and founder," says Williams. "I was the most passionate about Soundclash, so when he left it kind of automatically rolled over to me. "
Under William's curation, Soundclash has stopped cramming multiple producers, DJs, rappers, singers and other acts all into one night, to instead focus on just one of the classical elements of hip-hop (DJing, MCing, Bboying, graffiti or knowledge) at each event.
"We don't do the beat battle monthly anymore," says Williams. "It's now more of a showcase, and competitive open-mic. Three months in a row we will do those rapper showcases, then the fourth month is the Soundclash producer showcase."
"We changed that more due to lack of participation by artists," adds Williams. "We'd get four producers come through each month, seven, maybe ten. So I figured it would be better to have more impactful beat battles, with all those participants competing every four months instead. Now we usually have over 15 producers at each event. It's a lot stronger event that way."
Throughout its history, Soundclash has welcomed underground hip-hop artists and celebrities to judge the competition, as well as perform: from local heroes Mannie Fresh (producer for Cash Money Records and Dee-1) and Grammy-winning Westbank beatmaker Chase in Cash (producer for Drake, Lil Wayne and Eminem) to New Jersey artist Cardiac, who has produced for Rick Ross, Fabulos [sic], Diddy, French Montana and Wiz Khalifa, among other mainstream stars.
Soundclash's eighth anniversary party this October 13th will consist of a traditional beat battle. "They will be getting judged, even though it's a little looser," says Williams. "Then those top three producers will move on to partner with iStandard [an organization for producers] and do a national showcase competition."
The popular hip-hop event has also changed locations, with MC showcases taking place at the Dragon's Den upstairs every third Thursday of each month. "They've redesigned the Dragon's Den now so it's more of an open area. They moved the DJ station, built a new stage, bigger dance floor, installed new sound. It's now a bigger venue with some big sound in there, with some nice lil' bass," says Williams.
Artist and producer Wes B serves as Soundclash's current host. "He's not funny," says Williams, "we're always picking on him and telling him he's not funny – but he's very good at the show side of the things, and remembering the footnotes. He's one of those guys you really need on the team."
Local legend E.F. Cuttin spins the wheels of steel each month as Soundclash's official DJ. The addition of Cuttin has translated into a series of hip hop tribute shows at the Howlin' Wolf Den, the venue that also hosts Soundclash's quarterly beat battles. On the heels of his popular recent tribute night to Jay Z's Reasonable Doubt album, Cuttin will, on August 27th, present a tribute to OutKast.
Then, September 24th will feature a Tribute to the Year 1996, considered by many to be the best year in hip-hop history thus far – a year that gave the world classic albums from Tupac (All Eyez On Me), The Fugees (The Score), De La Soul (Stakes Is High) and Snoop Dog (The Doggfather) among many, many others.
Williams stresses that Soundclash is still about everyone in the room, from the stage to the floor. "I just want people know that the platform is here for them in New Orleans," he says. "Instead of going all over, banging on doors, begging to play this or that establishment, we went ahead and built our own deal for the underground."
Image: courtesy of Soundclash, via Facebook.