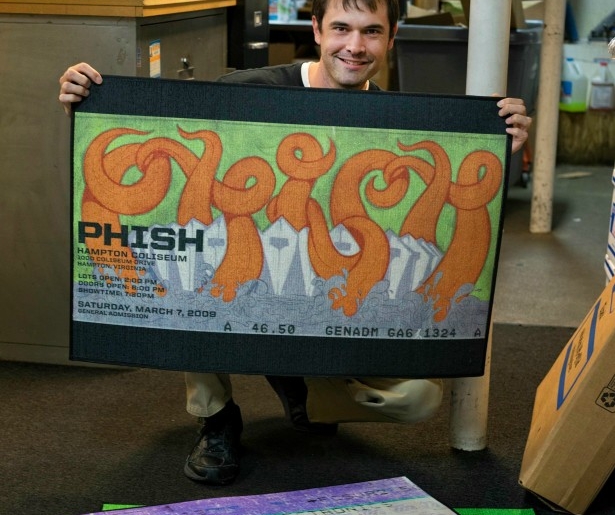 SHARE
A good concert is its own special kind of memory, both for the power of the experience, and the difficulty of salvaging any kind of worthwhile physical souvenir from the event. A t-shirt leaves you $25 in the hole and feeling gypped; a CD is OK, but doesn't feel personal, and besides, CDs seem to be going the way of the dinosaur.
Sure, you could save a ticket stub, but those just get crumpled and grotty, and they don't look good framed, right?
Maybe. But those tickets end up looking pretty sweet when they're blown up into a floor mat.
That's the idea David Guidry, owner of Lakeside Camera Photoworks, had a while back.
"I'm a music freak. I've scanned all my tickets," says Guidry. "I digitized all my stuff. And one day, I'm like, I need a mat. So I went into my server and I saw an old ticket and I was like, let me try this."
'This,' was a relatively simple concept, especially for someone who runs a camera store and photo production facility – to take an old ticket stub and blow it up into a floor mat. Measurements were made, tweaked, and suddenly, a little square of numbers and dates took on a new life. What once was a list of sections and rows was now a kinda-sorta piece of art. Or at least, a neat memento, with added domestic utility.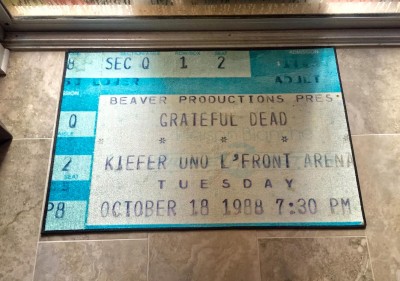 That's the first 'concert mat' above. The Grateful Dead at the University of New Orleans, Oct 18, 1988. How did Guidry like the concert?
"From what I remember pretty good," he deadpans, and then laughs. "Nah, it was great."
The concert mat was popular with friends and colleagues, so Guidry decided to make more. He created a small website, and bought out a few hundred bucks of advertising steam on Facebook.
And then, the calls came in.
"Some website in Germany picked it up. Then [publications] Dangerous Minds picked it up. Consequences of Sound got it," he says. "Before I knew it, we're on radio stations in Boston, Detroit, New Jersey and Philadelphia. Then we're on TV in Cleveland, then Rolling Stone magazine contacts us. Time Out New York."
Adding a little understatement, he throws in, "From a media standpoint, we're getting a lot of attention."
It hasn't been a bad run for someone who says that he didn't sell mats for two and a half years. But what's really interesting – beyond the apparent huge numbers of people who have held onto concert tickets and want to turn them into keepsakes – is the science behind making a concert mat. This isn't a conveyor belt operation.
"Every one of these mats is made by hand, in a sense" says Guidry. "No ticket is the same size. And they're pressed one at a time. We're pretty well attuned to working with customized products, so we're geared towards handling something like this."
He adds that because of the non-uniform size and layout of tickets, it's just not possible, at least for now, to turn this into a mass-production operation. Each ticket requires some individual attention before it becomes a mat, or potentially, more.
"People started ordering concert mugs before we even advertised it. Someone ordered a trailer hitch the other day," he says.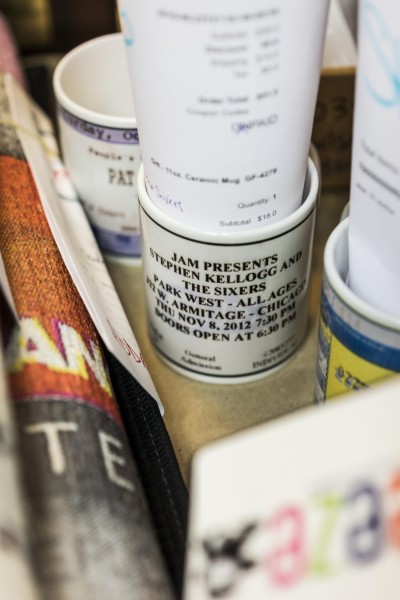 So what are some of Guidry's favorite concert mats?
"I've gotten Shea Stadium Beatles tickets, various Rolling Stones, a lot of Phish stuff and Grateful Dead tickets with decorative art, and those look flippin' awesome. In the last week I've purchased two more printers and a whole other press," he says, adding that he is now getting orders from as far afield as Europe and Canada.
Regarding our neighbor to the north, he says, "They love their Rush tickets up there."
Find more information at Lakeside Photoworks. Above main image: a Phish mat held by local artist Sean "Issofresh" Hernandez.