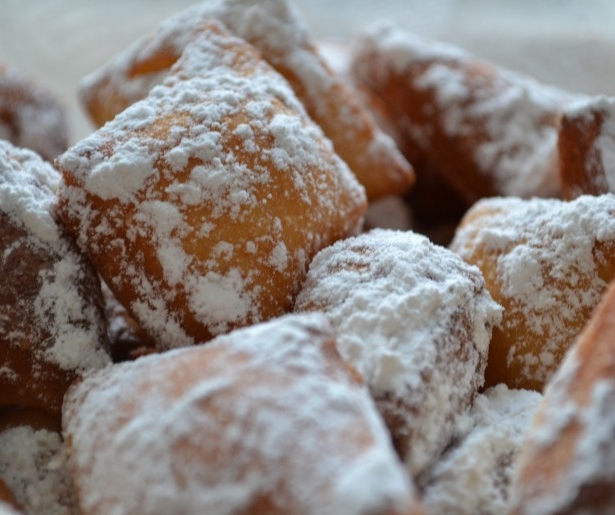 SHARE
Almost any identifiably New Orleans menu item has a corresponding festival, but up until recently, one of the city's most iconic culinary treats was left without its own party. We're referring to the beignet: little fried pockets of dough-y goodness ideally dusted with alpine levels of powdered sugar.
Well, the beignet is no longer going without its own celebration thanks to the inaugural Beignet Festival, which kicks off on Oct 8.
The day long party will take place in Lafayette Square, and as you may expect, there's gonna be a whole lotta delicious sweetness going on. The free festival will benefit the Tres Doux foundation, which funds programs and services for families impacted by autism.
Deep dive into a dessert
The beignet is – as one might guess from its Gallic name – a dish of French origin, although its roots likely extend deeper than France itself; there's a long global culinary tradition of deep frying, and savory beignets are not uncommon in Europe and the Middle East.
Still, the version of the beignet known to Louisiana is a specifically French variation that utilizes a choux pastry (the light dough that is also used in profiteroles, eclairs and crullers); interestingly enough, in Quebec, the largest outpost of Francophone culture in the Western Hemisphere, donuts are collectively referred to as 'beignets.'
For most New Orleanians (and visitors), the beignet is inextricably linked to Cafe Du Monde, where folks can order beignets in their most classic form – accompanied by chicory laced cafe au lait – 24 hours a day. There's a noir-ish romance to Cafe Du Monde, but the place can sometimes get overwhelmingly crowded.
Other spots for a beignet include, but are hardly limited to:
Cafe Beignet French Quarter standby known for a doughier, chewier variation on the dish.
Morning Call The 24 hour City Park location is a family favorite, and you can ask for your beignet with 'slits' – slashes that allow oil into the pastry, which diehards swear makes for a crispier, more delicious end product.
New Orleans Coffee & Beignet Co Known for lighter, fluffier beignets and quality coffee.
Buttermilk Drop This bakery specializes in its own eponymous pastry (the buttermilk drop, another fantastic New Orleans dessert that deserves a festival, but we digress). Has a branch in the Quarter known as Wink's. Both outposts are known to serve beignets stuffed with tasty fillings.
Beignet bash
New Orleans' first annual beignet festival will be a family friendly affair featuring a kids' village, savory and sweet beignets, beer from Urban South, and music from Big Sam's Funky Nation, John Papa Gros Band, Alexandra Scott, Confetti Park and Los Po-Boy-Citos.
The party goes from 10am-4pm on Oct 8. Expect a full slate of food vendors, tunes and general good times. For more information, head here.
Image: Cafe Du Monde, via its Facevook page.