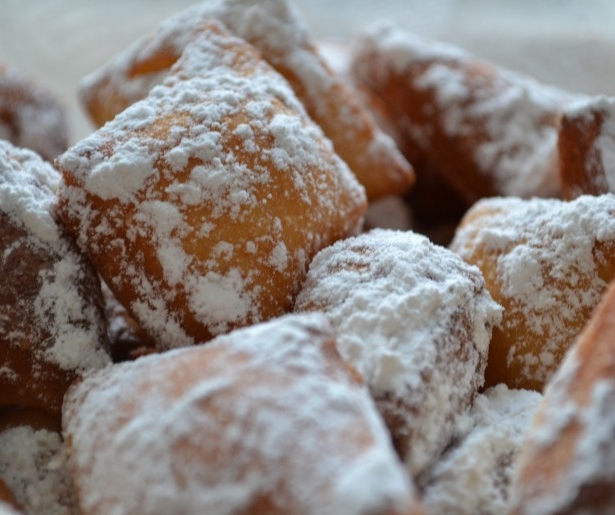 SHARE
Almost any identifiably New Orleans menu item has a corresponding festival, but up until recently, one of the city's most iconic culinary treats was left without its own party. We're referring to the beignet: little fried pockets of dough-y goodness ideally dusted with alpine levels of powdered sugar.
Well, the beignet – the official state donut of Louisiana, if you were wondering – is no longer going without its own celebration thanks to the annual Beignet Festival, which returns for its second year in New Orleans. Originally scheduled for Saturday, October 7, 2017, the festival has been rescheduled for Saturday, December 2, 2017 due to Hurricane Nate.
The day long party is free, and will take place in the festival grounds at City Park, and as you may expect, there's gonna be a whole lotta delicious sweetness going on (although a fair bit of savory too). The festival will benefit the Tres Doux Foundation, which funds programs and services for families impacted by autism.
Beignet bash
New Orleans' second annual beignet festival will be a family friendly affair featuring a kids' village, savory and sweet beignets,and music from Hill Country Hounds, One Love Brass Brand, John "Papa" Gros Band, and Brass-a-Holics.
The party goes from 10am-5pm on Dec 2. You can get in for free, while food tickets are sold for $1 each. Note that you can get more than sweet donuts at this event. The Ruby Slipper, for example, will be serving tasso cream beignets and cochon beignets smothered in pork debris (gravy); they'll also have a bananas fosters beignet on tap that sounds, well, bananas.
Legacy Kitchen Collection is doling out crawfish beignets, while Loretta's Authentic Pralines features burger beignets (i.e. beignet sliders) and crabmeat beignets stuffed with lump crab meat (never fear, they've got praline and chocolate praline beignets waiting to go as well). Luca Eats brings out their oreo beignets, which were named the best sweet beignet last year; Cafe Maspero returns with beignet fries, named the most innovative recipe in 2016. SNO-LA is even gonna help folks cool off with a beignet sno-ball, which we'd need to see to believe.
For more information, visit BeignetFest.com or Beignet Fest on Facebook and Instagram at @BeignetFest.
Deep dive into a dessert
The beignet is – as one might guess from its Gallic name – a dish of French origin, although its roots likely extend deeper than France itself; there's a long global culinary tradition of deep frying, and savory beignets are not uncommon in Europe and the Middle East.
Many culinary historians believe some version of the first beignet was fried in Ancient Rome, but there's a large body of evidence that the beignet derives from the Islamic world. In the Provencal language, 'bugne' may be a root word of 'beignet'; Provencal cooks inherited their donuts from the Spanish culinary tradition, and the Spaniards in turn underwent centuries of Islamic influence from North Africa. The recipe similarities between a New Orleans beignet and fried donut variations from across the Arab world is pretty uncanny. This is a fascinating article on the history of the beignet, and includes one of the earliest recipes for the donut as we know it.
Speaking of, the version of the beignet known to Louisiana utilizes a choux pastry (the light dough that French bakers also use in profiteroles, eclairs and crullers). If you were interested in reinforcing the Spanish connection to beignets, it's worth noting deep-fried choux were called 'Spanish Beignets" back in the Middle Ages. Interestingly enough, in Quebec, the largest outpost of Francophone culture in the Western Hemisphere, donuts are collectively referred to as 'beignets.'
For most New Orleanians (and visitors), the beignet is inextricably linked to Cafe Du Monde, (800 Decatur St) where folks can order beignets in their most classic form – accompanied by chicory laced cafe au lait – 24 hours a day. There's a noir-ish romance to Cafe Du Monde, but the place can sometimes get overwhelmingly crowded. We like to come here late at night, especially when the fog is really rolling in off of the Mississippi. There's a noir beauty to Decatur St during these nights, and that sense of mystery really goes well with a strong coffee and some sugary pastry.
With that said, we're all for you trying every beignet you can lay your hands on. Other spots for a fried donut include, but are hardly limited to:
Cafe Beignet (334 Royal St) French Quarter standby known for a doughier, chewier variation on the dish. There's also a Bourbon St location, but, hey, it's on Bourbon St, so don't expect a quiet pastry in the shade. The Royal St location, on the other hand, is plenty more romantic despite being a mere block away; here, with the sounds of street musicians in your ears, and sparrows twitting in the overhanging trees, you really could be transported to some Platonic ideal of street side dining.
Morning Call (56 Dreyfous Dr) The 24 hour City Park location is a family favorite, and you can ask for your beignet with 'slits' – slashes that allow oil into the pastry, which diehards swear makes for a crispier, more delicious end product. Many locals think this is the perfect New Orleans outdoor beignet and cafe au lait. Let's be clear: this spot isn't some clandestine hideaway. Buses and vans full of folks on group tours pull up on a pretty regular basis. But so what? It may be busy, but it's rarely frenetic. City Park, obviously, is a gorgeous setting, and large enough to diffuse the buzz of the tour groups. And the coffee and beignets are clutch. The latter really are just right: fried but not too oily, soft without being too yielding.
New Orleans Coffee & Beignet Co (4141 St Charles Ave) Known for lighter, fluffier beignets and quality coffee. Their Uptown location adds a nice touch of greenery to the beignet game.
Buttermilk Drop (1781 N Dorgenois St) This bakery specializes in its own eponymous pastry (the buttermilk drop, another fantastic New Orleans dessert that deserves a festival, but we digress). Has a branch in the French Quarter known as "Wink's": (1218 Decatur St). Both outposts are known to serve beignets stuffed with tasty fillings.