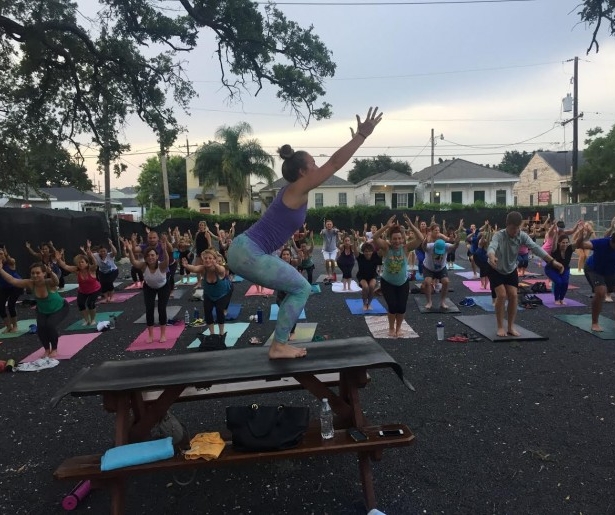 New Orleans is well-known for spirits – notably the supernatural and the kind you pour into a cocktail. But also for team spirit (Who Dat!), community spirit and even for getting in touch with your inner spirit.
Thanks to the efforts of outfits like NOLA Tribe Yoga, opportunities abound to connect with your spiritual side in a multitude of New Orleans spaces.
In recent years, the fitness scene in New Orleans has been blowing up and now, more than ever, entrepreneurial locals and transplants are creating innovative ways to use the varied indoor and outdoor spaces that New Orleans has to offer for the purpose of building a community around fitness.
McKensie Kirchner and Baye Cobb founded NOLA Tribe Yoga to build a community – or tribe – around a shared passion for creating ways to positively interact with one another and experience the city.
"If there is a beautiful, untapped location in New Orleans, we want to bring it to you," says Kirchner.
Those locations could be anything from a shaded area to a hip wine bar. The idea: find something new to appreciate about the city, or view something familiar with a new lens.
NOLA Tribe Yoga brings donation-based sunrise yoga classes to Mid City on Tuesdays at Morning Call in City Park at 6:30am. Classes are also held at 6:30am on Thursdays at Shelter 1 on Lakeshore Drive.
The original Spirited Yoga was hosted at Pearl Wine Co, with a follow up affair using the upstairs art gallery at nearby Treo for Sangria & Savasana. These ticketed events run at about $25 and include an hour of yoga practice and a sampling of thematic libation.
"What's powerful about NOLA Tribe Yoga, and Spirited Yoga especially, is that there is room for everyone; there is something for everyone; all you have to do is show up," says Cobb.
Not sure about throwing down $25 for a yoga session plus drinks? Today, and on Sep 7, NOLA Tribe Yoga is partnering with the Tchoupitoulas Yard to bring free Spirited Yoga to the community. The event runs from 6:30pm until 8:30pm. Drinks are available for purchase before, during and after the event.
The physical address is 405 Third St, but the seasoned New Orleanian or wise visitor will follow the signage around the corner to find the entrance. This casual bar has a backyard feel complete with picnic tables and colorful lanterns.
The group clears away the tables to make space for yogis and aspiring practitioners to enjoy the beautiful outdoor space. Over 60 people hit the mat the past two Wednesdays, and there is still more space in the massive garden.
NOLA Tribe Yoga is all about connecting people and spaces in New Orleans – creating an extended network of individuals who practice mindfulness and motion while enjoying the natural beauty and architectural craftsmanship synonymous with New Orleans.
"We believe in breaking the barriers created by self-awareness to become a more powerful tribe," says Cobb. "For some people it might take a couple of beers to feel comfortable being their most authentic self. No judgment."
Speakers pump out tunes as Baye Cobb leads a vigorous flow yoga class that can be modified for any skill level. "Even if you can't execute a particular pose," says Kirchner, "You're still thriving off of the music and energy around you."
For more information, check out the NOLA Tribe Yoga website. Above image via Facebook.