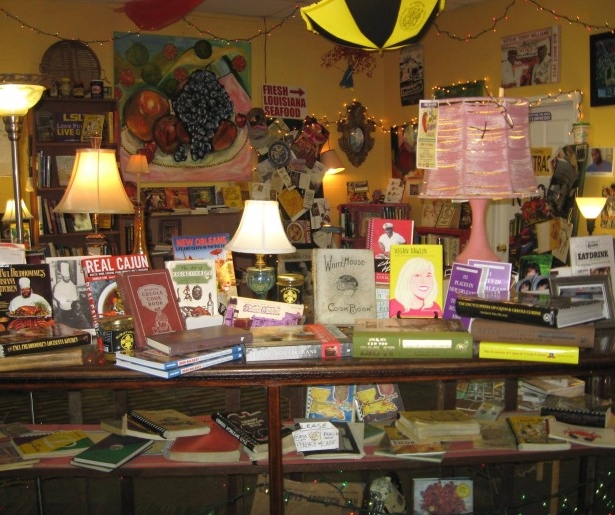 SHARE
Off the usual beaten tourist path on the up-and-coming business hub of North Broad Street, The Kitchen Witch Cook Book Shop has an impressive inventory of books that pertain to cooking, cuisine, beverages and cocktails.
Nine-thousand books line its shelves: some are rare, some are new, some old, and some are out-of-print or one-of-a-kind. The store's walls are adorned with artwork and tiny twinkling lights that reflect off the vast collection of book titles, giving the cozy spot an enchanting vibe.
"What we are to so many folks — especially tourists — is a bit of magic," says co-owner Debbie Lindsey. Her longtime partner and co-owner Philipe LaMancusa, a trained chef, offers each customer a wealth of knowledge and sells a line of spices in addition to the array of titles.
"We have many collectibles, but I really love our local authors and chefs like Austin Leslie, Richard and Rima Collins, and Paul Prudhomme – his Louisiana Kitchen is one of the very best Cajun and Creole cookbooks," adds Lindsey.
Originally, LaMancusa opened the shop in 1999 on North Rampart Street, but problems with the landlord and the overall safety of the neighborhood forced him to shutter its doors afters four years.
"He retired 5,000 books to our home," says Lindsey. "Then Katrina comes and three months after the flood, he asks me if I wanted to go into business and re-open the Kitchen Witch."
Initially she refused. "I said 'hell no!'" she admits. "But I'm delighted to say that I changed my mind the next day."
The duo got a loan shortly afterward, and opened up again in November 2005, this time in the French Quarter on Toulouse Street – until sky-high rent forced them to rethink the business yet again.
"Ten years later, the rent went up 115 percent," says Debbie, so they packed up and moved to North Broad Street.
The two are certainly passionate and well-versed in culinary arts. LaMancusa is the chef by trade, schooling and passion. "He's a professional, but at this time, his knowledge and skills are used to curate many of our books and act as a complimentary culinary consultant to anyone who walks in, regardless of whether they purchase a book or not," Lindsey says.
"I can talk food all day," she continues, "but not with the knowledge or experience Philipe has to offer. We've both spent decades working in restaurants. He also has created our spice blends that we sell here."
Lindsey and LaMancusa are the store's only employees, but they say that over the years, customers have assisted them through support and friendship. Lindsey also says, "local writers like Ann Maloney and Judy Walker of the Times Picayune and more folks in our neighborhood civic groups have shown us the love. You get the drift: the kindness of strangers and friends." She adds that their two dogs and cat ride with them every day to work.
The loyal local fan base, as well as the store's positive reputation among tourists, has helped keep it afloat all these years. Lindsey fondly remembers post-Katrina, when a woman walked into the shop and "found a beloved book she lost in the flood and held it like a lost friend and teared up."
Their customers, she says, become friends. "There are an amazing number of folks from all over the country who rallied, wrote letters and sent faxes to our landlord when our rent was raised beyond our means," she says.
Lindsey is exceptionally grateful to the customers who continue to support them over big-box stores and Amazon. "[We have] customers say to us, 'I know I can get it cheaper on Amazon — but why would I?'"
Kitchen Witch, pictured above via Facebook, can be found at 1452 N. Broad St, 504-528-8382. The store is open from 10:30am-5:30pm daily, except Fridays, when it is open until 7pm.