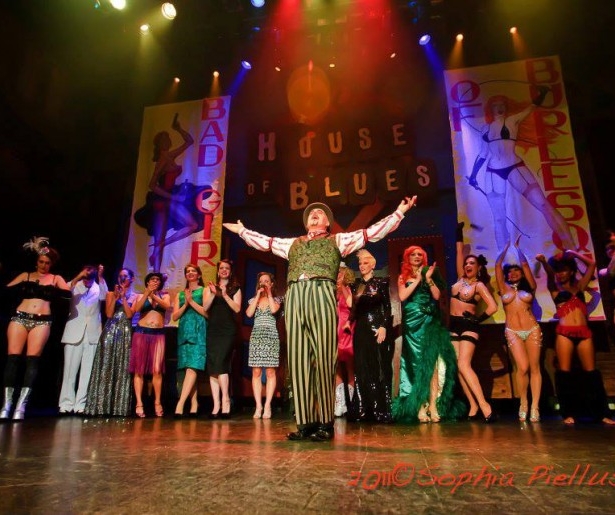 Burlesque defies simple descriptions; it is at times provocative, comical and generally highly sensual, reflecting an exaggeration of one or more aspects of the performer's inner persona. If there's a consistency to burlesque, it manifests as a commitment to elaborate costuming, dance and theatrics.
New Orleans is a longtime showcase of this style of entertainment, which dates back to Storyville days. In the 21st century, a fresh generation of artists continues to push the burlesque envelope by melding creativity and beauty with the obscene and debauched.
Now in its eighth year, the New Orleans Burlesque Festival, presented by creator/producer Rick Delaup, returns to the French Quarter and surrounding venues September 15-18 for an international lineup of burlesque performers, meet and greet parties and the annual competition to crown this year's Queen of Burlesque.
This year, several party sponsors will contribute, bringing more parties and after-parties for guests and performers looking to experience the burlesque culture of New Orleans.
Elle Dorado – former competitive figure skater, New York transplant and the 2014 Queen of Burlesque – is taking on a new role as an associate producer for this year's festival.
Dorado has carved a niche for herself in the the local burlesque scene. Her first show was a low-budget production in New York City, but she upgraded her second performance to the renowned and respected Bustout Burlesque Show at the New Orleans House of Blues.
"The first show I saw [in New Orleans] was Bustout Burlesque and it was years later that I finally had the courage to do it. I was living in New York and put together a show that wasn't particularly well-received but caught the attention of Rick [Delaup], and somehow my second show was Bustout Burlesque," says Dorado.
Her burlesque career has only grown since since. In 2014, Dorado was declared Queen of Burlesque after performing a routine on ice. Two years later, the competition is equally as fierce.
Some events require advanced tickets and some allow for door entry. Check the listing for 18+ or 21+ distinctions, depending on the venue.
Friday, September 16
Pre-party
916 Lafayette St
5-7pm
Pre-party by Angel's Envy Whiskey at the Cellardoor. This event is free and open to the public, 21+.
Main Event at the Civic Theater
510 O'Keefe
8pm, doors at 7pm
The main event to crown the 2016 Queen of Burlesque is an 18+ ticketed event MC'd by Naughty Pierre at the Civic. Each performer is accompanied by live jazz music and scored by celebrity judges.
Bad Girls of Burlesque at House of Blues
225 Decatur St
11pm, doors at 10:30pm
"After the Queen of Burlesque, everyone will be heading over to the House of Blues for Bad Girls of Burlesque," says Elle Dorado. "It is a celebration of the 'wicked, wayward and wanton' and has a naughtier edge with an after party at Rick's Cabaret with Roxi D'lite." Ticket stubs for attendees get a discounted $10 entry rate. The show is 18+.
Saturday, September 17
MONDO at Harrah's New Orleans
228 Poydras St
8pm
Tickets to this variety and comedy showcase at Harrah's are $38 per person, restricted to patrons 21+.
It's Burlesque! At House of Blues
225 Decatur St
11pm
An upbeat twist on classic burlesque featuring fetish and pinup model, Mosh!, plus an array of international performers.
Sunday, September 18
Retro Pool Party at The Country Club by Gingeroo
643 Louisa St
noon-3pm
The Country Club is hosting this party and offers a discounted $5 entry for festival wristband holders. Proper swimwear attire required, and retro garb is encouraged.
Danse Macabre Official Closing Party at One Eyed Jacks
615 Toulouse St
7pm
This celebration of unearthly delights, held at One-Eyed Jack's, is $15 in advance and $20 at the door. Fancy gothic attire is encouraged.
Attendees of the burlesque festival are encouraged to dress up as much (or as little) as they like.
"If you feel like being festive, we support that," says Elle Dorado, "But no one is going to give you a sideways glance if you are wearing jeans and a t-shirt. The festival is a fun activity to explore different parts of your personality. There is no dress code at any of the events, but the closing party with be an elegant gothic-themed event, so if you want to highlight your darker side, festive dress is encouraged."
More information, including links to purchasing tickets, can be found at the festival's website. Other recurring burlesque shows in New Orleans include Whiskey & Rhinestones, Bella's Blue Book and Bad Girls of Burlesque.
Image: The New Orleans Burlesque Festival via Facebook.