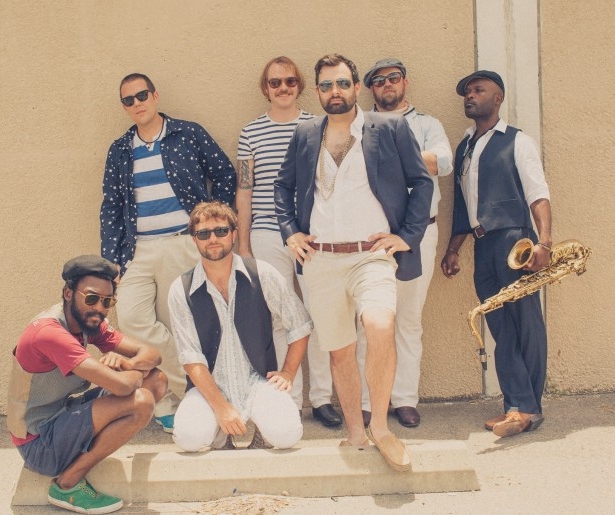 If you happen to have your parents in town this Saturday, you might want to take them to One Eyed Jacks. Once you step inside the red-walled barroom, prepare to set sail with the smooth sounds of "yacht rock," also affectionately referred to as "dad rock."
The band: Where Y'acht. Their mission: simple – to make everything smooth. While you get ready to embark on a musical voyage, get yourself a captain's hat at the merch table or grab a pina colada from a separate bar near the stage. By the end of the night – or hopefully much sooner – you'll be out on the floor dancing to hits by Hall and Oates, Steely Dan, Boz Scaggs and more.
Drummer Eric Rogers, who got the band together in May 2015, describes the band's vibe this way: "The older our generation gets, we realize that our dads were right."
Rogers had been carrying the name "Where Y'acht" in his pocket for a while. It was the perfect name for a New Orleans band playing late-'70s/early-'80s, electric piano-driven soft rock – think anything featuring Michael McDonald.
Rogers had the name and the vision. What he needed was a talented group of musicians who could pull it off. His first call was to guitarist Jonathan Harris – someone who could handle, say, Steely Dan licks. Next, they needed someone to sing and anchor the keyboards. They called Adam Campagna, who accepted by saying, "It's what I was born to do." Bassist Charles Lumar came on board, and Where Y'acht started to be a reality.
The name "yacht rock" comes from the Channel 101 video series of the same name. The mid-2000s behind-the-scenes mockumentary spoofed backstories of frequent collaborations of the era between Kenny Loggins, Michael McDonald, Toto, The Doobie Brothers, Christopher Cross and more.
Local Twitter personality Champ Superstar (@champsuperstar) asked the band to clarify what exactly constitutes yacht rock: "If somebody doesn't know – like they hear a song and think, is this yacht rock – what are some questions that person could ask of the song?" she asked.
"For me, it goes: smooth vocals, some kind of electric piano-" Campagna said.
"Yeah, with chorus on it," Rogers interjected.
The "vocals have to have harmony," Campagna continued.
"There has to be a pick-y, single note guitar lick," Rogers added.
At this, all the musicians vocally improvise their own guitar solos. Naturally, jokes follow: "First off, though, if there's a flowchart: Is Michael McDonald anywhere in the song?" Campagna asked. "Yes? Then it's a yacht rock. Then it's fine."
Where Y'acht pays earnest tribute to this music. Just because it's smooth doesn't mean it's simple. The songs require a high level of musicianship. To play as wide and difficult a catalog as Where Y'acht designed, they needed more personnel: enter saxophonist Khari Allen Lee, vocalist Sarah Fontenelle, percussionist Anthony Cuccia, multi-instrumentalist Cory Schultz and Andy Plovnick on synths.
They steer away from overt kitsch or tongue-in-cheek arrangements. You won't catch Campagna doing a Michael McDonald impression – although backup singers get a little leeway to play around. They try to dress the part without being silly. The cheesiest thing they do regularly might just be playing "Escape (The Pina Colada Song)."
The thing is, people love that song. The audience shrieks when it comes on. They run for the dance floor.
Rogers actually says his most joyful moment playing with Where Y'acht came at their first public show, when they went into "Escape," and he saw the intensity of the crowd's reaction, how people go nuts.
"If you play indie rock, you don't get that back from the audience," Plovnick said.
Where Y'acht returns to its home base, One Eyed Jacks, Saturday, September 17th. Doors open at 9 and cover charge is $12. Check out the band's website here. Image via Facebook.