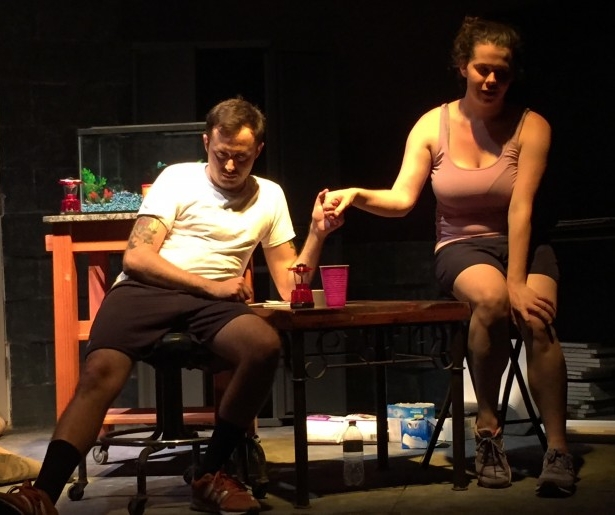 SHARE
Is there life after death in New Orleans theater? You bet.
Three days after Shadowbox Theatre founder Richard Mayer lost his lease at the Old Marques Theatre in Marigny, his company was miraculously resurrected by a phone call from Andrew Jacques, executive director of the St. Bernard Economic Development Foundation.
"He told me they had a space out here [in Arabi] and were looking for someone who might be capable of putting a theater in it," recalls Mayer, who's been giving me a tour of the Valiant Theatre & Lounge, a freshly-sheetrocked space that will soon accommodate 120 theater-goers. "So I came out here and we walked around and I figured it was a pretty fine place for a theater."
Indeed it is. Part of the Meraux Foundation's newly-created $2.4 million arts campus, the Valiant is the latest addition to the burgeoning Arabi Arts District. Located just across the Orleans parish line, a scant couple miles from Mayer's old Marigny location, the theater comes with its own on-site watering hole. Run by Paul Chiriaco, owner of Mag's 940 bar on Elysian Fields, the adjoining Lounge occupies the front half of the building at 6621 St. Claude Ave.
With all the electrical installed, a tech booth in place and the backstage built (complete with trap door for surprise stage entrances), the lightning-fast renovation is on track to do something that almost never happens in New Orleans: open on schedule.
On September 15, the Valiant opens its doors with a literal bang when boom hits the stage, where it runs through September 24.
Produced by Rockfire Theatre, playwright Peter Sinn Nachtrieb's intimate three-character comedy spans 69 million years, and begins with a Craigslist hookup gone wrong on the eve of the apocalypse in an underground biology lab.
"The playwright studied biology in college, and I was a bio chem major for two years," says Rockfire artistic director Matt Reed, who's directing the production. "So the play struck a lot of chords. It brings the same sense of magic and storytelling that creationism brings to evolution. And I love comedies that have little touching moments of honesty."
The odd couple at the center of boom are Jules (Stephen Stanley) and Jo (Erin Cessna). He's a biologist whose Craiglist ad promises "sex to change the course of the world." She's a journalism student, who answers the ad to prove her thesis that "random sex [is] the last glimmer of hope in a decaying society."
Society's demise accelerates when a marauding comet strikes the planet, fulfilling Jules' prophecy and destroying life as we know it. Fast-forward 69 million years, when boom pulls back the curtain and reveals who's really in charge: Barbara (Margo Fanning), our trusty theme park guide, operates levers that control an animatronic exhibit based on Jo's 2016 field notes.
"Barbara's like the woman who runs the Christmas pageant at church," explains Reed. "She loves the story, and she loves telling it to people. She tries her best to tell it because it means so much to her."
It's Twilight Zone meets The Truman Show, and I won't spoil the fun with any more plot-point reveals. Suffice it to say that darkly humorous dialogue, and more than a few pratfalls, animate a show with a heart as big as the boom of that doomsday comet strike.
"People's faces may be sore from laughing," predicts Reed. "But I'd also love them to leave the theater with a sense of wow, that was really touching."
Hot on the heels of boom, Mayer is rolling out a full slate of productions that will keep the Valiant hoppin' through the end of 2016.
The September lineup includes A History of Comedy, Bob Burrell's crash-course in humor from the dawn of time (September 29-October 1); and Deus Sex Machina, a Dionysian burlesque revue (late show, September 30).
In October, the Valiant pulls out all the stops with a blockbuster: Toxic Avenger: The Musical, a Broadway spin on the cult-classic film, in which five fast-change artists play a cast of 100 characters (October 13-31).
NOLA Nerdlesque Festival (November 11-13) and Little Shop of Horrors (November 17-20) herald a bounty of holiday productions, including The Nightmare Before Christmas Burlesque Show, David Sedaris' Santaland Diaries and a charity Christmas tree auction (all in December, dates TBA).
Up front, as befits its storied history, the Valiant Lounge will serve as cabaret as well as bar. Prior to previous incarnations as a pawn shop and Mardi Gras supply house, the original road house was called the Joy Club, known as the Dew Drop Inn of St. Bernard Parish.
"We're going to have a piano in the Lounge, acoustic music two or three nights a week, and use it for cabaret shows" says Mayer, who expects the Valiant Theatre to follow the same trajectory as his Shadowbox Theatre did in New Orleans.
"When I first opened the Shadowbox [on St. Claude in Marigny], I was one of only five or six businesses within a six- or seven-block radius," recalls Mayer, who clearly relishes his new role as an Arabi pioneer. "And six years later, when I closed down, there must have been 50 or 60 businesses. I think the same thing's gonna happen here."
'boom' runs Thursday-Sunday, September 15-17 and 22-24, with a Monday performance on September 19. All performances are at 8pm at the Valiant Theatre & Lounge, 6621 St. Claude Avenue in Arabi. Click here to buy tickets ($20).
Image: Stephen Stanley and Erin Cessna rehearse for 'boom.' Photo by Matt Reed.