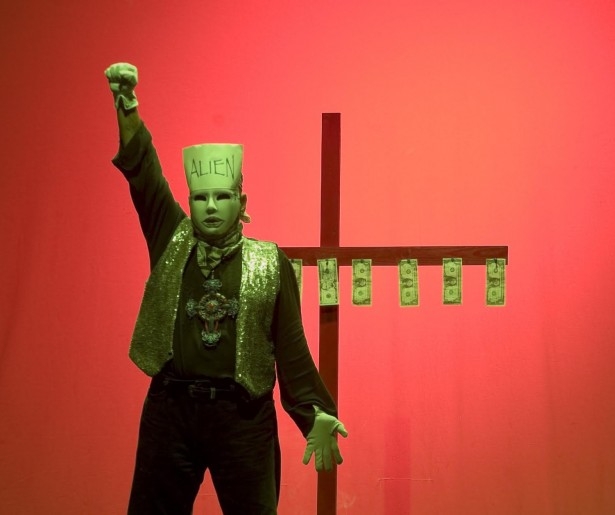 SHARE
It's a hug, muggy night at a warehouse in St. Roch, where I'm holding hands with a circle of people, most of whom I've never met before.
Together, we begin to hum a tone that blends multiple voices into one as we gradually crescendo from soft and low to an ever-higher, ever-louder pitch. When we hit a collective peak, we start to decrescendo down until somehow, miraculously, we all stop humming at once.
There's a brief moment of silence. Then: Kaboom! Just outside the open doors, lightning cracks and a thunderous blast opens the heavens with a deluge of cooling, cleansing rain.
Welcome to Art Klub, which has just been christened by the gods in the wake of a stunning inaugural performance by the legendary Living Theatre, in town for a one-night-only show.
It's a propitious start for what promises to be not just another cool performance space but a real creative incubator. Serendipitously located at 1941 Arts St., the Art Klub property includes two large apartments for local and visiting artists-in-residency, as well as a 2,400-square-foot warehouse.
"It's a blank canvas where you can implement your dream," says Art Klub founder Reese Johanson, who renovated the apartments but left the warehouse mostly bare.
Jose Torres-Tama, an National Endowment of the Arts award-winning performance artist, dreams big. And he'll be painting that canvas green-card emerald when he brings Aliens, Immigrants & Other Evil-Doers to Art Klub (September 16-19 & September 23-26).
With the help of a National Performance Network grant, the Ecuadoran-born Torres-Tama is taking his acclaimed one-man "sci-fi Latino noir" show to the next level with new sci-fi satirical film shorts that amplify his mantra: "No Guacamole for Immigrant Haters!"
With illegal immigrants a red-hot topic this election year, the piece couldn't be more timely.
"Here in post-Katrina New Orleans, Latinos have been a big part of the rebirth with their physical reconstructions," says Torres-Tama. "My performance chronicles that contribution, and challenges the anti-immigrant hysteria that is currently gripping the United States of Amnesia."
But it's not mere polemics. Like everything Torres-Tama does as a visual and performing artist, Aliens melds social content with experimental form.
"I approach all of this with humor," says Torres-Tama, who shapeshifts into a range of extraterrestrials during the course of the performance. "Pachuco of Interracial and Interplanetary Love is sort of a Latino George Carlin character, and El Swamp Brujo is an alien Martian green."
Provocative personal stories are based on filmed interviews with immigrants, including a Honduran laborer in New Orleans who almost lost a hand to a post-K injury. And his sci-fi send-ups of aliens landing in this country were inspired by The Matrix and Star Wars.
"I'm a big fan of sci-fi, which can be very socially conscious," says Torres-Tama. "So I have a sci-fi set with multimedia projections and 'Mex Files' soundscapes, which I'm using to satirize a system that dehumanizes the immigrants whose labor it exploits."
Torres-Tama, who lives in New Orleans, isn't just performing at Art Klub. He's made it his creative base camp for launching a national tour.
"Jose will have full use of the space for the two weeks he's here, and can do whatever he needs to do," says Johanson, who's throwing a grand opening party on October 15 and is filling up fast for the rest of the year.
From mid-October to mid-November, Vagabond Inventions will be in residency at Art Klub, building installations for device-theater productions that people can wander through. And come December, Nari Thomasetti will transform the space into a circus-arts showcase.
One of Art Klub's two on-site apartments is used to house visiting artists, like the Living Theatre. The other is home to visual and performing artists Robin Power Royal and Alex David Jones, who will be there for a longer-term residency while they develop new work.
"It's an amazing opportunity," says Royal, a recent Chicago transplant with New Orleans roots who spotted a Craigslist ad seeking resident artists shortly after Johanson posted it. "We needed more space to create and I love it here. The Living Theatre really inspired me tonight."
Royal and Jones' public installation is still a work-in-progress. But it grows out of their commitment to the Paradise for the Children of Africa Foundation, which provides critical food, clothing and housing for Africa's estimated 20 million AIDS orphans. Titled "Blood of the Lamb," it's a perfect fit for Art Klub's art-with-a-purpose mission.
"What we do here is sometimes off the wall and definitely not mainstream," says Johanson, who's pushed multiple boundaries as a solo artist and founder of the Reese Johanson Collective. "But it's always socially conscious." And she's acutely aware that Art Klub is rooted in a neighborhood that existed long before they arrived.
"This neighborhood is everything I love about New Orleans," Johanson, who staked her claim lakeside of North Robertson on the far frontier of St. Roch. "It's an old African American working class neighborhood, where people have lived for years. And they have embraced me. I couldn't have asked for a warmer welcome."
Beyond giving her neighbors reduced rates to Art Klub events, Johanson plans to offer free workshops to neighborhood kids, where they can learn sewing skills and the art of beadcraft from Mardi Gras Indians. She also plans to establish a homework center, and support groups for people who've been impacted by violence.
"I'm really committed to creating programming that's inclusive," says Johanson. "We are a community, and I want everyone to feel welcome."
'Aliens, Immigrants & Other Evil Doers' runs Friday-Monday, September 16-19 & September 23-26 at 8pm at Art Klub, 1941 Arts St. Tickets ($7) available at the door. Above image by Jonathan Traviesa.