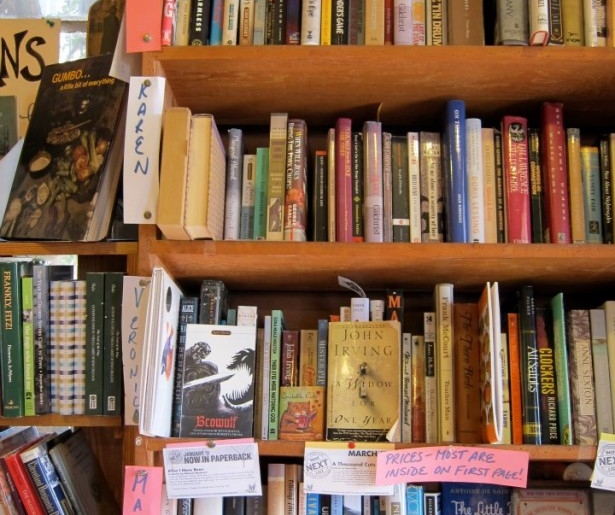 SHARE
The sun is out. The live oaks on Carrollton Ave are casting shade – but in a good way. Time for a perfect Carrollton day. Actually, most of this day is technically spent in the Riverbend, but in a future installment, we'll add another day to this itinerary and explore Carrollton proper as well.
The best way to begin exploring Carrollton is to get here via her namesake Carrollton streetcar. We'd recommend coming up from St Charles Ave and then flipping lines at the (admittedly confusing) intersection of St Charles and Carrollton, two of the city's greenest tree-lined streets. If you need to get a drink, there's a daiquiri stand here, but we recommend stopping into Cooter Brown's and ordering off their extensive beer menu; get the brew to go, of course, and maybe some oysters too (live a little. You're in New Orleans).
If you're in the mood for lunch after that, head in the direction of white columns and spattering grease: here, friends, is the Camellia Grill, one of the greatest diners in the country, let alone the city. Let it be said: diners – in the sense of a linoleum floor and shiny counter top and bright lighting – aren't as prevalent in New Orleans as other parts of the country. Not that this city doesn't have cheap places to eat; we probably have more of those per capita than anywhere else in the country, but the Nola version skews towards hot lunch counters and po'boy shops.
But we do diner down here as well, and the Camellia is one of our stalwarts. It's simple but filling fare – chili, eggs, burgers and the like – served to you by tough looking guys with tattoos and gold teeth and big smiles and lots of friendliness. If you're form out of town, you may think it's weird to see families bring little kids to a spot like this, where the short-order chef slinging hash looks like a cast member from Mad Max in a white shirt and a bow tie, but in New Orleans we know characters like that are some of our hardest-working culinary heroes.
Wander down Maple Street, one of the city's great local commercial arteries, marking the spots you may want to shop at, and make sure to peruse one of New Orleans' original independent bookstores: Maple Street Books. Why do we love this store? Because it just screams (or whispers in a librarian hush) everything we love about independent bookstores. It smells like fresh paper and binding and the rush of finding a new literary friend to take home and curl up with.
Roll back up Maple and turn right on Carrollton, then left onto Oak St. You may want to grab a coffee at Rue de la Course on the way. Nearby Tulane and Loyola universities keep this large, airy café constantly packed with students either socializing over iced coffees or hunched over their laptops in a state of furious concentration. A second branch specializing in used and rare books is next door.
As the evening sets in, stroll up Oak St and head to the iconic Jacques Imo's. You'll walk in through the kitchen and hopefully see chef Jaque cooking in his boxer shorts and work boots. And what's ole' Jacque whipping up? Crazy, crazy nom noms. Alligator sausage cheesecake (trust us, it works); rabbit with a shrimp tasso pasta; perfectly fried chicken livers. It's all kinds of good, kids.
In the interests of giving you a second good dining option, and continuing in the vein of insane culinary brilliance, we'd be remiss not to mention Brigsten's, which whips up some of the finest locally sourced seafood and New Orleans Creole cuisine in the city. The seafood platter, a deliciously intimidating plate of, sheesh, every creature that swims and crawls along the Gulf, is a wonderful execution of New Orleans culinary insanity and brilliance; in what other city are chefs mad and brilliant enough to mix up shrimp cornbread with two kinds of baked oysters (and that's only half of the six sampler dishes). It's about a 10 minute walk from Oak St.
After dinner, head to the Maple Leaf Bar and catch some live music. The Tuesday Rebirth show is a Nola classic; it can get pretty crowded with college students, but watching a show here is a requirement when it comes to experiencing the New Orleans music scene.
Editor's note A previous version of this story incorrectly listed Brigsten's as a lunch option, but that restaurant is only open for dinner. We regret the error, and can only say we were probably desperately projecting our desire that Brigsten's be open all the time.
Cooter Brown's 509 S Carrollton Ave, 11am-3am Sun-Thu, til 4am Fri & Sat
Camellia Grill 626 S Carrollton, Ave, 8am-midnight Sun-Thu, til 2am Fri & Sat
Maple Street Books 7529 Maple St, 10am-6pm Mon-Sat, 11am-5pm Sun, 504-866-4916
Rue de la Course 1140 S Carrollton Ave, 6:30am-11pm Mon-Fri, 7am-11pm Sat & Sun
Jacque Imo's 8324 Oak St, 5-10pm Mon-Thu, til 10:30pm Fri & Sat, closed Sun, 504-861-0886
Brigsten's 723 Dante St, 5:30-10pm Tue-Sat, closed Sun & Mon, 504-861-7610
Maple Leaf Bar 8316 Oak St, 3pm-pretty damn late
Images courtesy of Maple Leaf Books and the Maple Leaf Bar