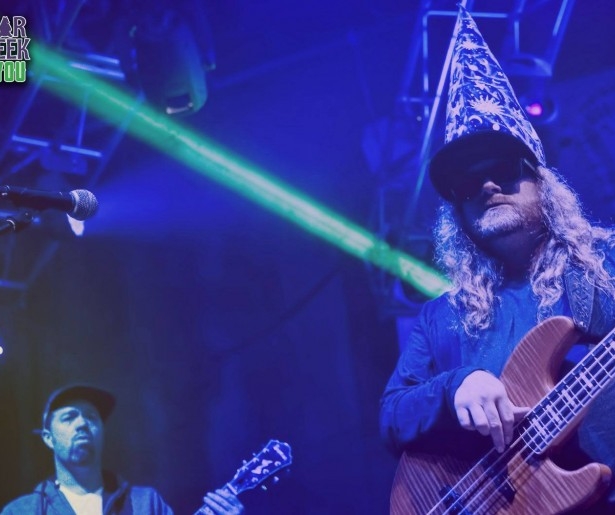 SHARE
Running a music festival is tough work. Just ask Lyle Williams, founder of Bear Creek Festival, a Florida-based funk, jam-band and indie music event that for the past few years lost money despite affordable ticket prices and diverse lineups. The market for music festivals has never been more saturated, and promoters must constantly toy with format and location to break even, let alone turn a profit.
So this year, Williams moved Bear Creek to New Orleans, rebranding it as the Bear Creek Bayou Music Festival. It takes place on September 30th and October 1st at Mardi Gras World, and includes some top flight headliners like The Flaming Lips and George Clinton & The Parliament Funkadelic.
Bear Creek has been trying to relocate to New Orleans since 2010. Mardi Gras World, with its humongous warehouse space, is a perfect fit for a festival dedicated to showcasing funk, indie rock, jam-bands, and more.
The location, just upriver from downtown, also allows for festival-goers to explore the nearby Garden District, Central Business District, and of course, the French Quarter. Promoters are hoping that ending music both nights by 11pm will encourage fans to go out in New Orleans and support other venues.
The official Bear Creek festivities begin at 8pm Thursday, September 29th with a pre-party at the Joy Theater, featuring Soulive and Naughty Professor w/Chali 2na. A portion of tickets to both the pre-party and the festival will be donated to New Orleans charity The Roots Of Music, which empowers local youth through music education, academic support, and mentorship. Tickets can be purchased here.
Here are our music picks for the festival:
Friday, September 30th
Chali 2na & The House of Vibe – 1:45pm @ The Ballroom Stage
Acclaimed rapper and hip/hop artist Chali 2na – of Jurassic 5 and Ozomatli fame – brings his unique, baritone voice to New Orleans alongside the genre-defying musical collective House of Vibe.
Lettuce – 6:15pm @ The Bayou Stage

The Boston-based funk/jazz group Lettuce has been energizing crowds since 1992. Their latest album, Crush, reached number one on the U.S. Jazz Album charts in 2015.
George Clinton & The Parliament Funkadelic – 8:30pm @ The Bayou Stage

Psychedelic Funk mastermind George Clinton has been bringing the funk alongside his group, The Parliament Funkadelic, since the early 70s. An architect of the modern funk sound, Clinton is often lauded as one of most innovative musicians of the 20th century.
Saturday, October 1st
Karl Denson's Tiny Universe – 4pm @ The Bayou Stage

Two decades of touring (playing over 150 shows annually!) has not slowed down Karl Denson's Tiny Universe, one of the best live funk bands on the planet. They're touring extensively this fall to support an upcoming release. Don't miss their rollicking cover of The White Stripes "Seven Nation Army."
The Flaming Lips – 8:30pm @ The Bayou Stage

There may not be a more notorious, sought after live band cruising around the international festival circuit than The Flaming Lips. The band formed in Oklahoma City in 1983, and sports one of the most eclectic discographies of any modern psychedelic band.
They attained commercial success at the turn of the century with two LPs—1999's The Soft Bulletin and 2002's Yoshimi Battles the Pink Robots —and developed a reputation for jaw-dropping live shows in the early 2000s after several Bonnaroo appearances. Their shows often include giant hamster balls and complex laser light shows. Not to be missed!
Image courtesy of the Bear Creek Bayou Music Festival via Facebook. The festival takes place at Mardi Gras World on September 30th and October 1st. Check out their website for more information.