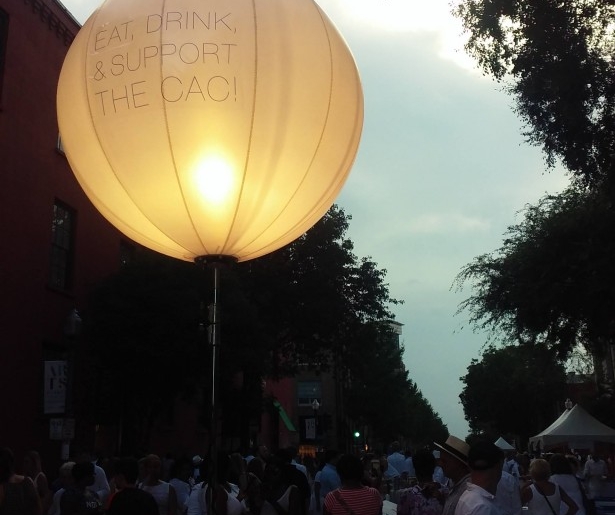 The end of summer in New Orleans might not bring relief from the heat, but it does bring about one of the city's most well-attended art events – Art for Art's Sake, (AfAS) which takes place this year on the first night of October.
"Since 1980, Art for Art's Sake has just grown and grown into this citywide phenomenon; a night when all the city's galleries open their major shows." says Lindsay Owens, Associate Director of External Affairs for the Contemporary Arts Center.
"For me, it's been important to remind people that we created Art for Art's Sake as a Contemporary Arts Center (CAC) fundraiser. And it remains a sort of open-house to show people all that we do," she adds.
On the night of AfAS, an estimated 30,000-plus guests will sip wine and cocktails, sweating only slightly as they saunter between big openings at Julia St. galleries like Arthur Roger, George Schmidt and Jonathan Ferrara. Nearby, the Ogden Museum of Southern Art will offer a first glimpse at new work by Australian-born painter Simon Gunning. A few blocks away, businesses on Magazine Street will stay open to provide shopping and dining for the masses…also for art's sake, one assumes.
This party is put on by the CAC, though, and they're not pulling any punches. The center will premier The Lipstick, described as "a provocative dance performance accompanied by solo violin and a tube of lipstick." Choreographer Meryl Murman will reflect on her Arab ancestry, with characters that illustrate the complex relationship between identity and geography.
"Because most of Art for Art's Sake revolves around galleries, The Lipstick is a way to remind people that we do more than just visual art," says Owens.
The CAC also celebrates its 40th birthday at this year's AfAS, with a toast in the center's cafe, plus the closing of the CAC's all-Louisiana art show, A Building with a View: Experiments in Anarchitechture.
"This show of about four dozen regional artists opened at White Linen and closes at Arts for Art's sake," says Owens. "We are planning for that to be the model every year from now on."
Along with cash bar and a cocktail and cuisine tasting ($10, or free for CAC members), Anarchitecture features artist Anastasia Pelias, whose abstract works blend a vibrant New Orleans aesthetic with her weighty Greek heritage, as well as an impressive lineup of local artists.
CAC stalwart Robert C. Tannen – also a regional planner for research and development, architectural, and civil engineering firms – exhibits work combining themes of environmental science, architecture, and engineering. New Orleans-via-Brooklyn artist Christopher Saucedo is known for his many works of public sculpture, including "New Orleans: Flood Marker" (Milne Boys Home), "Equal Slices" (University of New Orleans; and Boettner Park), and the steel structure entitled, "You Must be This Tall," currently under construction in the St. Claude Art District.
The CAC's Anarchitecture show will also feature Generic Art Solutions (G.A.S.), perhaps best known for their guerrilla presentations at major local art events. Working in many mediums, but with performance at its core, G.A.S. (a.k.a Matt Vis and Tony Campbell) first stirred up Art for Art's Sake in 2006 dressed as The Art Cops, a duo who cruised the streets in a black and white patrol car, writing and handing out tickets to deficient art and artists.
"We call those types of things 'unscripted public intercourse,'" laughs Vis. "We try to lay out these characters and give each other rolls but the interactions with people are, clearly, all improvised. We consider what we do a public service, community outreach."
It's enjoyable, too. "When we did the Art Cops that year, we had a lot of fun. Weird people were asking us to pat them down and put them in the back seat," Vis recalls. "But sometimes we get the feeling that requests like that make us seem like more of a comedy team, and so we try to keep it as straight as possible."
Vis is tight-lipped about this year's shenanigans, adding only, "There's nothing more honest than being surprised."
G.A.S's presence doesn't just bring disruptive improv to Art for Art's Sake. It also represents a connection to another side of the local art scene. The duo is affiliated with Good Children Gallery in the St. Claude Arts District, a corner of the New Orleans arts experience that is both scruffier and, arguably, riskier than the Julia St scene.
"Just about everyone who is in control at Good Children has stepped over to Julia St. at some point, though not many have gotten full representation," says Vis. "Art for Art's Sake is about reaching a little deeper into the local art community – they have to, for such a big public event that constantly needs fresh content for such a large audience."
"For us [on St. Claude] it's sort of about taking the fringy art scene and showcasing it downtown. We still have Good Children as our clubhouse base and testing ground for our work. We can still have our more experimental shows. But in the end, Art for Art's Sake is a really a unifying nights for New Orleans' entire arts community," says Vis.
For more information and updates on Art for Art's Sake, visit the CAC website. Image courtesy of the CAC, via it's Facebook page.