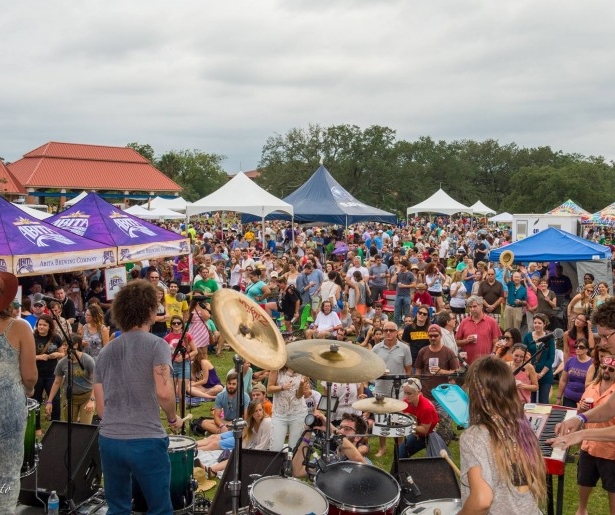 Northwestern-based cities like Portland or Seattle have long been meccas for craft beer enthusiasts. But thanks to the work of a burgeoning homebrew community and bars catering to a more discerning drinker's palette, New Orleans is creeping up many beer-city lists, drawing brewers and drinkers further south.
Herb Dyer, owner of The Bulldog, noticed this trend almost a decade ago. He decided to partner with the Louisiana Society for the Prevention of Cruelty to Animals (LASPCA) to create "a new fundraiser that would…bring attention to the new appreciation for craft and homebrewed beer that was finally coming into our area," says Alicia Haefele, Communication Director for LASPCA and Coordinator for NOLA on Tap.
The resulting collaboration has been a big boon to the Louisiana craft beer industry (and LASPCA). Since 2009, over 20 new breweries have opened within the state, including several in New Orleans' city limits – Port Orleans, New Orleans Lager and Ales (NOLA) Brewing, Courtyard Brewery, Second Line Brewing, Parleaux Beer Lab and Urban South Brewery among them.
A fervor for fresh, local beer doesn't show any signs of stopping.
NOLA on Tap
Dyer and the LASPCA could sense the New Orleans beer community was growing, but there wasn't yet a way to bring the delights of the local brewing industry to the people.
This is where the NOLA on Tap festival comes in. Over 400 beers from large-scale breweries, microbreweries, and homebrewers alike are set to be tapped at this year's festival on Saturday, September 23. Now in its eight year, the party has a history of attracting beer-drinkers, dog-lovers, and general party people with good music, good food, and, of course, great beer.
Many beers will be homebrews carefully concocted by local men and women with a passion for good suds. In addition to giving these brewers a chance to try something wild and weird (Peanut Butter Oreo Imperial Stout, anyone?), NOLA on Tap also gives festival attendees a "sneak peek/taste of what could end up at your favorite restaurant or store," says Haefele. After all, these average people could be on their way to opening the twentieth new brewery in Louisiana.
The festival will have specially-brewed craft beers from local favorites like Abita and Parish, and more internationally-recognized brands like Terrapin, Bells, and Stone. For friends of beer drinkers, there will be a selection of wines, mixed drinks, and sodas.
The festival's home – City Park – will also be open to fur-friends. All proceeds from the event, which last year reached nearly a quarter of a million dollars, will be going back to local shelters through the LASPCA.
Image via Facebook.