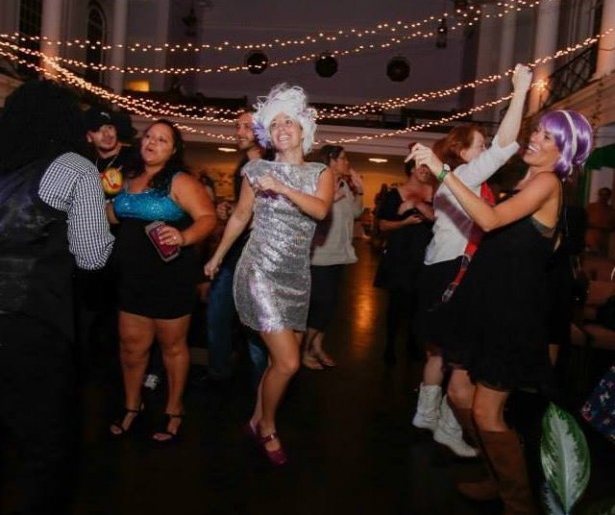 SHARE
It's always a Jazz Fest highlight when the Queen of Bounce hits the Congo Square stage with her twerking brigade. And it was off the chain this past April, when Big Freedia was joined by members of Tank and The Bangas, whose fearless leader delighted the Queen with a comically gymnastic twerking routine.
"I can't wait to perform with Tank and The Bangas to raise money and awareness of Hagar's House," says Big Freedia, who'll join forces with Tank again at the 6th Annual Women Performing for Women (WPFW) benefit on September 29 at Cafe Istanbul (2372 St. Claude Avenue). "[Hagar's House] is an amazing refuge for the women and children of New Orleans who are getting on their feet, and I hope people come have fun and support this cause!"
It's a cause worth supporting. As Freedia says, WPFW benefits Hagar's House, a Mid-City sanctuary and home for women, children, and those who identify as transgender.
Founded in the wake of Katrina in 2007, the community is named for the single mother in Genesis cast out by Abraham and Sarah, who wandered the desert seeking shelter with her young son Ishmael. It has since provided sanctuary and rest for more than 110 women and 77 children while they transition into permanent housing.
"We're not a traditional shelter," explains Hagar's House director Caroline Mayes. "Each resident and family creates a personalized plan for moving toward permanent housing. The goal is for everyone to leave with a support group and savings, employment, or continued education."
Once a year, they help fund that goal by throwing a party where everyone has a good time.
"It's a fun night for all ages and genders that celebrates the people of Hagar's House," says Angela Davis, executive director of First Grace Community Alliance, the program's sponsor. "The women get dressed up, and they can relax and enjoy themselves because they have childcare" – a service also provided gratis for guests attending the event.
Past WPFW headliners include a who's who of powerful female performers, from jazz chanteuse Germaine Bazzle to zydeco queen Amanda Shaw. Last year, Charmaine Neville invited the kids to play percussion and dance with her. And with Big Freedia and Tank holding forth on stage, we will doubtlessly see a chorus line of toddler-to-teen twerkers.
"We were hoping for either one of them, and we got both!" laughs Davis, who's thrilled with the dynamic duo topping this year's bill. "We're so excited about having them both together, because we love their music and they're really supportive of what we do."
No one's more excited about the chance to support Hagar's House than the performers themselves, who consider it an honor to pick up the mic for a great cause.
"It's always our mission to entertain, enlighten, as well as educate the people of New Orleans on the things that matter most to us," says Tortianna Tank Ball, lead singer-poet of Tank and The Bangas. "This happens to be one of those things."
What can we expect when they hit the stage?
"With myself and Big Freedia rocking out on the same stage, I'm sure we can bring people together for this special moment at Hagar's House," predicts Tank.
She pauses, then adds a line guaranteed to get fans out of their seats and onto the dance floor:
"Let's shake things up!"
The 6th Annual Women Performing For Women, a benefit for Hagar's House, happens Thursday, September 29, from 6:30-10pm at Cafe Istanbul, 2372 St. Claude Ave. Admission ($40), available via Eventbrite, includes a buffet from generous local restaurants and free on-site childcare. Childcare spots must be reserved in advance at the time of ticket purchase. Sliding scale tickets are also available in a limited quantity. Email HagarsHouse@gmail.com for details.
Image courtesy of Hagar's House via Facebook.