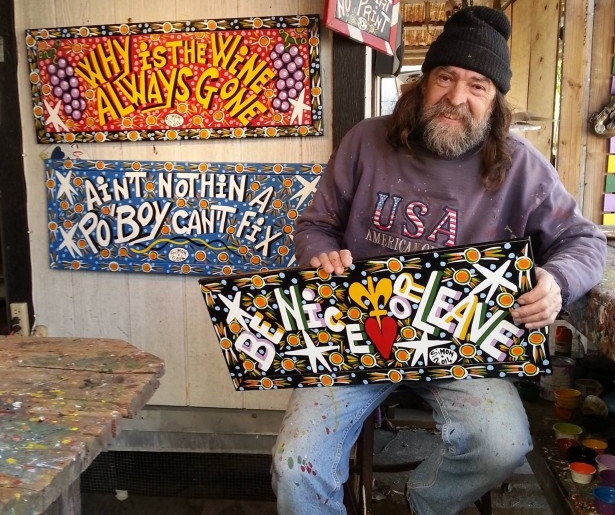 You may not know the name Simon Hardeveld. But if you live in New Orleans, you've probably seen his work. Distinctive, brightly colored signs with sayings like "Shalom Y'all," "Be Nice or Leave," and "Look Busy Jesus is Coming" decorate homes, businesses, and billboards throughout the city; the most famous ones are probably the signs that decorate the set for WGNO's News With a Twist.
This October, the iconic artist will be celebrated in Simon of New Orleans, a new book about his life and art published by River Road Press.
The idea for the book was a collaboration between River Road Press publisher Scott Campbell and author Yvonne Perret. Perret, who'd already written for River Road, was looking for a new idea for a book when Campbell suggested Simon.
"I didn't know the man, but I definitely knew the artwork," Perret says. The book is a mixture of descriptions of the artist's life and work, pictures of his art, and commentary from fans and collectors.
Perret said that people are often reluctant to be interviewed about anything that isn't about them, but she said that this was not the case with Simon. Subjects were excited and eager to talk about the man and his art, a fact attributable both to the work and the man himself.
"He is the most unassuming, gentle, put-you-at-ease guy," Perret says.
Born in Cannes, France, Simon worked as a chef in his native country before he moved to Florida in 1986, and then came to New Orleans in 1994 for Mardi Gras. Like many others before and since, he fell in love with the city. "I came for Mardi Gras and I'm still here," he says.
His transition from the culinary to the artistic world was accidental. When he moved to New Orleans, restaurants were not looking for traditional French chefs. At the time, California-inspired cuisine was trendier. Looking for any kind of work, he took a job at Bush Antiques on Magazine.
During slow days, Simon began playing around with discarded wood in the back of the shop. He created his first signs there. Ms. Bush, who Simon still speaks of with great fondness, allowed him to showcase his work in the shop. They sold well. He kept making them and people kept buying them.
Eventually, he started his own business. His outdoor workshop is now located at Antiques on Jackson (1028 Jackson Avenue). It's full of lush greenery, Simon's signs, and the occasional random object (a trombone lay on a nearby table during our interview).
Each of his signs takes approximately 15 days to complete. He works on several signs simultaneously, but the process of cutting the wood, prepping it, adding an undercoat, painting both sides and putting on the finishing touches is time-consuming. But the results have been an undeniable success.
Simon said his work really took off in 2011 when an art director for News With a Twist ate at Joey K's on Magazine St, one of the first local businesses to showcase Simon's signs. The art director asked restaurant management who had painted the signs, then contacted Simon.
"News With a Twist opened up a lot of doors," says Simon.
Now, he accepts commissions from businesses and individuals. Part of the process is meeting the buyer. Simon does not use phone or email; he likes to meet customers in person. When he meets them, it gives him a sense of their personalities and makes the signs easier to paint. He keeps photo albums in his workshop filled with pictures of him posing with happy customers and their signs.
Unsurprisingly for an artist who insists on meeting potential customers face-to-face, Simon says his favorite thing about New Orleans is the friendly, familial interactions between its residents. "It's the people," he says. "Not too much the music, more the people."
Simon adds that he has no intention of returning to the restaurant world. Even at home, his wife Maria does almost all of the cooking. The one exception is when Simon wants to make his beloved hot dogs.
Simon's work has now reached other parts of the world, including Europe and Japan. But its heart will always be in New Orleans.
"Simon's art has weaved itself into the culture of the city in a way that I've never seen before," says Perret.
Image vourtesy of Simon of New Orleans, via Facebook.