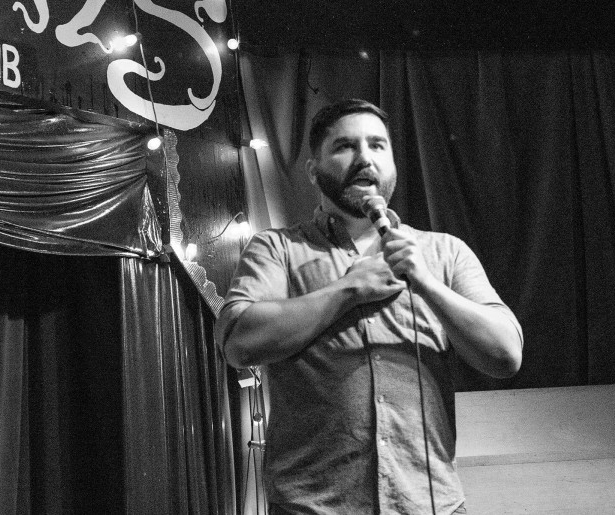 There is something funny about New Orleans – especially since Katrina. Though our city has always had a sense of humor, its cohesive comedy scene is still more-or-less new. Lately, the two biggest components of said comedy scene – or at least the two most high-profile – have been the New Movement theater and school, and the New Movement-affiliated Hell Yes Festival of comedy, founded in 2011 by wiseacres Dominique Ellis, Brock LaBorde and Chris Trew.
The inaugural Hell Yes Fest took place in Austin, Texas before the crew moved to New Orleans. "We focused on New Orleans because there are already a lot of festivals in Austin," says LaBorde without a trace of humor or irony. "There were even a few comedy festivals in Austin already. And there were none here. We decided to just create our own perfect idea of a comedy festival in New Orleans."
What started out as a small festival featuring just a few comedy shows has, by its fifth year, become a dense week-long bill of visiting national headlining comedians, each prefaced by solid local New Orleans openers. "We try to feature all kinds of comedy from all kinds of people from all over the world," says LaBorde. "Then we also have all the comedians we are training at New Movement comedy school. This festival is a big stage for our students, who are getting to open for bigger comedians. That's really the philosophy behind the festival."
For the last couple of years the fest's founders have put out a louder, broader call for national submissions. "It's not just a showcase of New Orleans comedy," says comedian Dane Faucheux, who won a local comedy battle to open for comedian Nick Swardson at the Joy Theater during Hell Yes Fest. "This fest is more about bringing a lot of comedy into the city for us to see. You don't to come to this festival and see just the locals you always get to see."
Faucheux has performed standup comedy in and around New Orleans, and nationally, since before Katrina ushered in a new comedy world. "I was caravan-ed into the city during Katrina, actually, to entertain the troops who were here," Faucheux recalls. "We did five or six shows where they'd take us in military vehicles in stations around the city: one on Airline, one on Seminary, and one at the Convention Center"
Faucheux has at times felt slightly conflicted about New Orleans's sudden emergence as a comedy hot spot. "I am happy for New Orleans, that it's got a pretty big scene that is still even now evolving and growing. Then again, it used to be nice when comics used to get paid for shows; now that it's so popular, there's a free show every night of the week. And open mic used to have 12 comics, now there are like 30 going up every night. That's just growing pains though. Ultimately it's a good thing."
Faucheux is nonetheless humble about his big win in the comedy battle leading up to Hell Yes Fest. "My night had 12 to 16 people and from that they picked just three of us. Vincent Zanbon, they made him go first, which in standup is called 'taking the bullet.' He had a great chance of winning the competition, but going first made it infinitely harder for him."
Between live comedians and comedy troupes, Hell Yes Fest will also feature multi-media elements, mirroring the diverse range of activities offered at the New Movement, from comedy writing to video classes that teach how to record comedy podcasts and web series.
The fest will also, of course, features booze.
"We try to make it a nonstop party. Compared to other comedy festivals in this country I feel like ours take place in the greatest city in America, and people genuinely love to come here," says LaBorde. "We have about 200 comedians coming from all over the place this year. For some this is their first festival. We love celebrating the little guy, so if you are an unknown comic, you may want to come to this festival just because it's in New Orleans. If we like your submission, you will also get to do two shows, 20 minutes each. Either way, you will definitely get to party."
Dane Faucheux is excited for that time, once a year, when Hell Yes Fest focuses the city's capricious spotlight on comedy for a whole week. "The local scene reaps benefits after the festival too, because of the fest," he says. "Once these bigger comics come here, they tend to come back; often they weren't coming to New Orleans because they just didn't know how to get booked here before. That means more good opening slots for local comedians." Fauchuex adds, "I just hope that when Hell Yes Fest is gone, people continue to go to New Orleans comedy shows."
The Hell Yes Festival takes place at various venues across the city from Oct 6-16. Check here for more information.
Above image: Dane Faucheux, via Facebook, performing at the Allways Lounge.