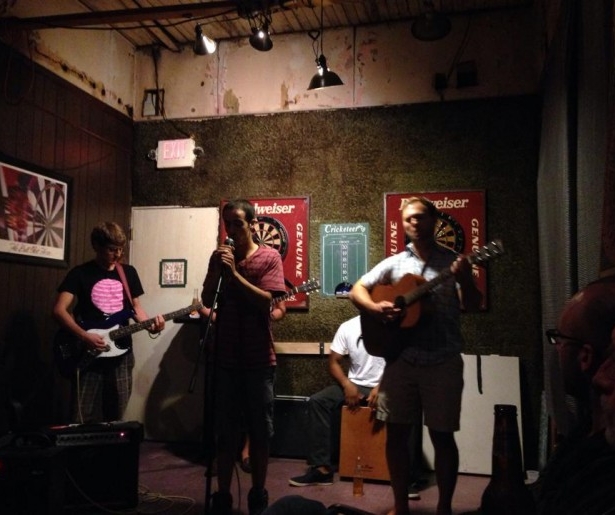 SHARE
"The blood jet is poetry, there is no stopping it."
Megan Burns is intimately acquainted with that famous line by Sylvia Plath, published in her posthumous masterwork Ariel.
"I know that line because it's tattooed on my back," says Burns, with a laugh. And she brings the spirit of Plath's words to life every Wednesday night, when she hosts the Blood Jet Poetry Series at BJs (4301 Burgundy St.).
Now in its seventh season, Blood Jet has become a station of the cross for both local and visiting poets, who read for the city's burgeoning audience of poetry fans. And their ranks continue to grow, thanks to the success of the inaugural New Orleans Poetry Festival last spring, which Burns organized with fellow poet and Lavender Ink publisher Bill Lavender.
Lavender is in the house tonight for the kickoff of Blood Jet's fall season. It's a book release party for featured reader Izzy Oneiric, who keeps us all enthralled with selections from Crossing Bryan Ferry and Other Poems, her new Lavender Ink collection.
A tiny woman with elfin hair and cat's eye glasses, Oneiric is wearing a demure print dress tonight. But like the muscular tattooed arms revealed by her sleeveless frock, the pictures she paints with words pack a powerful punch.
In "The Problem With Death," a rich man drowning in debt flies to Haiti to fake his own death "where undertakers have no problem blessing caskets full of rocks." He steps off the plane "into a puddle of rats," meets a priest with "cigarette and rope burns on his chest," and pays $5,000 for a funeral "complete with rented mourners, and footage of the coffin burning."
It's a done deal, sealed with a strong-rum toast to vodou deity Papa Gede. Or is it?
"I must return tonight for proof of death," the man tells us. "In Haiti, priest and notary are one."
Oneiric is a compelling reader, whether she's conjuring Haitian spells or looking through a glass darkly at her own childhood. In "Tripping Daisy Says Watch Out For Piranha," after a blow-up with her mom, she contemplates revenge-killing her pet fish, Spike:
"I thought about draining his bowl to see how long it would take him to drown in reverse" [slight pause] "but I didn't. I blasted Tripping Daisy."
Throughout the course of her reading, Oneiric continues to lead us through a maze of often dark, sometimes laugh-out-loud funny, and always surprising twists and turns. And no one is more delighted than Burns.
"I love to celebrate people who are part of the community," says Burns. "Izzy comes almost every week, and was a huge help to us at the Poetry Festival. So I said let's start the season with your book!"
Excellent choice. Oneiric is the perfect prelude to a fall season that's full of surprises as well.
Halloween always draws a rash of out-of-town poets. Noted New York poet Tracey McTague and Frank Sherlock, Philadelphia's Poet Laureate Emeritus, make annual October pilgrimages to Blood Jet, and both also appeared at the New Orleans Poetry Festival last spring.
Due in no small part to the festival, the city is fast becoming a magnet on the national and international poetry circuit. And like the comedy scene before it, the local poetry scene continues to grow.
"Bill [Lavender] and I were over the moon about how well-attended the first festival was," says Burns, who's got a full house tonight for Blood Jet as well. "So we made it bigger. We set up a challenge for ourselves, and added a Thursday night to next year's festival (April 13-16, 2017)."
Poetry fans can warm up for the main event every Wednesday at BJ's, where Blood Jet continues throughout the spring, after a short holiday break.
Itching to share your own work in a public forum? Burns would love to hear from you.
"I actually have a couple feature slots left this season," says Burns, who occasionally opens the mic during Blood Jet "if the energy is good in the room", but books most readers ahead of time. "And next season is wide open. If I'm not familiar with you, I ask you to send me your work and some YouTube videos, so I can get a sense of your presence on stage. You're coming here to read to an audience."
Not all poets interpret the written word well as performers, as anyone who's ever endured a night of droners can tell you. But every poet I've ever seen at Blood Jet made their work come alive on stage, and Oneiric is one of the best.
She closes tonight's reading with "Crossing Bryan Ferry," her title poem, and the final passage echoes the collective spirit of the room:
"More than this, this is nothing more than this; A necessary film envelopes all, and envelopes the Soul for a proper time."
The Blood Jet Poetry Series happens every Wednesday night at 8pm at BJ's, 4301 Burgundy St. Visit the Blood Jet Facebook page, which provided the above image, for more info on upcoming events, and to contact Megan Burns about submitting your work for consideration.