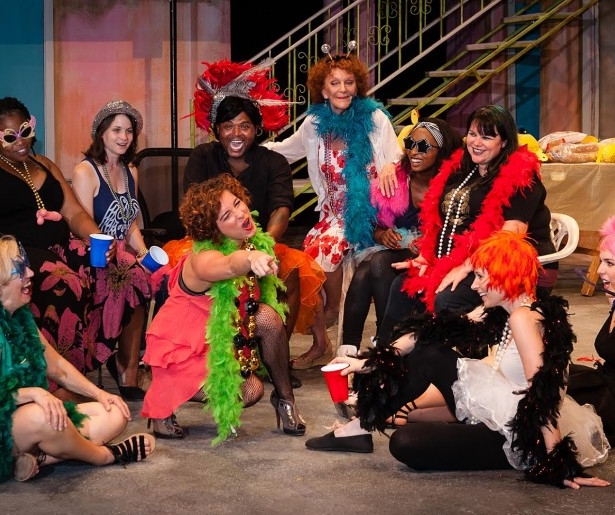 SHARE
Airline Highway is coming home.
Lisa D'Amour's paean to the seedy underbelly of New Orleans, and the motley krewe of characters who inhabit it, was first developed in Chicago, where it premiered to rave reviews at Steppenwolf Theatre. It then took Broadway by storm in a 2015 production that snagged four Tony awards.
Now the ebullient black comedy is circling back to D'Amour's hometown with a no-holds-barred Southern Rep production at UNO, where previews begin on October 5.
"It's really a treat to be doing it in New Orleans," says D'Amour. "I didn't even ask cast members to try a New Orleans accent in the other productions. Here, we have actors who still speak in that old accent, which we're starting to lose. And they understand how New Orleanians pass the time. There's a rhythm here that's hard to describe."
That rhythm comes exuberantly to life at the Hummingbird, a down-at-the-heels motel on a sleazy strip of Airline Highway, where televangelist Jimmy Swaggart was once famously caught with his pants down.
There, lowlifes who love the high life have gathered to celebrate the "living funeral" of one of their own: Miss Ruby, a dying burlesque legend and Hummingbird resident who's determined to go out with a bang by attending her own wake, hospital bed be damned.
"I like to write about places on the periphery," says D'Amour, whose Pulitzer Prize-nominated Detroit was set in a suburban housing tract scarred by the Great Recession. "The New York set for Airline Highway was based on photos of the London Lodge, but I named it the Hummingbird as a shout out to the old hotel on St. Charles Avenue" – a notorious late night hangout for exactly the kinds of characters that populate her latest play.
As a New Orleanian whose family dates back six generations, D'Amour didn't have to look far afield for the misfits and eccentrics that congregate at the Hummingbird.
"They all come from my own experience, and two characters are directly based on people from my life" says D'Amour. "The main one is Francis, based on the poet Danny Kerwick, whose poetry appears in the play. And I based Terry on a handyman who worked for my family, a really sweet man with a bad addiction who kind of disappeared into the ether."
Then there's Bait Boy, played by D'Amour's brother, Todd D'Amour. A former Hummingbirdian made good, thanks to a wealthy older lover who supports him, don't-call-me-Bait-Boy "Greg" waltzes into the raucous assemblage of drag queens, strippers and dive-bar denizens bearing a tray of Whole Foods sandwiches to add to the Cheetos and chips spread.
"Weirdly enough, although Bait Boy was the nickname of someone else in our family, I didn't create the role for Todd," says D'Amour, who frequently acted with her brother in De La Salle High School productions. "But by the second reading at Steppenwolf, I invited Todd up to play the role."
Airline Highway also reunites D'AMour with director Aimee Hayes, who directed one of her favorite productions of Detroit.
"Lisa is such a profound writer about our time,"says Hayes. "It's kind of funny with the election coming up, because in the world of the play, people have their own special anxieties. They're completely separate from the rest of America, but still representative of people who can't get out of the poverty cycle."
Hayes is also thrilled to have the chance to helm "the director's cut" of Airline Highway for D'AMour, who added a lot of New Orleans-specific references only locals will get.
"Elsewhere, actors have to kind of heighten New Orleans expressions like 'who dat' or 'yeah you're right.' Here, it's just an interjection," says Hayes. "And what I love about New Orleans is our pace. It veers from totally laid back to highly neurotic."
The pace becomes downright frenetic when the party kicks into high gear at the beginning of Act II. In fact, the stage becomes so crowded that Hayes decided to eliminate the first row of seats so "the party can spill into the audience."
The cast of 29 includes a krewe of rowdy party-goers played by UNO students. "They don't have lines, but the guests have a lot to do," notes Hayes. "They have to dance the Wobble, they have to sing, and they have to get really drunk."
Though acting drunk isn't a stretch for most undergrads, dressing up in outrageous costumes proved a bit more of a challenge. Because while award-winning UNO costume designer Tony French outfitted all the principals, the student party-goers had to improvise their own.
"Most of the students are freshmen and new to town," says Hayes. "And when I said, 'go home and get your costume box,' they said, 'what are you talking about?' So some cast members and I donated to the cause. You'll see a lot of my old Mardi Gras costumes on stage."
Bait Boy's teen stepdaughter Zoe, who attempts to interview the Hummingbirdians for a sociology project, serves as mainstream interlocutor for antics that mood-swing wildly between exhilaration and terror. But the glue that binds the characters together is New Orleans itself.
"I want people to leave the theatre feeling New Orleans is the best place on earth to live,'" says Hayes. So does D'Amour. But the playwright adds a proviso that addresses the fragility of the city's storied traditions:
"I want you to feel amazed at the spirit of our city and ready to protect what you hold dear."
'Airline Highway' preview performances run Wednesday, October 5-Sunday, October 9 at the Robert E. Nims Theatre on the UNO campus. Regular performances begin October 10 and run Thursday-Sunday through October 30. All performances at 8pm, except Sunday matinees (3pm). Tickets, available here, are $25 for previews and start at $40 for regular performances, with various special discounts available. Above image by John B. Barrois.