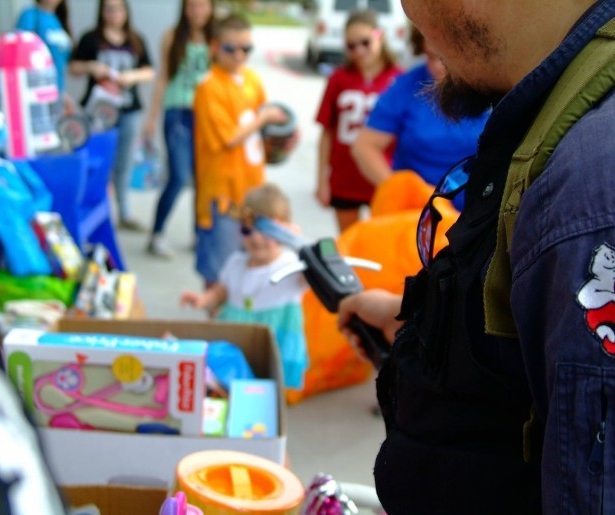 Star Wars, Star Trek, Doctor Who, Harry Potter, Marvel, and DC. These iconic franchises, set in very different universes, all have one thing in common: enthusiastic fans. And many of those folks can be found in our swampy neighborhood.
Last year, more than 167,000 costumed individuals crowded into New York Comic Con, the nation's largest comic convention, all to see the latest and greatest that the geek world had to offer. But just a little further south, Louisiana has its fair share of fan conventions – Wizard World New Orleans, MechaCon, and LouisiANIME – just to name a few.
Back in 2013, ATV Conventions started the Louisiana Comic Con, which kicks off this weekend, as a dedicated family friendly space for celebrating fandom. True – it's out in Lafayette, so you'll need to strap in for a three hour drive. On the plus side: Lafayette is lovely, the music is great, and the food is to die for. Road trip!
Louisiana Comic Con
Back for its second year, the Louisiana Comic Con (LACC) will be taking place in the Cajun Dome in Lafayette, LA, on October 8th and 9th.
LACC is hardly the biggest comic con – attendance last year was around 10,000 people – but as Yoda might, say size matters not. The more than 200 vendors scheduled to attend promise to bring merchandise from nearly every comic book, sci-fi novel, cartoon, or anime that you can think of, and many you've likely never heard of.
Besides: a smaller, cozier convention is an attraction in and of itself. Attendees will have no problem navigating the wide aisles in the breezy Cajun Dome, or seeing all of the cool merchandise available from vendors.
And there are some awesome vendors on hand. Comic artists, including Rob Guillory and Taylor Wells, part of the team behind the Eisner-award-winning series Chew, will be selling issues and prints, and companies like Lazy Nerd Designs will be selling hats, shirts, backpacks, action figures and more.
Unlike bigger conventions, the cost of entry won't break the bank at Gringott's. Adult tickets are $22 per day or $33 for the weekend, and children's tickets are only $5.
Fun for the Whole Family
Louisiana Comic Con sets itself apart from the region's other comic conventions by fostering – and maintaining – a family-friendly atmosphere. Cosplay is appreciated, and encouraged, but convention organizers maintain a strict decency code within the Cajun Dome arena. The rules are, "Be kind, and keep it classy."
Both adult and children's costume contests will be held on Saturday evening. Best individual and group costumes awards will be handed out after the Parade of Costumes.
If you don't have a cool costume, but want to learn how to make one, you can always attend one of the convention's costuming or prop-making panels. International cosplay stars Bonnie Gordon and Xander Jeanneret will be on-hand to share the best of the cosplaying world's secrets.
And, if you find yourself needing a break from the all the hub-bub, check out the Indie Games Alliance's Lending Library. A variety of tabletop games will be available, and they come with all the necessary cards, dice, pieces, and props, and, if you aren't sure how to play, you can get a tutorial on site.
The New Orleans Connection
The Louisiana comic book community is tightly knit, and many folks driving out to Lafayette this weekend for the Comic Con will return to a welcoming nerd-love village once they're back in the Crescent City. If you're looking to scratch a graphic novels/tabletop game/general geekery itch, here are some great New Orleans spots.
Crescent City Comics
3135 Calhoun St and 4916 Freret St
One of the country's great indie comic shops, the two branches of CCC are stacked with graphic novels, rare prints, action figures and a staff that is genuinely enthusiastic about visual storytelling. It's easy to lose half a day in here perusing wall to wall shelves that often carry the work of both nationally recognized talent and local up and coming artists. CCC also organizes frequent events for local comic book fans.
Tubby & Coo's
631 N Carrollton Ave
This niche bookstore specializes in sci-fi, fantasy, mystery and horror genre fiction, but also carries a good selection of graphic novels and has an entire upstairs dedicated to children's lit. Plus: there's a bunch of tabletop games on hand, and an entire room for playing them in. The owners at Tubby & Coo's keep their events calendar pretty packed throughout the year, and also arrange readings and workshops with local authors.
The Rook Cafe
4516 Freret St
Besides serving up rocket fuel coffee and delicious pastries, The Rook, as the name implies, has a thing for board games. You'll find a board game selection that is fairly stunning in its scope; enjoy that mocha with a side of Risk and pass the day away in gaming bliss.
Chewbacchus
In the past few years, the Intergalactic Krewe of Chewbacchus has grown from a few dozen folks dressing up as Star Wars characters into one of the grand spectacles of carnival season: over 100 sub-krewes dedicated to everything sci-fi and fantasy, rolling along parade routes sporting some of the finest DIY costuming and float construction we've ever seen. Most famous for the annual Chewbacchus parade, the krewe also holds parties and events throughout the year.

Head here for more information on Louisiana Comic Con, which provided the above image via Facebook. Also, it may be half a year away, but here's another fun thing to do in Lafayette when Jazz Fest rolls around.