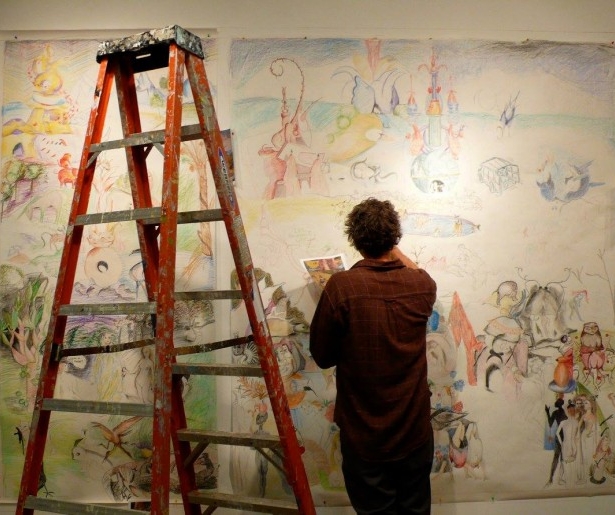 SHARE
A man and a woman stand naked on a beach, staring impassively at us in a full-frontal photograph, wearing nothing but three strategically-placed photo boxes: his, of a Floridian lighthouse, and hers, of futuristic quonset huts.
In an adjoining room, animated cut-outs of the couple clad in neon tropical colors pulse across a screen as headlines flash by, including "Florida man proposes to girlfriend, ties ring to alligator."
OK, that isn't exactly how it happened. But Jonathan Traviesa and Cristina Molina are indeed getting married, and both artists grew up in Florida. To celebrate their upcoming nuptials, they co-created "Sad Tropics," a love-hate tribute to their old home state at The Front (4100 St. Claude Ave), an artist-run collective gallery.
"The people who discovered [Florida] described it as a feast of flowers," says Molina. "In reality, it's actually a swamp-ridden place. We're showing both sides: the beauty and the despair."
"Sad Tropics" may be the most buzzed-about installation on this particular Second Saturday, when art lovers come out in droves to gallery-hop along St. Claude Avenue during a monthly Art Walk. But it's just one highlight amid many stops on tonight's dance card. And come next Second Saturday, every gallery on the route will beckon with a brand-new show.
"The months march on," says Traviesa, a founding member of The Front. "New programming will happen in 30 days that will be just as interesting and excellent as what is happening tonight, and what happened every month before, all the way back to our beginning."
Born in the wake of Katrina, which brought a wave of new artists to town, the St. Claude art scene didn't spring up overnight.
Andy Antippas opened one of the first St Claude galleries in 2007, when he moved Barrister's Gallery (2331 St. Claude Ave) from Central City to St. Claude, where he showcases visionary local artists alongside his permanent collection of ethnographic and outsider art. Tonight, Lorna Williams bridges both worlds with tribal heads and talismans built from natural and manmade detritus.
In 2008, two artist-run collectives helped solidify the scene. First came Good Children Gallery (4037 St. Claude Ave), followed shortly thereafter by The Front. Both owe a debt to UNO, and to world-renowned artist Paul Chan, who came to New Orleans after Katrina to stage a production of Waiting for Godot.
"The Front had 12 members initially, so I guess Jesus was Paul Chan," says Traviesa, with a sly grin. "Paul was holding expanded classroom seminars at UNO, and some of the dialogues that happened there contributed to the early chemistry of The Front turning into itself."
I pop across the street to Good Children, where Jessica Bizarre, one of the gallery's founders, picks up the thread of Second Saturday's history. Inside, an "I'll Be Your Medicine" installation by Marta Anna Rodriguez Maleck and Local Honey litters the floor with a mysterious trail of blue gloves as a video screen beams the word "dysphoria" reflected in a mirrored ball.
"I got involved through people I knew at UNO, so it just kind of happened naturally," recalls Bizer. "I was at a backyard barbecue, and [artists] Tony Campbell and Dan Tague came up and said, 'Hey we're starting a collective, you want to join?' And I was like, 'Sure'!"
Antenna (3718 St. Claude Ave) also evolved organically, albeit far more formally. It began pre-Katrina as the artist and writer collective Press Street, which continued to thrive after the storm. In 2008, Press Street opened the first Antenna gallery on Burgundy St, which moved to St. Claude in 2012. The symbiotic relationship continues, and the collective is committed to nurturing socially-driven artists and writers.
Tonight's Second Saturday show, "Refractional Presence," reflects that mission. "It's five emerging female artists, exploring what their sexuality looks like," explains Annie Laurie Erickson, who joined Antenna two years ago.
Upstairs, Jer'Lisa Devezin turns the lens of bounce on the female figure, while Cecilia Givens celebrates the voluptuous colors of same-sex love; the downstairs gallery features the "Soft Science" and detailed anatomical drawings of Kate Lacour.
As usual, Antenna is serving a special Second Saturday-themed cocktail. Tonight's is a divine blend of Goldschwager, pink lemonade and vodka flecked with tiny flakes of gold, which offer a "refractional presence in every drop."
Specialty cocktails are also on the menu at The Parlor (3913 St. Claude Ave). Though not officially part of the St. Claude Art Walk, Oliver Manhattan's house of fantastical fashion is a must-do Second Saturday stop for cognoscenti like myself.
A founding mother of New Orleans' creative costuming scene, Oliver makes wearable assemblage art that is colorful, bold and wildly inventive. On display tonight, among other fanciful creations, are a fuzzy top hat with supersized bunny ears; a lopsided three-tiered hat trimmed with autumnal feathers; and a rack of her signature bloomers with ruffled bustles.
"What I do is very sculptural," says Oliver, who's holding court by the bar amid a coterie of longtime patrons. "And The Parlor itself has that aesthetic. It's not your regular shop."
The drink she hands me is hardly regular either. Made with cinnamon-and-clove infused gin, tropical juice and coconut milk, it's spiked with black pepper and homemade bitters.
"It's got a lot of ingredients, but I figure it out and make it work," she says with a laugh.
That's also an excellent recipe for approaching Second Saturday. There's a lot happening, not just in the galleries described here, but in restaurants like Kebab (2315 St. Claude Ave) But if you keep your eyes and ears open, you'll figure it out and make it work. Happy hopping!
The St. Claude Art Walk happens along and around St. Claude Avenue in the Marigny and Bywater on the Second Saturday of every month. The next event is Saturday, October 8. Above image: Antenna Gallery, via Facebook.