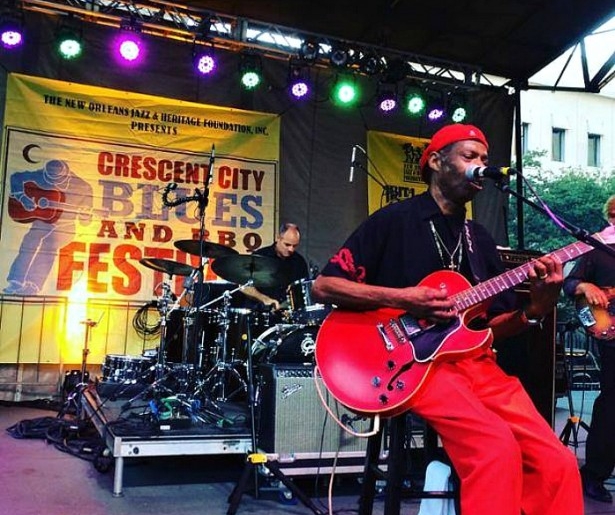 SHARE
October is a busy time for festivals in New Orleans, but even amidst the sensory overload of beignets and great cinema, one of the city's most diverse autumnal events, year after year, is the Crescent City Blues and BBQ Festival.
Presented by the New Orleans Jazz and Heritage Foundation, the festival always sports an eclectic lineup, consistently booking a mix of young talent alongside seasoned blues veterans. And that's before you even consider the wide variety of BBQ vendors — nearly two dozen this year — that surround Lafayette Square throughout the weekend.
This year, the 11-year old festival takes place from October 14th-16th. The event began after Hurricane Katrina, and was designed to create jobs and draw tourism back into the city. Over the past decade, the three-day blowout has garnered a reputation as one of the best free festivals not just in New Orleans, but in the country. CBS's This Morning recently mentioned it as one of the top fall food festivals of 2016.

Headliners this year include award-winning Louisiana blues artist Tab Benoit, acclaimed English-born/adopted New Orleanian pianist Jon Cleary and legendary American blues artist Taj Mahal.
As always, the event will include a large arts market with over twenty vendors, and copious amounts of barbecue. Vendors include McClure's, Blue Oak BBQ, The Joint, and many, many others.
WWOZ will broadcast most of the festival live both on the airwaves and through a stream on their website. If you want to hear music from the festival's featured musicians, check out the Official Music Player.
Usually, the weekend also features an Oral History Stage component to celebrate and educate festival-goers about the rich history of New Orleans blues music. But this year, construction at nearby Gallier Hall forced event coordinators to cancel that initiative. They hope to bring it back next fall.
The event is free, but VIP Experience Passes are still available to those looking for a premium festival experience, which include a balcony view of Lafayette Square, seating, and air conditioning.
Here are some of our top musical picks for the festival:
Friday, October 14th
Tab Benoit
7pm

A "bayou blues" extraordinaire with over a dozen original records and numerous awards/honors (including an induction into the Louisiana Music Hall of Fame in 2010), Benoit has left an indelible mark on the contemporary blues scene, and he's not even fifty years old. He's a tireless, energetic live performer, with a penchant for screaming Telecaster guitar licks. Don't miss him.
Saturday, October 15th
Walter 'Wolfman' Washington & The Roadmasters
Camp St. Stage, 3:15pm

Walter "Wolfman" Washington is a New Orleans native and superb songwriter who mixes traditional blues with funk and R&B. He's performed all over the world with his band, The Roadmasters. He also famously made his first guitar with a cigar box, a clothes hanger, and some rubber bands, before his uncle saw and gave him a proper instrument.
Jon Cleary & The Absolute Monster Gentlemen
St. Charles Stage, 4:30pm

Originally born in England, Jon Cleary has lived and gigged in New Orleans for decades, where he developed and perfected his signature brand of piano-blues. He's a mainstay at Jazz Fest, and one of the most spirited live piano performers around today.
Taj Mahal
St. Charles Stage, 7pm

Born in Harlem, New York, Taj Mahal is one of the most acclaimed blues artists in the world. He's known for combining traditional blues with world music, particularly folk songs of the Caribbean and West Africa. Mahal has recorded dozens of albums since 1968, and in 1997 he won the Best Contemporary Blues Album grammy for Senor Blues, which also happens to be one of this writer's favorite records.
Sunday, October 16th
Little Freddie King
St. Charles Stage, 2:15pm

Delta Blues guitarist and country blues staple Little Freddie King moved to New Orleans from Mississippi when he was fourteen years old and never looked back. He's a charter member of Jazz Fest and has played the event for forty-two years.
Cedric Burnside Project
Camp Street Stage, 5:45pm

Electric blues drummer and grandson of the great blues singer R.L. Burnside, Cedric Burnside is a four-time winner of the Blues Music Award's Drummer of the Year title. He and bandmate Trenton Ayers have released three albums of raucous, electric blues that appeal to both an older generation of blues listeners as well as a younger audience.
For more information on the Crescent City Blues & BBQ Festival, visit their website. Image, via Facebook – Walter "Wolfman" Washington.