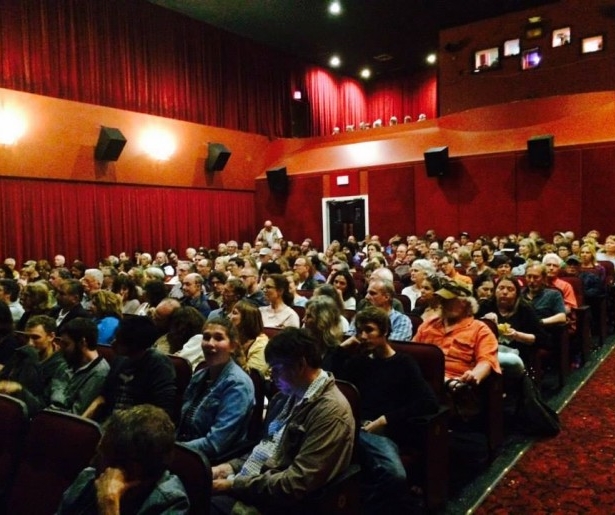 SHARE
The New Orleans Film Festival has been constantly evolving since its inception in 1989. As the movies have become more advanced, so too has this local event, which promotes and fosters the cinematic arts for audiences and filmmakers in the Crescent City.
The festival (NOFF) is facilitated by the New Orleans Film Society, a nonprofit, year-round organization made up of full-time staff, volunteers, local cinephiles and donors.
Clint Bowie, director of programming for NOFF, says this year's fest will be one of the biggest to date, and brings the promise of exciting, high-profile celebrations. NOFF welcomes films from all over the world, but this year at least 55 of the films will have some ties to Louisiana, whether they star local actors, were written here, or were filmed here.
One major highlight is the festival's opening night, featuring a screening of the film LBJ, a New Orleans-shot drama that traces the political journey of former president Lyndon B. Johnson. The movie is directed by Rob Reiner and stars Woody Harrelson in the title role, and after the screening takes place, Harrelson will present Reiner with a career achievement award on behalf of the New Orleans Film Society.
Bowie notes that Reiner has also been in town shooting another film called Shock and Awe. Reiner's appearance at NOFF "underscores his commitment to production in this region, which we're always advocating for," he says. "The fact that he will be here to receive the award, presented by Woody, is going to be a special event."
Another notable honoree at the festival is acclaimed director Julie Dash, who made history in 1991 as the first African American woman to direct a wide release, feature length film, Daughters of the Dust. The film, Bowie says, has been completely digitally restored and will screen on the final night of the festival; Dash herself will accept a Lifetime Achievement Award.
Daughters of the Dust made a resurgence into cultural conversation this past year, as it was seen as a major influence on Beyoncé's Lemonade album and music videos, which dealt with themes of black female empowerment.
"In terms of visuals and overall tone, Lemonade echoes a lot of those features, so it's a special time to be showing that film," Bowie says. "We are excited that it's finally been restored."
In between the opening and closing films, attendees can view a plethora of documentaries, features, shorts and music videos, and theaters around town will open their doors to host them. A-list celebrities Jason Sudeikis and Jessica Biel will participate in a Q&A discussing their recent locally shot film, Book of Love, a drama about an introverted architect who loses his wife in a car accident and decides to help a homeless teen build a raft to sail across the Atlantic Ocean.
Bowie also encourages guests to check out the occasionally overlooked short film programs, many of which are made by locals. "We have a lot of great short films from people in the early stages of their careers, which can give you a taste of the current state of cinema," he says. "I encourage everyone to check it out." He says there will also be a program of music videos which will also showcase more local talent.
Bowie is personally excited about Contemporary Color, a documentary about color guards that involves some "high profile musicians [including David Byrne and Nelly Furtado] and high school color guards…The shooting and editing is really incredible," he says. The film premiered at the Tribeca Film Festival earlier this year and is directed by Turner Ross and Bill Ross IV, and was produced by several members of local film making collective Court 13 (perhaps most famous for their Oscar-nominated movie Beasts Of The Southern Wild).
Bowie notes that thanks to the premier of Deepwater Horizon, the festival has been able to work with several members of that movie's producing team to set up mentoring sessions. "Being able to connect with the industry in that way has been hugely beneficial…The industry has taken a hit [due to reduced tax incentives in Louisiana]. But we've been pleased that the festival hasn't suffered because of that this year."
The events and screenings for the New Orleans Film Festival take place at a wide variety of venues and local theaters. For more information and a schedule of events, visit the New Orleans Film Society website.
Above image: courtesy of the NOFF, via Facebook.