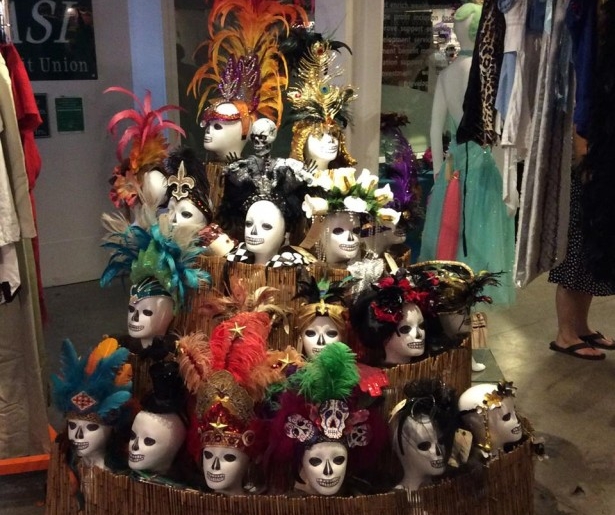 New Orleans is known for over the top costumery. it's a city where people spend months hand-sewing their carnival garments, and have a penchant for wearing wigs without a reason.
In this vein, Halloween is another opportunity for us to get creative with our costumes. Plus, it finally (might be) cool enough to consider wearing a more elaborate outfit.
Pop up shops offer handmade, often one of a kind options, providing entire outfits for those not inclined to costume creation, as well as decorative accents for people who want finishing touches you can't find in a big box store.
The Style Contingent
813 Royal Street
October 22-23, 11am-5pm
October 29-30, 11am-5pm
1450 Josephine Street
_October 15-16, 11am-5pm _
The Style Contingent typically works with TV and film production houses, meaning they have an extensive collection of vintage and designer items. A few weeks ago they started popping up at Royal House Gallery with an impressive amount of reasonably priced vintage clothing, as well as Halloween fare.
Some of the older pieces included 1950s dresses, cardigans, beaded tops, and jewelry. The pop up also features contemporary designer pieces and unique vintage Halloween items reworked to fit different sizes and costume themes, as well as more traditional options like masks. Expect lots of cool and beautiful things.
FANG
3113 Royal Street
October 24-31, 11am-9pm
The organizers of the Allways Lounge's Pleasure Night Market bring us FANG, a week long popup in the Bywater.
"It's basically multiple local artists and designers making one crazy store for one week with Halloween costumes and original fall fashion. There's also going to be musical performances, booze, movie screenings, and different events on different evenings," says designer Corbin Swaim. Additional local designers include Calamity, Planet F, Howlpop, Haus in Flux, Crude Things, and more.
Cree's Cheap Chic
3728 Laurel Street
October 21 5-9pm
October 22, 11am-5pm
Special Hours by Appointment, 504-505-4115
Cree McCree's annual costume sale, celebrating its fifteenth year, features costumery as well as affordable Halloween-themed fashion. There are always $5 and $1 racks, full of strange odds and ends you didn't know you needed until you see them, as well as spritzers or some sort of cocktail to sip on as you browse. I'm always surprised by how quickly the best items gets snatched up – I recommend stopping by on Friday evening, especially if interested in purchasing one of Cree's signature handmade hats.
(Full disclosure: Cree is a frequent contributor to this website).
Electric Girls' Halloween Costume Workshop
Delgado Community College, 615 City Park Ave
October 22, 9am
This event is for people with a very specific (and elaborate) costume goal: illumination. You bring your costume with you, and the Electric Girls will help you attach fiber optics and LED light strands to it. This is a ticketed event; you'll be charged $50 for a half day workshop and $85 for a full one (the length of time required depends on how well-lit you want to be).
Proceeds benefit the Electric Girls, an organization that develops programming and workshops to educate girls in STEM (science, technology, engineering and mathematics).
Halloween Boo-tique
Healing Center, 2372 Saint Claude Ave
October 23, 11am-5pm
The Halloween Boo-tique costume event returns to the Healing Center for its 21st anniversary. New Orleans' most creative designers, hatters, costumers and mask-makers will showcase a vast array of one-of-a-kind creations in a spacious, light-filled location.
Founded by Tracy Thomson, the Halloween Costume Boo-tique grew out of the annual Carnival Creations Bazaar on Frenchmen Street, and moved to the Healing Center in 2013. Designers include Oliver Manhattan, Howlpop, Calamity, Kate McNee, Joy Patterson, and many more.
Studio Sale
New Orleans Costume Center, 3820 General Taylor Street
October Saturdays and Sundays, 10-6
The Costume Center is a brick and mortar operation, but this month they're opening up their private studio stores for a special Halloween sale. There will be vintage and accessories as well as members of the costume center guild's Halloween creations. Costume making supplies are also available for purchase. Items range from locally made hand-tooled red leather demon masks to sparkly sequined mary jane's a la The Wizard of Oz. There's truly something for everyone.
Image courtesy of the New Orleans Costume Center, via Facebook.