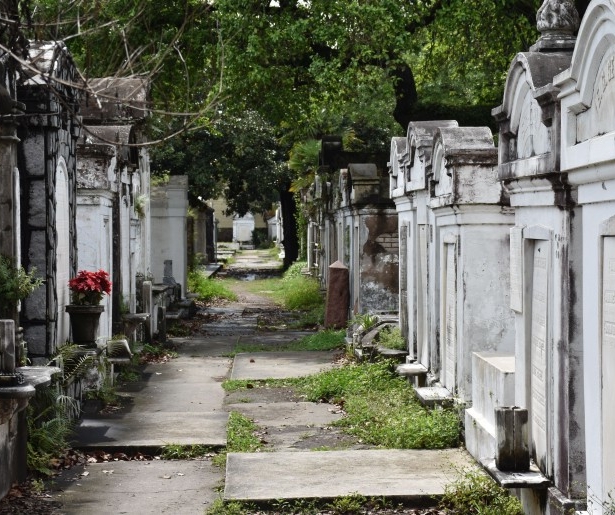 In most cities cemeteries aren't tourist attractions. In New Orleans, visitors flock to them to admire their unique design and architecture, while sometimes hoping for an encounter with a restless spirit.
Our cemeteries speak to the city's geography as well as the influence of its French and Spanish occupants. Elaborate stone crypts protect bodies from rising above ground during flood waters (which actually happened when the river flooded following yellow fever and malaria outbreaks), and also reflect 17th and 18th century cemetery designs from across the Atlantic.
There are more than 40 cemeteries in the city today, each one containing a different aspect of New Orleans' history. Locals most often visit these sites on All Saint Day after Halloween, to clean gravesites and spend time with loved ones while honoring family that has passed.
Saint Louis Number One – 501 Basin Street
This is the first cemetery most people check out, hosting one of the city's most famous residents – voodoo queen Marie Laveau. Visitors leave cigarettes, money, Mardi Gras beads, and flowers outside the tomb (where she may or may not really be buried), hoping for good luck and wishes granted.
Nic Cage's pyramid tomb, which cost him millions, also attracts guests. Homer Plessy, civil rights pioneer of Homer v. Plessy fame also rests here, as well as the family of Edgar Degas and 19th-century chess star Paul Morphy. The tomb of the Italian Mutual Benevolent Society is also impressive; here, men too poor to afford their own crypt were buried en masse using dues paid to the organization (benevolent societies have crypts in cemeteries across the city).
Various rituals – including marking XXX's on Marie Laveau's grave before making a wish – led to several sites in the cemetery being regularly vandalized, and as of 2015, all guests must be part of a licensed tour group. Click here for tickets and more information on walking tours.
Lafayette Cemetery Number One – 1400 Washington Avenue
Probably the second most visited cemetery in the city, Lafayette No. 1 sits just off St. Charles Avenue on Washington Ave almost directly across from Commander's Palace in the Garden District. The first time I walked through the cemetery, I was waiting for a table, and it's not uncommon to see people dressed for a white linen lunch moving up and down the rows before or after dining. Tall live oaks and magnolia trees provide natural shade around nearly 1,100 tombs.
Anne Rice buried characters here in Interview with a Vampire, and several TV shows and movies have filmed in the cemetery, including The Originals and NCIS: New Orleans. Construction finished in 1833 and it has been used as a burial site since.
Open Monday-Friday, 7am-2:30pm, Saturday, 7am-12pm
Saint Roch Cemetery Number One – 1725 Music Street
This is my favorite cemetery to visit. A local priest built the chapel and cemetery following a 19th century yellow fever outbreak in appreciation of St. Roch, known as a plague saint who offered hope, comfort, and healing in times of illness. Today a small chapel in the middle of the cemetery holds notes, old pill bottles, knee braces, and various mementos of illnesses, marking promises and prayers made to the saint.
Gate closes at sunset (and sometimes a bit earlier).
Chalmette National Cemetery – 8606 West Saint Bernard Highway, Chalmette
The cemetery, located just downriver from the Chalmette Battlefield, holds union soldiers killed during the Civil War, as well as men who fought in the War of 1812, Spanish American War, World Wars I and II and the Vietnam War. A lot of people visit the battlefield, but fewer people make it to the cemetery.
The design is somewhat unremarkable when compared to the crypt's within the city limits, but it's still an imposing site and worth visiting if only for the views of the Mississippi River marking the cemetery's southern boundary.
Open Monday-Sunday, 9am-4pm.
Holt Cemetery – 635 City Park Avenue
The cemetery, opened in 1879, holds the bodies of New Orleans' most destitute, and families often hand made grave markers here from various found materials. Some 95 percent of Holt's occupants rest underground, not in crypts or mausoleums, making it unique in the city.
You won't find classical sculptures, but one large marker remembers Buddy Bolden, trumpeter and jazz pioneer. Jazz musician Jessie Hill is also buried here, as well as four victims of the Upstairs lounge arson attacks in 1973.
Open Monday-Friday 8am-2pm, Saturday 8am-12pm.
Cypress Grove Cemetery – 120 City Park Avenue
Originally built to inter volunteer fireman, this cemetery holds an interesting array of New Orleanians, including immigrant Chinese who were members of the Soon On Tong benevolent society. Family members would burn prayer notes for the deceased at a fireplace inside the tomb.
Civil Engineer Frederick Wilkinson designed the cemetery's imposing entrance – gates surrounded by bright white, Egyptian revival towers. Several former mayors also rest here, and an impressive marble tomb topped with a bronze elk holds members of the Benevolent Protective Order of Elks, Lodge Number 30.
Open daily 8:30am-4:30pm.
Above image via Wiki Commons.