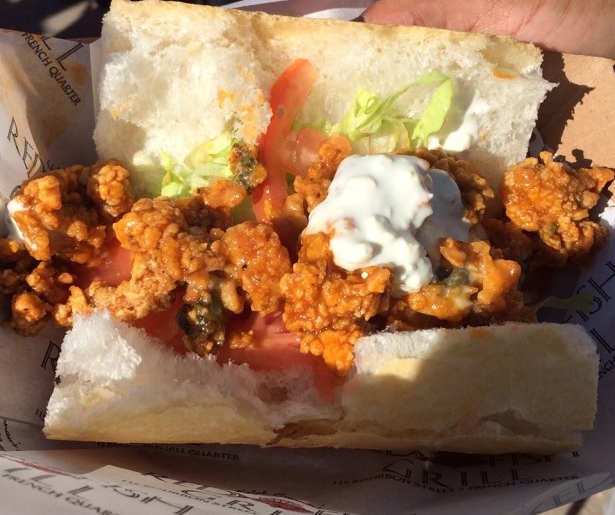 This Oct 23, the Oak Street Po-Boy Festival celebrates its ninth year of existence with over forty food vendors as well as music, art, and shopping along historic Oak Street in the heart of the Riverbend.
The event began in 2007 to preserve and promote the Carrollton neighborhood as well as pay homage to New Orleans' most famous sandwich – the po-boy. French bread serves as a foundation for myriad sandwiches, served alongside blocks of quirky local shops, restaurants, and bars. Fine dining restaurants will give high end takes on the cirty's native sandwich (like Trenasse's Louisiana catfish meuniere with smoked tomatoes), next to booths serving more straightforward classics like Ms. Linda's hot alligator sausage.
The festival kicks off at 10am and runs until 8pm, and the lines form early. Take the streetcar or Uber over, especially if you're running late, because parking will become an issue later in the day. Last year I arrived around 10am and visited Z'otz Cafe for coffee before making my way to the festival proper. Rue de la Course is another good first stop – they offer coffee and breakfast sandwiches in a space with unbelievably high ceilings and great natural lighting.
Once vendors start serving po-boys, try the one that sounds most appealing first, because other people will think it sounds good, too, and they'll start lining up. La Casita's slowly braised beef brisket won 'best beef po-boy' last year, and they also have a brick and mortar taqueria on Oak. Parkway Bakery's Babymaker po-boy, featuring fried oysters, bacon, and cheddar with remoulade, was another crowd favorite.
Restaurants may serve up all new creations this year, though. The entire fest is an an opportunity for chefs to get creative.
The po-boy originated in Depression-era New Orleans, specifically Martin Brothers' Coffee Stand and Restaurant in the French Market, during a streetcar worker strike. The owners of the restaurant, Bennie and Clovis Martin, had worked as streetcar operators and sympathized with the workers' cause. They partnered with baker John Gendusa and began constructing sandwiches on 40 inch loaves of French bread, which they would cut in half and give to the strikers, who they referred to as "poor boys".
These first poor boy sandwiches were often filled with cut potatoes and gravy, and French fry po-boys with debris gravy continue to appear on many po-boy menus throughout the city. The po-boys' French bread and its characteristic toppings – tomatoes, lettuce, pickle, and mayonnaise – largely define it as a sandwich.
"We invented the name but not necessarily the sandwich. It's similar to a submarine or hoagie in other parts of the country," explains Liz Williams, Director of the Southern Food and Beverage Museum. "It also often features unique ingredients that speak to regional cuisine, like shrimp and oysters."
Po-boy bread needs to be crispy on the outside, and soft and chewy on the inside. Crumbs should rain down from the bread as you take each bite. Most agree that it should also be served "dressed" with the aforementioned lettuce, tomato, mayo, and pickles. At the Po-Boy festival, fillings run the gamut, but usually pay homage to at least some aspect of these traditional ingredients.
Abita beer is bringing craft beer selections to go along with many of the sandwiches, and will set up a beer garden on the corner of Cambronne and Oak. There are also be live music in two main outdoor stages, as well as several "saloon stages" at Oak Wine Bar, Live Oak Cafe, and the Maple Leaf, where attendees will be found late into the night after the festival ends.
Once you've tried a po-boy (or two) it's fun to browse the wares outside and stop at a couple of the shops surrounding the vendors, such as Blue Cypress Books. An art market runs from 10am-4pm, showcasing the work of two dozen artists, all part of Where Y'Art's online gallery.
It's kind of ironic that people wait in lines for po-boys when there are po-boy stands and sops all over New Orleans. Then again, given the city's penchant for endless celebration, and obsession with our own culinary inventions, the whole affair sort of makes sense. The po-boy festival elevates a humble sandwich to center stage, and brings tens of thousands of people together to celebrate New Orleans' history in the process.
The Oak Street Po-Boy Festival is October 23, 2016, from 10am-8pm. The event is free. Above image via Facebook.