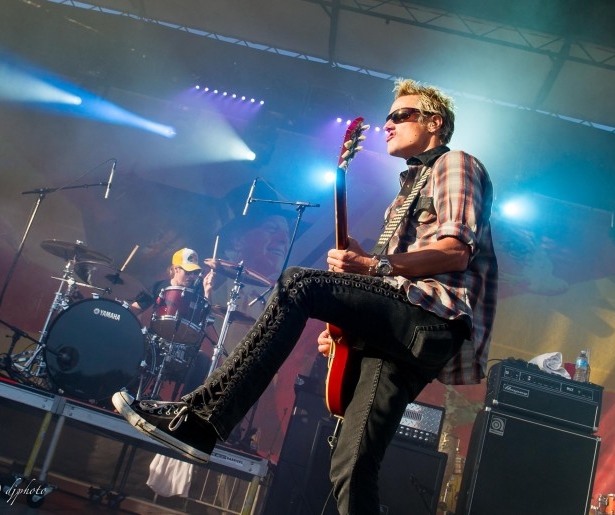 SHARE
Voodoo Fest is synonymous with Halloween weekend in New Orleans. The festival, which began as a single-day event at Tad Gormley Stadium in the fall of 1999, has grown into a three-day, four-stage music and arts showcase, featuring high-profile musical artists such as Jack White, Outkast, Foo Fighters, and many more.
From Friday, October 28th to Sunday, October 30th, the Voodoo Music + Arts Experience returns to New Orleans City Park for its 18th year. Voodoo Fest producers are hoping for better weather for this year's event compared to last fall, when the festival cancelled the final day of music after heavy downpours soaked City Park (and the rest of the city).
Like many big-ticket festivals around the country, Voodoo's musical lineup has grown more eclectic in recent years, showcasing various genres, including rock, hip-hop, dance, pop, and metal.
With that in mind, it's safe to say this year's lineup of over 65 acts runs the gamut; headliners include pop/rock mainstays (and recent New Orleans transplants) Arcade Fire, prog-rock band Tool, and acclaimed R&B artist The Weeknd. Voodoo also features the Le Plur Stage, which exclusively hosts electronic dance music.
Along with a diverse mix of musical guests, the City Park festival grounds will also host dozens of art vendors, craft beer gardens, and plenty of food. In fact, this year marks the first collaboration between Voodoo Fest and Greg Reggio from the Louisiana Restaurant Association. They teamed up to curate the Forked Up Food Court, which features a variety of local eateries, ranging from Boucherie to The Big Cheezy, which will serve New Orleans-style dishes as well as veggie and vegan options.
The music goes from noon to 11pm on Friday and Saturday, and noon to 9pm on Sunday. One-day and three-day tickets are still on sale. Check out the Voodoo website for more ticket information.
Here's a few of our top Voodoo Fest picks:
Friday, October 28th
Wild Belle
6:30pm to 7:30pm @ South Course Stage

Chicago-based Wild Belle is a psych-pop band composed of two siblings. Their music incorporates elements of soul, reggae, funk, and pop.
G-Eazy
7:30pm to 8:45pm @Altar Stage
Oakland-born rapper and songwriter G-Eazy got his start in New Orleans as a student in Loyola University's music program. He's since recorded numerous mixtapes and records, and recently collaborated with Britney Spears on a single for her new album this past spring.
Kevin Gates
8:45pm to 9:45pm @ Pepsi Stage
Kevin Gates is a rapper and singer from Baton Rouge. He released his first album, Isiah, through Atlantic records earlier this year. He's known for mixing autobiographical lyrics with southern melodies and street rap.
The Weeknd
9:45pm @ Altar Stage

Canadian R&B artist Abel Tesfaye has been making music under his stage name, The Weeknd, since 2010. He released his third album this past September, and collaborated with Daft Punk for the lead single, 'Starboy.'
Saturday, October 29th
Bully
4:30pm to 5:30pm @ Pepsi Stage

Nashville punk rockers play fast-paced, guitar driven punk pop, with a hint of early 90s grunge for good measure. Their first album, Feels Like, debuted in 2015 and features the catchy lead-single, 'Milkman'.
Alison Wonderland
7pm to 8pm @ Le Plur Stage
Australian DJ and producer of EDM, chillwave, and trap. She initially trained as a classical musician and cellist.
Tool
9:30pm to 11pm @ Altar Stage
Alternative metal legends, Tool, have been recording music for nearly three decades. They've released four studio albums, a compilation album, and four video albums. Known for their unusual time signatures and inventive stop-animation music videos, Tool is perhaps the most celebrated progressive-rock band of their time.
Sunday, October 30th
Beats Antique
6:30pm to 7:30pm @ Pepsi Stage
California-based electronic and world music group with a reputation for genre-bending live performances.
Arcade Fire
7:30pm to 9:00pm @ Altar Stage

Originally from Montreal, Arcade Fire is a world-renowned, grammy-award winning indie rock group. Lead singer Win Butler relocated to New Orleans a few years ago, and occasionally DJs around town as DJ Windows98. The band always puts on visually stunning, widescreen performances. They have a new album coming in 2017, so expect a few new tunes to go along with some old favorites.
The Voodoo Music + Arts Experience takes place from Friday, October 28th to Sunday, October 30th. For more information, check out the Voodoo website.
Photo by David Fary.