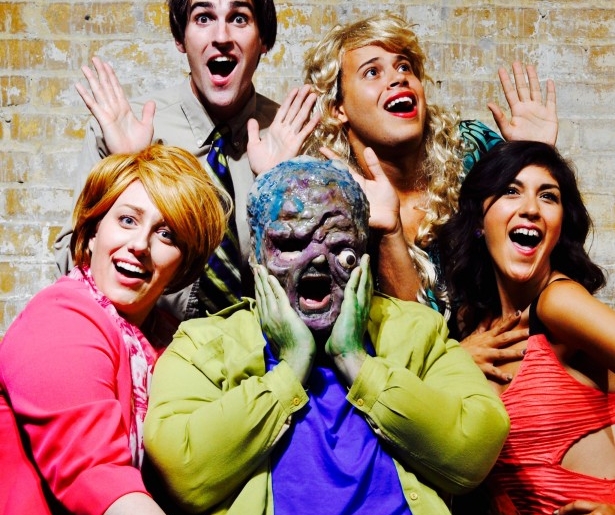 This month, production company See 'Em on Stage brings musical horror/comedy The Toxic Avenger to The Theatre at Saint Claude, with a raucous performance that tells the love story of a blind librarian and a mutilated nerd turned superhero set against the backdrop of a corrupt and polluted New Jersey town: Tromaville.
The show has its share of guts, gore, and off color jokes, but also makes a serious case for environmental awareness and the perils of toxic waste dumping.
Melvin Ferd the Third (played by Kevin Murphy) finds documents he shouldn't have at the town's public library, implicating mayor Babs Belgoody (Janie Heck) in toxic waste dumping across Tromaville. The mayor's thugs think they've killed Mervin after he ends up in a toxic vat, but he instead re-emerges as Toxie: the toxic avenger, intent on taking down the mayor, cleaning up the town, and protecting his love interest, Sarah the librarian (Elyse McDaniel).
The performance adds another work to director Christopher Bentivegna's growing list of campy, bloody musicals, including Evil Dead: The Musical, Musical of the Living Dead (based on Night of the Living Dead) and A Christmassacre Story, all performed in New Orleans and presented by See 'Em on Stage. As one may have gathered, the company performs works that originally came to prominence either as books or movies and have since been adapted into theatrical shows.
Through seeing something in a different medium, audiences have a new understanding of a novel or film. See 'Em on Stage also brings on and off Broadway shows with cult followings to the Crescent City that have never been performed regionally.
See 'Em on Stage's 2016-2017 season theme, "Rebel Rebel", explores portrayals of heroes – especially anti-heroes – in theater. The Toxic Avenger follows up season opener Lizzie the Musical, based on suspected (although acquitted) 19th century murderer Lizzie Borden.
The musical supposes that she's a killer, but one taking vengeance on abusive parents. The performance also critiques society's role for women and suppression of gay rights in 19th century America. In The Toxic Avenger, Toxie gets vicious too, but his victims are never innocent, and his actions are in the service of a greater societal critique: we have to be better at protecting the environment.
The Toxic Avenger choreographer Kali Russell appeared in Lizzie as the titular character's love interest, and both shows also feature live bands. Music Director Ronald Joseph leads a four-piece rock band backing a cast of five who play over a dozen characters.
Janie Heck shines in her dual role as the mayor and Ma Ferd (Melvin's mother), and seems to have endless energy as she duets with herself and changes clothing repeatedly during musical numbers. Luke Halpern and Eli Trimm play the rest of the characters in their roles as "Black Dude" and "White Dude", respectively, and also show a lot of versatility on stage.
The Toxic Avenger is based on a 1984 film of the same name, directed by Lloyd Kauffman, with book and lyrics by Joe DiPietro and music and lyrics by David Bryan. It follows in the tradition of campy eighties horror movies, where over the top gore coexists with raunchy comedy.
Director Bentivegna's set design reflects this time – with vibrant neon colors that also remind the audience of the toxic waste covering Tromaville. Each performance features a splatter zone, something Bentivegna also utilized in his version of Evil Dead: The Musical. The first two rows of the audience are subject to the same guts and gore the characters on stage experience. (And yes, it's safe, non-toxic, and washes off).
Without giving anything else away, it's a light-hearted show with a love story and a positive message, as well as enough of a macabre twist to keep things interesting.
Interested? The Toxic Avenger runs from now until October 31 on Thursdays through Sundays at The Theatre at Saint Claude, 2240 Saint Claude Avenue. There will be a special Halloween performance on Monday, October 31. All performances are at 8pm, except for a 9:30 performance October 23. Tickets are $25 for general admission and $30 for the "splatter zone," plus tax and fees. Visit See 'Em On Stage for more information.
Above photo: Janie Heck, Eli Timm, Luke Halpern, Elyse McDaniel, and Kevin Murphy, courtesy of See 'Em On Stage.